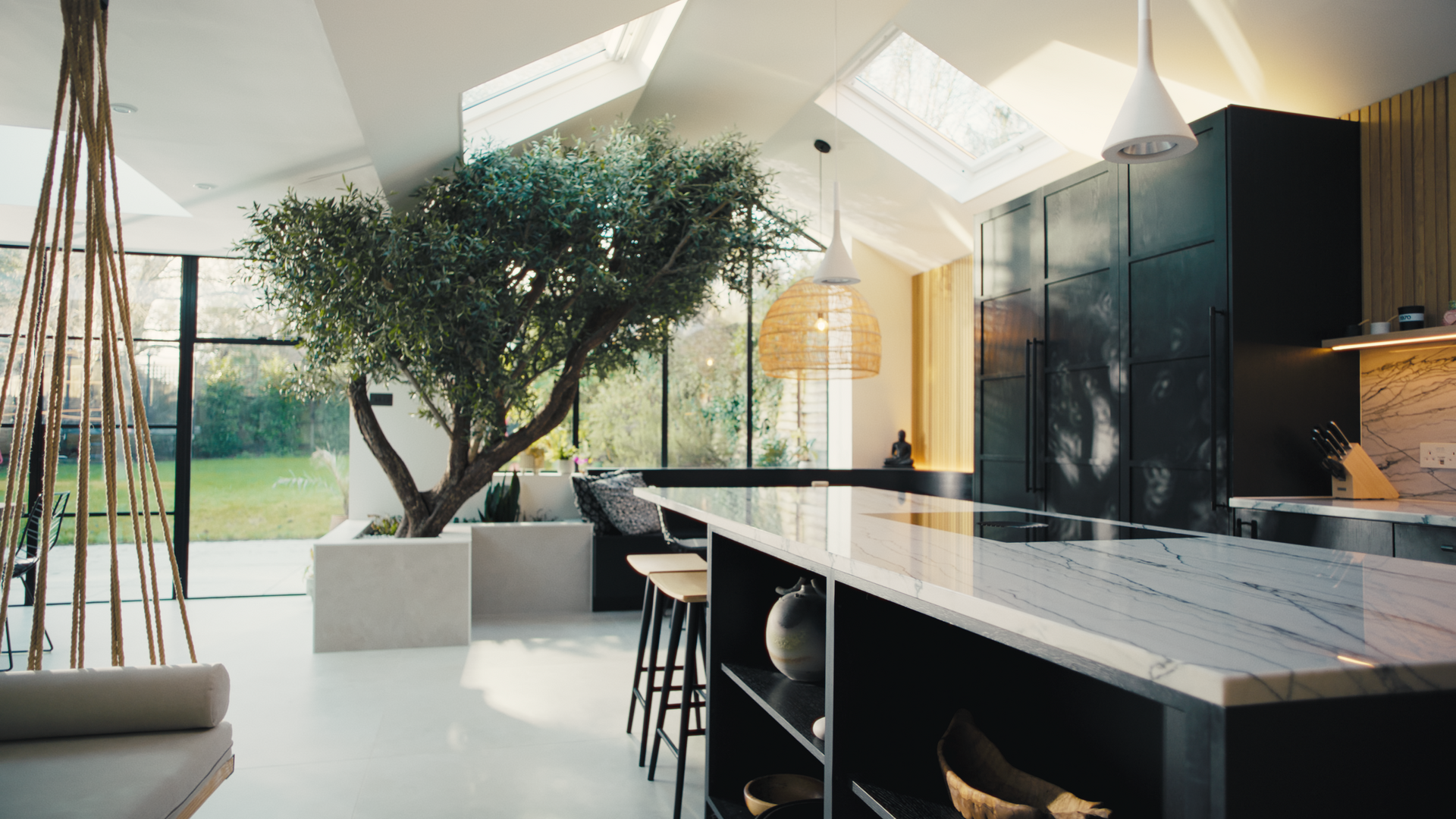 The towering expanse of the large, green olive tree instantly catches the eye in this London kitchen. But the Japandi-style room has far more to offer too: multiple seating options, lots of storage space and a swing that will excite both children and adults alike.
Kitchen project:
SOLA Kitchens London
Nature and space for the entire family
The vision for this kitchen was clearly defined: an open living space for the entire family with multiple seating options for different occasions – a room for unique culinary experiences and normal everyday life.
In addition to a large table with a natural solid wood top, perfect for hosting friends and enjoying sociable evenings, the clients' brief also included a corner in which their children could do their homework.
As a result, a small seating area was conceived next the large kitchen island. The huge olive tree, which visually separates this area from the rest of the room and brings nature into the house, is a particularly special feature. Further seating is available in the form of bar stools around the centrally positioned kitchen island and a swing, which is integrated into the room as though nothing could be more natural.
A skilful fusion of Skandi and Asian styles
The matt-black fronts on the tall units and the body of the kitchen island come together with the warm, whitewashed oak to create a Scandinavian-Asian look, also known as 'Japandi' style. The slender wooden slat panelling that clads several sections of the back wall highlights the Japanese flair.
The cool worktop made of white Macaubas quartzite contrasts with the warmth radiated by the wooden features and the décor. The stone comes from Brazil and is characterised by different colour combinations and patterns. Installed in this London kitchen, the sprinklings of black are reminiscent of marble and add a refined touch to the design.
A clear view into the spacious living room
With its minimalistic design, the BORA Pure was the perfect choice for this kitchen. The room height made the use of a conventional extractor hood impractical but the solution of the BORA Pure impresses in all regards: the installation of our cooktop extractor system in the centrally positioned kitchen island preserves the spacious feel of the kitchen and the clear view into the living room.
Odours are effectively extracted where they are created and do not rise up into the high-ceilinged room. This ensures fresh air in this natural-feeling kitchen while also creating lots of storage space for kitchen utensils thanks to the cooktop extractor system's low depth – all in all perfectly meeting the clients' brief.