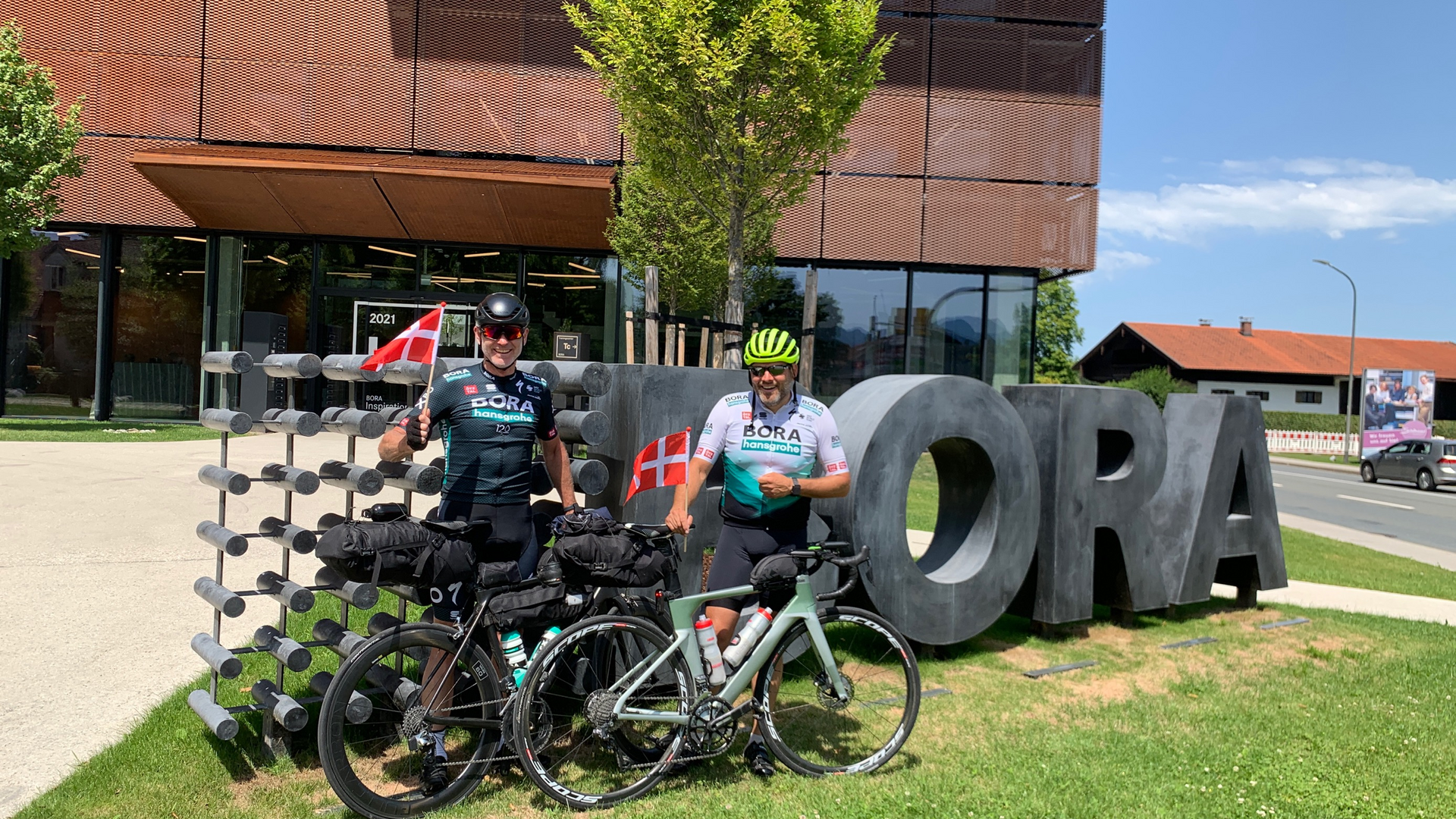 Tour de BORA: What happens when our partners get in the saddle
September 2021
Travelling the length of Germany. With a road bike. In five days. You have to be a little crazy to come up with such an extraordinary idea, but most of all you need to have passion and motivation, and BORA partners have them in spades. One such partner is Lars Hanfgarn, an interior design consultant at Svane Køkkenet in Aabenraa, Denmark, not far from the border with Germany.
Photo credit:
BORA / Lars Hanfgarn
It all started with a throwaway comment. The active Dane loves to take regular trips out on his road bike – just like BORA founder Willi Bruckbauer – so he suggested to his contact at BORA that he should ride down to Raubling sometime to say 'hello' to Willi. Then the inevitable happened: Willi heard about it and was immediately sold on the idea, inviting Lars to come down. Receiving his employer's full support for his passion, Lars found that what started as a fanciful idea soon became reality. His grand tour to Raubling included stage finishes at Hamburg, Northeim, Bad Königshofen and Ingolstadt, not forgetting to add in a stop-off at the BORA pop-up store in Munich.
Lars stayed over in hotels so that no matter the weather, he always had somewhere to get the vital rest he needed for his big trip. A few days before setting off, Lars's friend Jan heard about the plan and decided there and then to join. Even the best-trained Viking could use some support to spur him on mentally and physically on such a huge adventure. The 53-year-old conveniently planned his route online, meaning he could always have it on his cycle computer. Always by his side on his bike were two panniers containing the essentials, with a small Danish flag attached to them. He should be allowed that much national pride.
The sporting challenge of the trip was not Lars's main reason for embarking on it. What he loves about road cycling is being in the great outdoors, discovering breathtaking landscapes, and the fact that you're never short of people to interact with. He's been cycling for years and covers around 10,000 km a year so the distance from his home to Raubling didn't put him off his planned ride. Lars has also conquered many of the most challenging Alpine passes, and the trip was just what he needed to prepare for his dream sporting adventure: a ride from Vejle in Denmark to Nice in France, covering 2,300 km and climbing 30,000 m in elevation in just 12 days.
Lars's trip to Raubling soon attracted attention. Since this was his first cycling adventure without the support of an escort vehicle, news of his plan spread even faster. The hype around his trip to Raubling took Lars by surprise, but he enjoyed it and documented the journey with short video diaries. His boss was so taken with the idea that he decided at the last minute to fly to Munich and accompany Lars and Jan for the last stretch by car. A proper welcome awaited them on arrival at the BORA headquarters, plus top-notch refreshments made by BORA, of course.
By the end of the journey, the two riders had achieved some major stats: 1,027 km and 6,600 m elevation gain in five days. It wasn't always easy going. It rained, they faced headwinds, their legs ached, the route had to be changed, and even getting food on this kind of marathon ride was not always simple so sometimes they didn't have enough time to soak up their surroundings and enjoy the moment. But all of that pales into insignificance compared to the many precious moments and experiences that Lars and Jan did have on their journey: mystical sunrises, breathtaking panoramas, local specialities and plenty of funny incidents. So many in fact that Lars wants to ride the same route again, and he'd be delighted for even more friends and colleagues to join him. After all, the more you share these experiences with people, the sweeter it makes them.