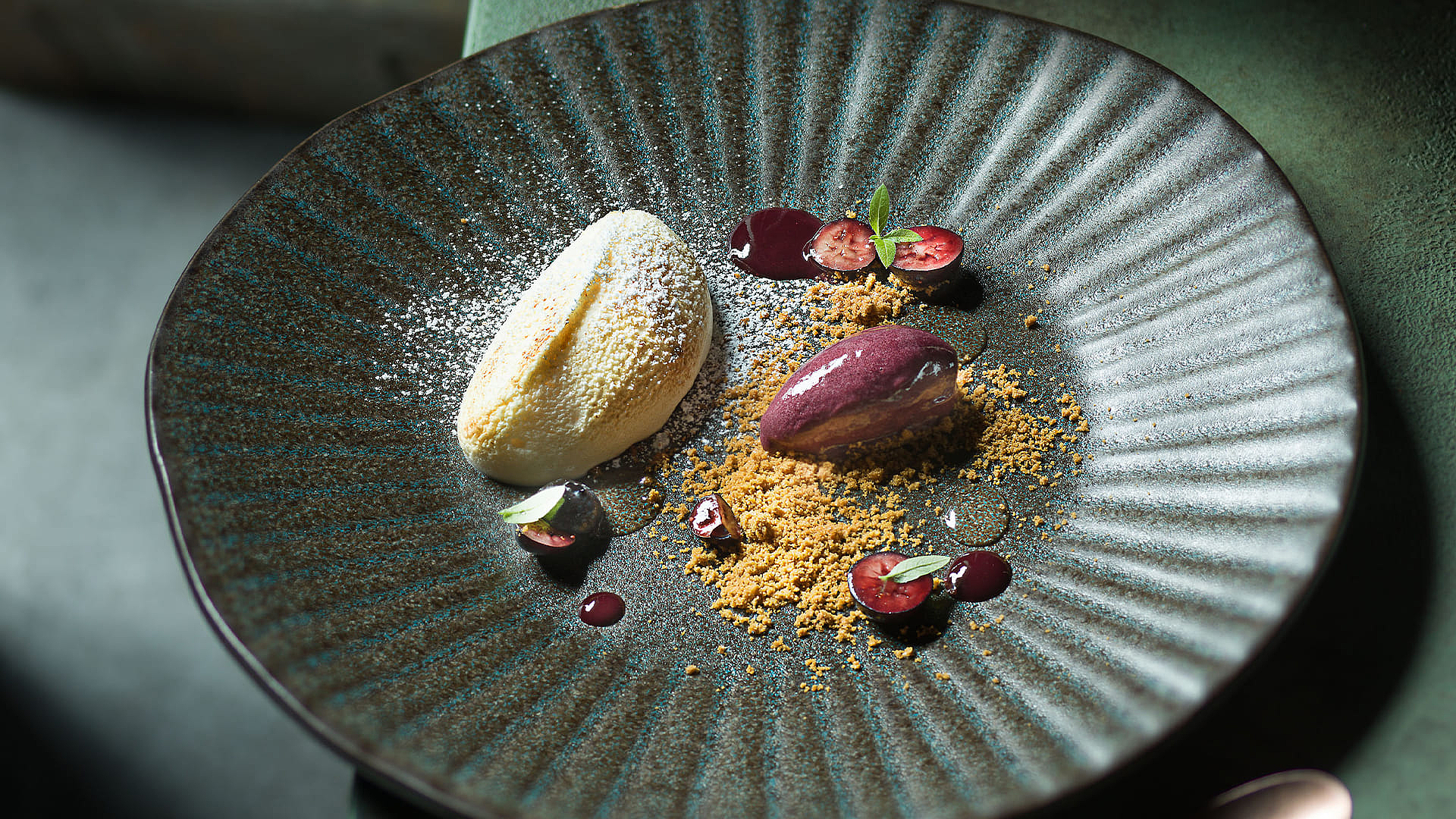 Senn's sweet soufflé with blueberry ice cream and almond crumbs
Preparation
BLUEBERRY ICE CREAM
1. Sort, wash and strain the blueberries. Place in a tall mixing jug with the glucose and blend into a fine purée. Heat the clarified sugar syrup. Soak the gelatine in cold water, squeeze well and dissolve in the clarified sugar syrup. Gradually stir in the blueberry purée. Set four tablespoons of the compote aside for garnishing and freeze the rest in the ice-cream maker for about 30 minutes.
ALMOND CRUMBS
2. Combine the flour, ground almonds, sugar and 1 g salt in a bowl. Add the butter (cut into cubes) then knead the ingredients and rub between the fingers to form fine breadcrumbs. Spread evenly on the universal tray and bake in the X BO (180°C/0% humidity) for about 5 minutes. Remove and leave to cool.
SWEET SOUFFLÉ
3. Line the non-perforated steamer tray with a silicone baking mat. Wash the lemon in hot water and dry it. Finely zest the skin and squeeze out the juice. Scrape out the seeds from the vanilla pod. Weigh out 50 g of the egg whites and beat with the egg white powder until frothy, then gradually add the icing sugar. Stir in the lemon zest and vanilla seeds. Add the syrup, apple juice and 5 g lemon juice and vigorously beat everything again. Use a tablespoon to create quenelles from the mixture and place them on the baking mat. Bake in the X BO (200°C/0% humidity) for about 3 minutes.
FINISHING TOUCHES
4. Meanwhile, sort, wash and strain the blueberries then cut them in half and marinate with the clarified sugar syrup. Remove the sweet soufflés from the X BO, transfer onto plates and sprinkle with icing sugar. Scatter the almond crumbs next to the sweet soufflés and serve a scoop of blueberry ice cream on top. Garnish everything with the marinated blueberries and blueberry compote.
This and other inspiring recipes can be found in the cookbook for the BORA X BO.
Preparation time: 50 min.
aiting time: 30 min.
Baking time: 8 min.
Serves 4
For the blueberry ice cream
500 g blueberries
20 g glucose
150 g clarified sugar syrup (see p. 113)
1 gelatine sheet
For the almond crumbs
65 g flour
65 g ground almonds
60 g raw cane sugar
Natural or sea salt
120 g butter
For the sweet soufflé
½ organic lemon
1 vanilla pod
2 egg whites (size M)
20 g egg white powder
15 g raw cane icing sugar
30 g elderberry syrup
120 g apple juice
To finish
1 cup of blueberries
1 tbsp clarified sugar syrup