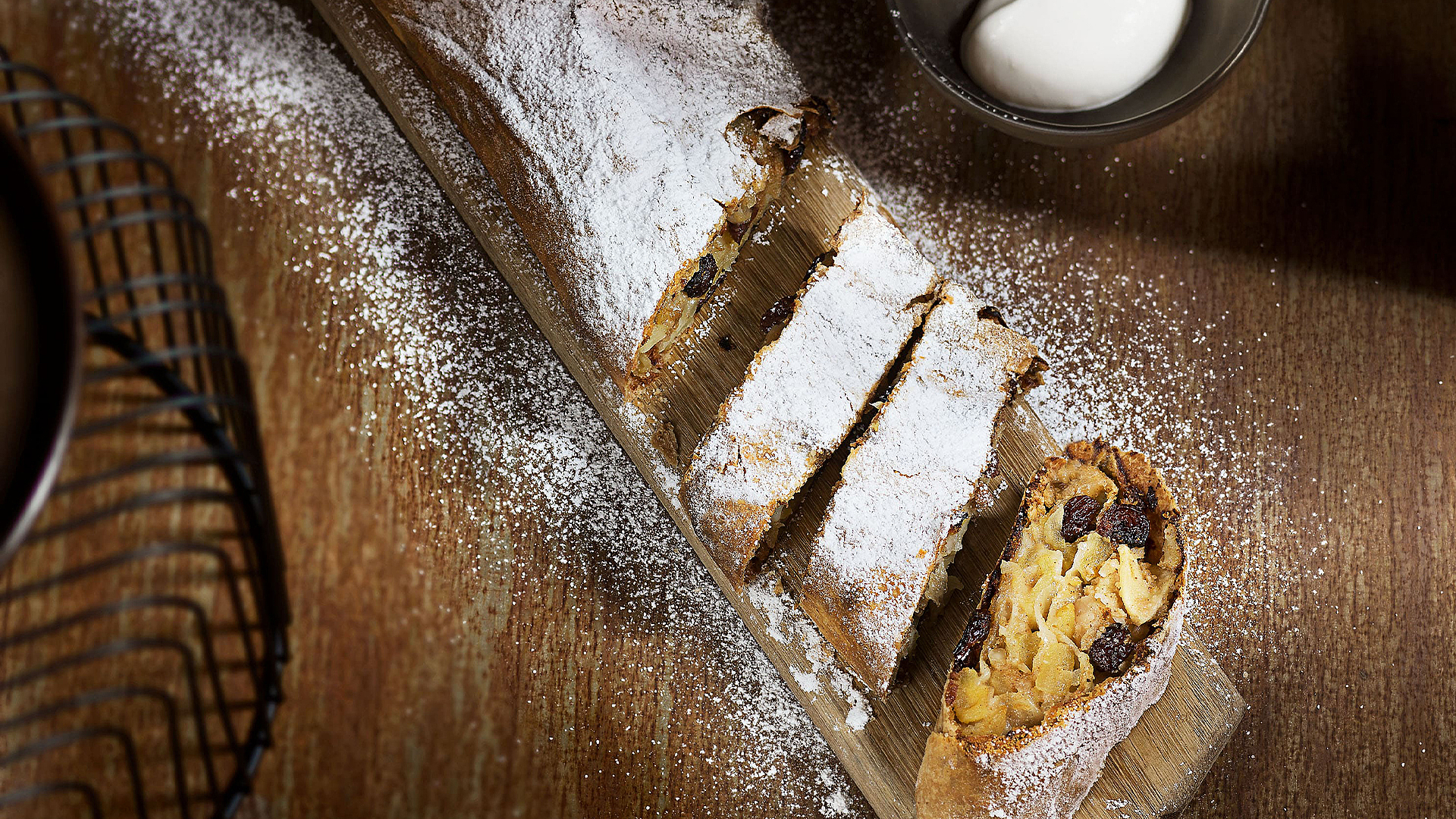 Apple strudel with vanilla cream
Automatic programme 'apple strudel' (Step 8)
Preparation
STRUDEL DOUGH
1. Use a food processor to knead together the flour, oil, 1 pinch of salt and 120 g warm water to form a smooth dough then continue to knead vigorously for about 10 minutes.
2. Melt the butter in a small pan. Shape the dough into a ball, place in a bowl, coat with the liquid butter and cover with cling film. Leave to rest in the fridge for about 2 hours.
FILLING
3. Wash, peel and core the apples. Cut the pulp into thin slices and place in a bowl. Squeeze the lemon and marinate the apple slices in the juice to stop them turning brown.
4. Heat the butter in a frying pan. Fry the breadcrumbs and almond slivers until golden brown. Sprinkle the sugar over the top and caramelise slightly. Mix in the cinnamon powder. Allow the pan contents to cool.
5. Place the raisins into a bowl, pour on the apple brandy and leave them to soak.
STRUDEL
6. Melt the butter in a pan. Remove the dough from the fridge, unwrap the cling film and roll out thinly on the lightly floured work surface. Place the dough on a clean tea towel and use the back of your hand to stretch it outwards from the centre until you can see the tea towel's pattern through it.
7. Thinly coat the strudel dough with the melted butter. Sprinkle the breadcrumb mixture lengthwise along half of the dough. Evenly distribute the apples and soaked raisins on top. Fold over the side edges by around 4 cm then lift the edge of the tea towel slightly and carefully roll up the strudel, frequently re-grasping the tea towel to make the strudel beautifully compact.
8. Use the tea towel to carefully place the apple strudel on the universal tray, coat it with the remaining melted butter and bake on the middle shelf in the X BO (160°C/0% humidity) for 20–25 minutes until golden brown.
VANILLA CREAM
9. Whisk the cream with a hand mixer until soft peaks form. Cut the vanilla pods in half lengthwise, remove the seeds with the back of the knife and stir into the cream together with the icing sugar.
FINISHING TOUCHES
10. Cut up the strudel while still warm, arrange on dessert dishes, dust with icing sugar and serve with the vanilla cream.
This and other inspiring recipes can be found in the cookbook for the BORA X BO.
Preparation time: 1 hr 30 min.
Waiting time: 2 hrs
Baking time: 25 min.
Serves 4
For the strudel pastry
200 g flour (or type 630 spelt flour)
2 tbsp groundnut oil
Natural or sea salt
10 g butter
For the filling
1.2 kg sour apples (e.g. Boskoop)
1 lemon
50 g butter
60 g breadcrumbs
60 g almond slivers
80 g raw cane sugar
1 tsp cinnamon powder
50 g raisins
30 g apple brandy
For the strudel
80 g butterFlour for dusting the work surface
For the vanilla cream
100 g cream (or whippable vegetable fat)
2 vanilla pods
1 tbsp raw cane icing sugar
To finish
Raw cane icing sugar for dusting