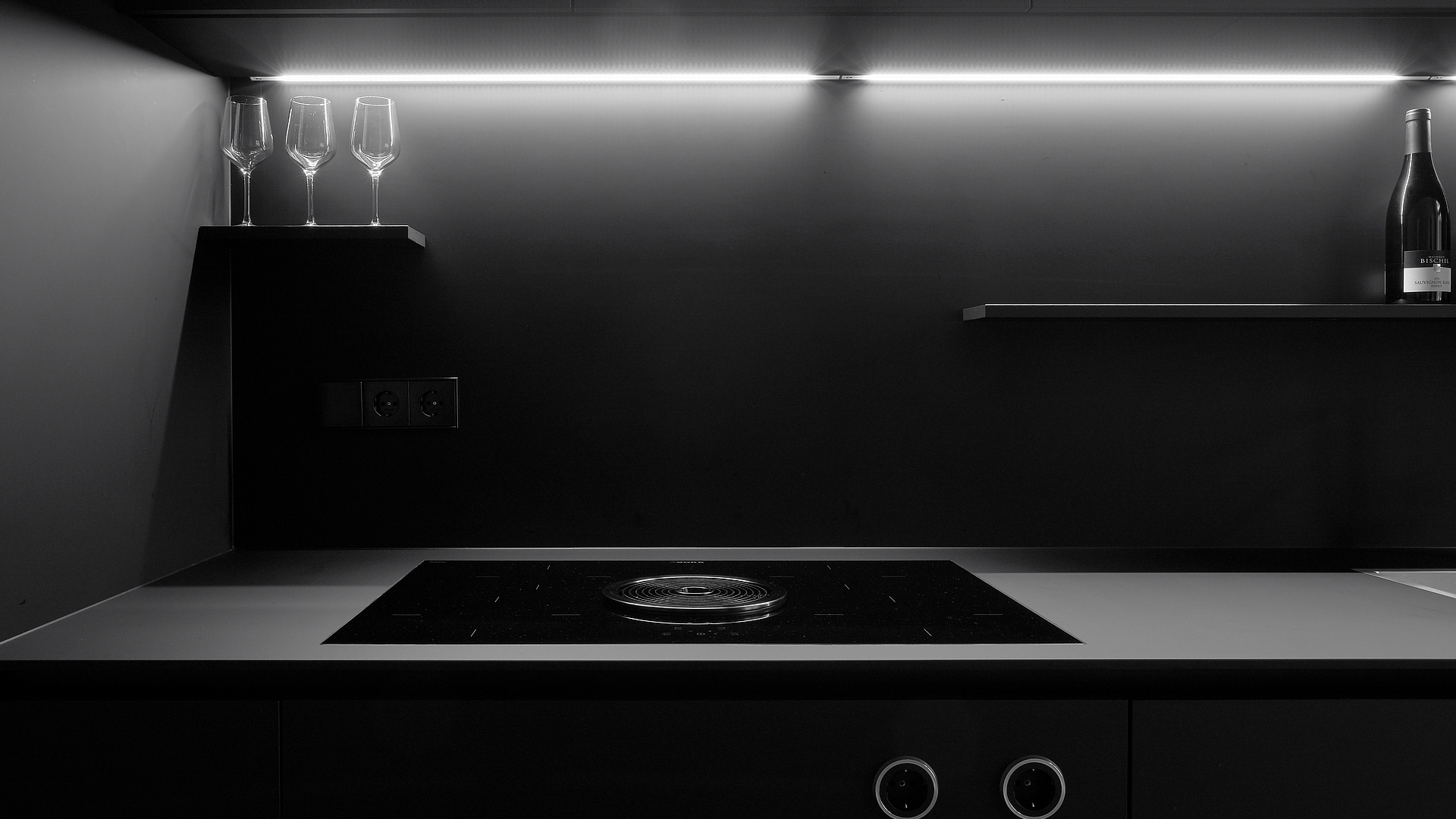 BLACK KITCHENS - ON THE TRAIL OF THE DESIGN TREND
Is black the new white? All-black kitchens – even though we have been seeing more and more of them lately, still set themselves apart from the mainstream of light-coloured kitchen fronts. We set off on the trail of this design trend and took a close look at two kitchens.
Elegant, self-confident, secretive – the colour black prompts many different associations. This (non)colour stands for dignity, courage and individuality. In a "little black dress", a woman is always stylishly attired, and the classy limousine looks twice as luxurious in black as in white. What's more, black is timeless, somehow never going out of fashion.
Yet, to date, even professed lovers of dark colours often shied away from furnishing their homes all in black. Dark accents, on the other hand, were certainly acceptable. It is too oppressive, too claustrophobic and too gloomy to design entire fronts or even the whole kitchen in deep black, or at least that's the credo of many interior design experts. "All nonsense!" Or at least that's what Marco Singer thinks, having built several eye-catching kitchens in black with his team from the joinery Schreinerei Singer in Speyer, Germany. "The belief that black makes a room look smaller is a myth. A black room can look great and by no means appear oppressive if the room itself and its design are well thought out," says the master joiner. Interior designer Sarah Henner, who has brought to life a number of all-black kitchens and interior designs together with the planning team at Grüner GmbH, has a similar outlook. However, as dark surfaces do not reflect light as well as light-coloured surfaces, "in a black kitchen especially, plenty of good lighting must be allowed for," she says.
A leading design principle which is also mirrored in the black kitchen that the interior designers at Grüner developed for a married couple of architects who attach great importance to design and quality. "The customers wanted a modern, dark kitchen in their new home, which at the same time was not too sombre or gloomy. That was a design challenge." To make the black kitchen units seem lighter and airier, the planners opted for shorter top cupboards than usual. Instead of placing them at head height, they installed them right at the top under the ceiling. This meant that there was a generous alcove between the top cupboards and the worktop, which was divided by an elegant shelf. Two LED light strips built in along the entire length of the recess cast warm light over the dark surface, giving it a cosy yet modern look and feel. "What's more, a dividing element was to separate the kitchen, dining and living areas without taking away the effect of the open space," adds interior designer Sarah Henner. What was the clever solution the planning team came up with? A monolith-style central block opposite the classic kitchen units, combining an eating area, appliances and plenty of storage space for (cook)books. So that this dividing element didn't turn out to be too bulky, one end of the tabletop was attached to the central block, allowing the other end to protrude and float freely in the room. Table legs were omitted completely.
"THE CUSTOMERS WANTED A MODERN, DARK KITCHEN IN THEIR NEW HOME, WHICH AT THE SAME TIME WAS NOT TOO SOMBRE OR GLOOMY. THAT WAS A DESIGN CHALLENGE."
Because the living space was open plan, the home owners logically wanted a quiet and efficient extractor. Furthermore, the cooktop had to fit in with the streamlined design of the surrounding kitchen. They decided on the BORA Basic, which meets all of these requirements. The stainless steel ring around the cooktop extractor provides a slight contrast, as does the tap on the sink and the tabletop made of old solid oak timber, which matches the colour of the parquet. This brightens up the otherwise completely dark cupboard fronts and worktops and gives the whole room a certain je ne sais quoi. To give an impression of visual harmony, the team from Grüner had another trick up their sleeve, as Sarah Henner explains, "The holes in the wood of the dining area have been filled in black. That adds the finishing touch." This allows the central black theme to infuse throughout the whole interior décor, interrupted here and there by glimpses of other materials and light colours.
In contrast, the kitchen that Schreinerei Singer built for a young family really was completely black. The couple of design enthusiasts had a totally matt black kitchen in mind for the renovation of their Frankfurt apartment – no compromise. Marco Singer tells us about it. "Recently we've built a lot of black kitchens, but all of them have had a contrasting element somewhere with a bit of wood or a touch of another colour. But here it really was paramount that the kitchen should be entirely black." It's a good job we can now get black kitchen appliances. In his kitchens Singer almost exclusively installs BORA cooktops with integrated extractors that suction downwards – because he believes in them, he stresses.
"THERE'S NO COATING AS MATT AS THAT."
This also applies to the kitchen furniture. Their surfaces were made of the innovative laminate material Fenix NTM, which kitchen builder Singer claims is the most matt black material for surfaces that you can find. "There's no coating as matt as that." What's more, a lacquered surface is also considerably more easily damaged than Fenix laminate, which seems to be virtually immune to fingerprints and scratches. "If you lay a bunch of keys on a painted matt black surface just once, you've already got five scratches in it. That's not the case with Fenix NTM panels," he explains. The only element that is not black in the classically laid out kitchen with no island or breakfast bar is the sink, and there were technical reasons for that. At present, the only robust black sinks available are made of composite substances, which all contain a small proportion of glitter. Under no circumstances was it to sparkle in the kitchen; the customer and kitchen planner both agreed on that. Without wasting a second, they made a virtue of necessity and fitted a matt light grey sink, which now forms a harmonic counterpoint in its entirely dark surroundings.
Although four of the last ten kitchens Marco Singer has built are black, he's convinced that those who have a black kitchen fitted still stand out from the crowd. "I think that when somebody has a well-planned and well-built fully black kitchen at home, it always causes a stir when friends or acquaintances come to visit." The interior design experts at Grüner also see a trend that is leaning towards black kitchens, but don't forget to stress that it takes a lot of courage to buy a dark or black kitchen. But those who do dare to are in the end often rewarded with a top-quality kitchen that's one of a kind, where they always have something new to look forward to.