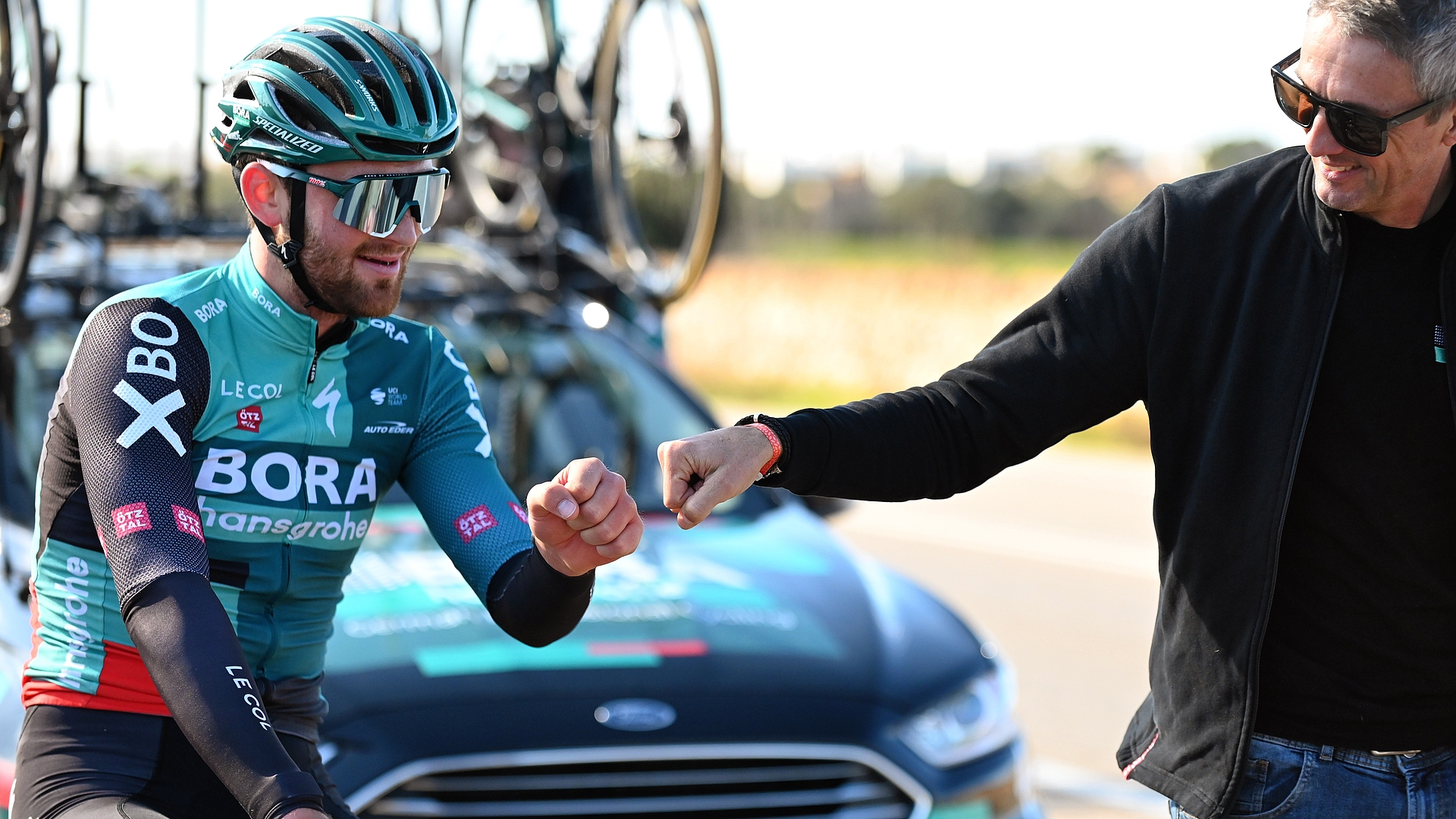 What drives the professional cyclists on the BORA – hansgrohe team?
April 2022
Here are the ingredients for their motivation recipe...
Whether you're a professional or an amateur cyclist, the spring sunshine probably makes you want to leap onto the saddle. But what if you don't have the get-up-and-go, the weather or your mood isn't right and the couch looks much more appealing? We asked the BORA – hansgrohe guys what spurs them on. After all, it's clear that success is impossible without motivation. At the same time, the activity still needs to be fun as that's the only way to keep up motivation levels. But if the fun factor is thin on the ground, it sometimes helps to do activities with others – after all a joy shared is a joy doubled.
Photo credit:
BORA – hansgrohe / veloimages.com
BORA – hansgrohe / Sprintcycling
BORA – hansgrohe
Learn from the pros
If cycling is your profession, as is the case with our BORA – hansgrohe team, then you also have to be a motivation expert. On the one hand, the team members naturally motivate each other because 'teamwork makes the dream work', but they also have their very own tips and tricks on how to keep their motivation up.
For the Belgian cyclist, Jordi Meeus, for example, the team spirit is the greatest incentive for a win. Emanuel Buchmann and Jonas Koch are mostly spurred on by success, positive results and by focusing on the ongoing improvements made in recent years. As for Aleksander Vlasov, his aim is to keep improving and never give up, in line with the motto 'the sky is the limit'. Lennard Kämna is particularly interested in putting his mark on a race and being pro-active. To use cycling jargon, he has 'panache', a blend of courage and a real joy of racing – exactly what the spectators love so much. And if keeping up motivation in the long term doesn't work so well, Patrick Konrad sets himself short-term, weekly goals and faithfully follows the motto 'work before pleasure and rewards'. But for many of the riders, simply having the chance to turn their hobby into their profession is more than enough of an incentive. They see it as a privilege and therefore find it easy to motivate themselves. Sometimes a bit too easy, in fact. Every now and then, Felix Großschartner has to put the brakes on while training if he puts his pedal to the metal – driven by some inspiring athlete documentaries or some good tunes – and runs the risk of overdoing it.
The family: support, balance and an incentive all at once
Your environment and your family can also boost your motivation levels. This is the case for Cesare Benedetti, for example, who feels that he has a responsibility towards his family. He wants to offer his wife and children a secure livelihood, and that motivates him. This environment also plays a key role for Wilco Kelderman, Patrick Gamper and Nils Politt. Their families not only motivate them, but they also offer an oasis of calm which helps the cyclists to slow down (if need be), take their mind off things and focus on the essentials. Luis-Joe Lührs even goes as far as getting his brother Leslie (also a professional cyclist) and his parents to join him on training rides. And when Martin Laas says goodbye to his family before leaving for a race, his son gives him a clear message: "Make sure you bring home a medal, Daddy!"
Childhood dreams and 'training animals'
Role models are a source of motivation that often works well and that tends to have an influence from an early age. When they were young, many of today's professional cyclists probably got a great deal of excitement out of watching races on TV or going for a ride in one of their great hero's jerseys. The sprinters Tom Boonen and Robbie McEwen were particularly popular among the BORA - hansgrohe team. They were the personal favourites of Sam Bennett and Jordi Meeus, who both actually went on to become sprinters themselves. It's a similar story with Sergio Higuita and Matteo Fabbro. Both are of petite stature and with a penchant for explosive attacks on steep climbs and emulate the Spaniards Joaquim Rodríguez and Alejandro Valverde. When the seasoned professional Danny van Poppel had the chance to meet his idol Robbie McEwen in his house in Australia, his childhood dreams came true and his inspiration was given an inevitable boost. Sometimes the place where we live also leads us to our personal heroes: Nils Politt was able to train for years with his friend and idol André Greipel. Together with three other professionals, 'Giraffe' Politt and 'Gorilla' Greipel formed the self-proclaimed group of 'Cologne training animals'.
Arnold Schwarzenegger, Michael Jordan and the cyclists' own parents
The role models of the 'Band of Brothers', as the BORA – hansgrohe team calls itself, aren't necessarily to be found at the front of the peloton. During his career, Cesare Benedetti has always tried to draw lessons and learn something from his competitors and companions. Because even the guys who aren't first to cross the finishing line work hard to achieve their goals. But some of the cyclists get their inspiration from other sports. Frederik Wandahl was influenced by the basketball player Michael Jordan and the Formula-1 racer Lewis Hamilton. As for Marco Haller, his idol is a real all-rounder. He's impressed by Arnold Schwarzenegger's class and ability to transform: from a body-builder to an actor, then a top-level politician. But good role models don't always have to be famous. The greatest examples for Patrick Gamper and Ide Schelling are their very own parents, no matter how fast they can cycle. The people who know us best not only lend us support, but they often give us the best tips – even beyond the realm of sport.
Watch the video to find out which other idols our guys have: