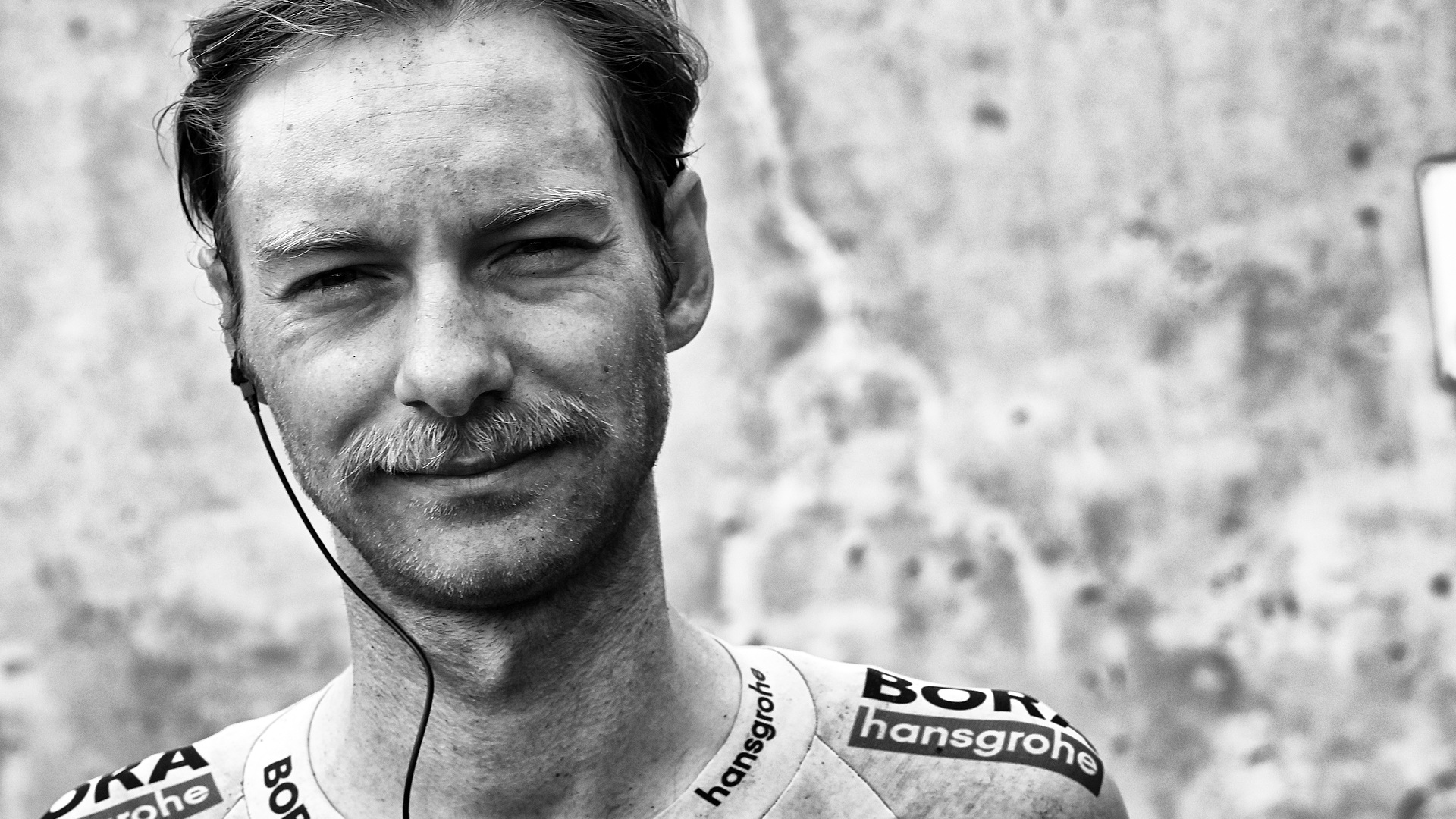 Felix Großschartner – anything but mainstream
August 2021
"Mainstream is average. Being unconventional opens up possibilities." This is Felix Großschartner's self-imposed motto. Visually, the down-to-earth Upper Austrian stands out from the crowd due to his striking moustache. And his cycling performances and weather preferences are far from average too.
From the ski slopes to the road
As a teenager, Felix initially set his heart on a career at the Alpine Ski World Cup. He attended the ski secondary school in Windischgarsten just two years below twice world champion Vincent Kriechmayr and trained hard for his big goal. But a complicated fibula fracture at the age of 14 put a bitter end to these dreams. During his rehab, the first activity he was able to do was train on an exercise bike. This sparked Felix's passion for cycling to such an extent that, much to his delight, he obtained his first junior licence soon afterwards. Thanks to his impressive determination, he quickly made a name for himself in the nearby Continental team in Wels, where he first met his current team mates Patrick Konrad and Lukas Pöstlberger. In 2015, he got his first brief breath of WorldTour air as a stagiaire ('test rider') on the then Tinkoff – Saxo team before joining the Polish team CCC followed by BORA – hansgrohe in 2018.
Photo credit:
BORA – hansgrohe I Bettiniphoto
BORA – hansgrohe I veloimages.com
BORA I Stefan Schütz
A rider with style
It is through the 'Band of Brothers', as the team calls itself, that Felix came to grow the moustache that has since established itself as his trademark and distinguishing feature. Several of the team members decided to try and grow one in early 2020, but only Felix saw the attempt through. "It amuses me and my girlfriend has got used to it" he jokes. According to Felix, the striking moustache also gives him an extra 20 watts. A further positive side effect is that his friends and family can quickly spot him in the large peloton – even if this isn't at all necessary as Felix far prefers to stand out due to his performance. When he sees an opportunity, he seizes it. To use cycling jargon, he has panache. He has proven this on multiple occasions, such as with his impressive solo stage victory in the 2021 edition of the Tour of the Alps in Riva del Garda when he broke away 18 km before the finish and could no longer be caught.
Cold, wet and uphill…
…these are Felix's ideal race conditions. After all, 'unconventional' is also the best way to describe the climber's answer when asked about his favourite cycling weather: "I do generally enjoy training in the sun, but rain and 4 degrees are my ideal race conditions," he states in full earnest. This is partly because he knows that he can deal with such conditions better than many of his competitors. In his days as a skier, even temperatures of -20°C didn't bother him. As a result, he even likes training in the cooler morning conditions found in Austria in the autumn as his body simply works better in them. It is also in these conditions that Felix has celebrated some of his greatest successes. For example, the overall victory at the 2019 Tour of Turkey, where he aptly set the foundations for the win with his stage victory in a ski resort where stormed up the final climb in the falling snow in conditions that he'd even have enjoyed as a skier. This overall victory also held historic significance for his Raubling-based team BORA – hansgrohe as it was its first ever overall victory in a stage race.
The final breakthrough as a general classification rider
The weather once again played into Felix's hands at the Vuelta a España 2020. The modified racing calendar meant that last year's Tour of Spain only started in mid-October, two months later than usual. Felix made perfect use of the cooler temperatures and achieved an extremely impressive ninth place in the general classification. In doing so, he held on to a top-ten place in the overall standings from the very first stage plus finished in the top ten on five of the stages and only just missed out on a stage victory to come second by a few centimetres. Following top-ten positions at one-week tours, this was the final proof that he could also be counted on at a Grand Tour. He even achieved all this despite BORA – hansgrohe's Vuelta team being built around star sprinter Pascal Ackermann, who showed that this was warranted by claiming two stage victories. This meant that Felix didn't have a team of strong climbers to aid him but was able to save his energy on the flats. This success brought great attention to him back home, leading to him being voted 'Austria's cyclist of the year 2020' ahead of his team mate Patrick Konrad.
We're still missing...
...the final ingredient for a stage win at one of the three big national tours. In the first two weeks of the Giro d'Italia in spring, he was of great help to team captain Emanuel Buchmann who dropped out of the race following a fall, giving Felix the freedom to actively ride a number of times in the breakaway group of the day, but it was unfortunately not enough. However, he's taking it in his stride and waiting for another chance: 'It is what it is, but there's bound to be a next time.' And his next chance is coming up at the end of the season at the Vuelta a España, where Felix will be the BORA – hansgrohe team captain with a strong team behind him, raring to go and repeat last year's excellent performance. With a pinch of luck and a ready-made portion of skill, there's bound to be a stage win on the horizon in this year's Grand Tour. Then we can once again hold our heads up high with a winning smile on our faces.