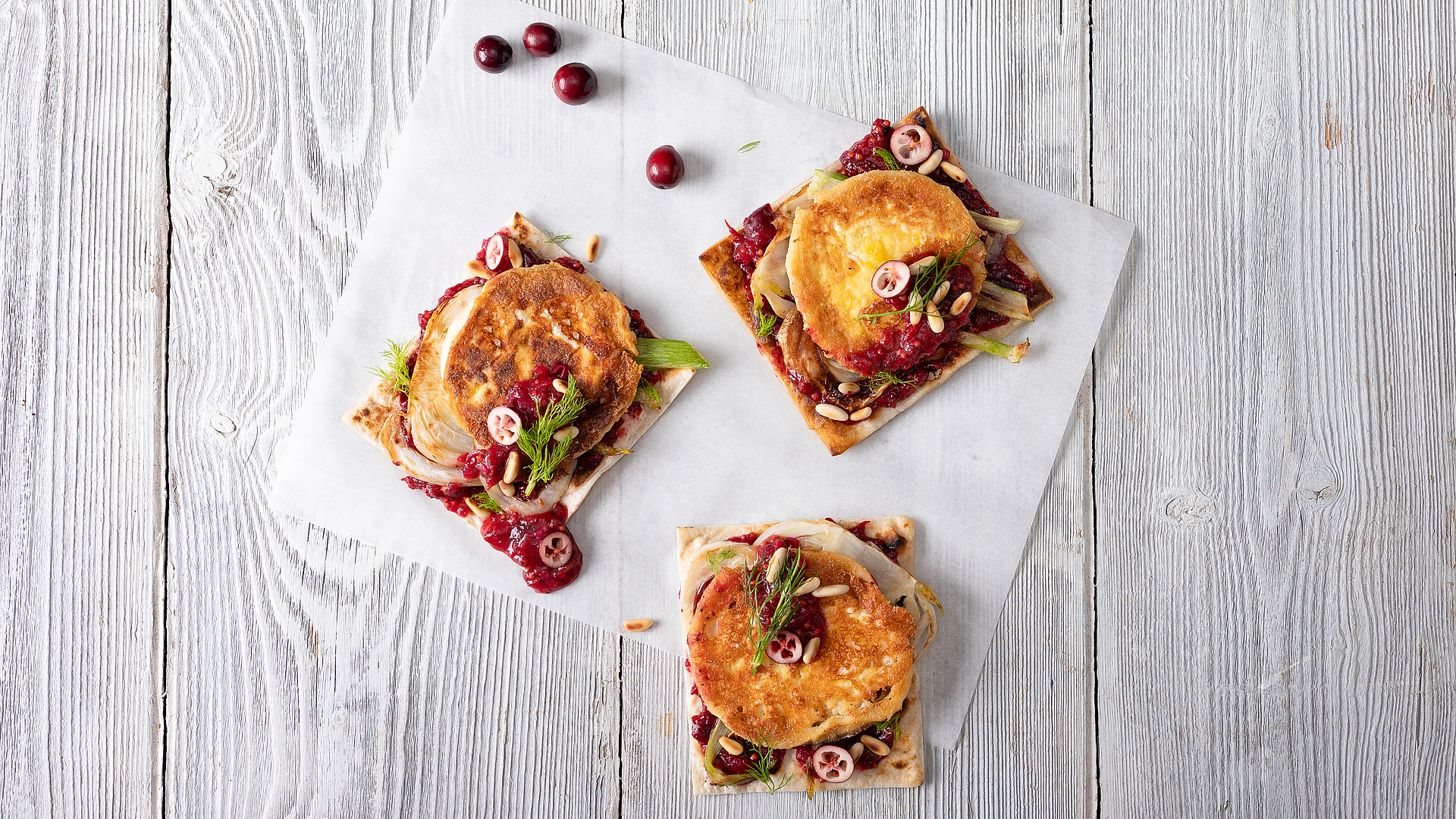 Tartelettes with goats' cheese, fennel and cranberry chutney
Preparation
To make the chutney, finely dice the shallot and sweat in butter in a saucepan. Add the cranberries, rose hip Mam and mustard. Season with salt and pepper. Add Balsamic vinegar to taste and simmer over a low heat for ten minutes.
Preheat the Tepan to 200 degrees. Meanwhile, cut the goats' cheese log into finger-thick slices and roll in cornflour. Cut the fennel into wafer-thin slices and the tarte flambpe dough into four rectangles.
Drizzle a little cooking oil onto the Tepan. Lightly season the fennel with salt, place on one Tepan zone and fry with the goats' cheese on both sides until golden brown. Toast the pine nuts. At the same time, cook the rectangles of dough for about five minutes per side on the other Tepan zone to create tartelettes.
Once cooked, top as follows: chutney, fennel, goats' cheese and a second layer of chutney. Garnish with cranberries, pine nuts and chives or fennel leaves.
Serves two
150 g goats' cheese (log)
2 tbsp cornflour
½ fennel bulb
½ roll of spelt tarte flambée dough
1 tbsp pine nuts
Cooking oil, natural or sea salt, ground pepper, a few fresh chives or fennel leaves for garnishing
For the cranberry chutney
1 shallot
1 heaped tsp butter
70 g fresh or frozen cranberries
1 tbsp rose hip jam
2 tsp yellow mustard seeds
2 tsp black mustard seeds
½ tsp ground pepper, ½ tsp natural or sea salt, a little balsamic vinegar