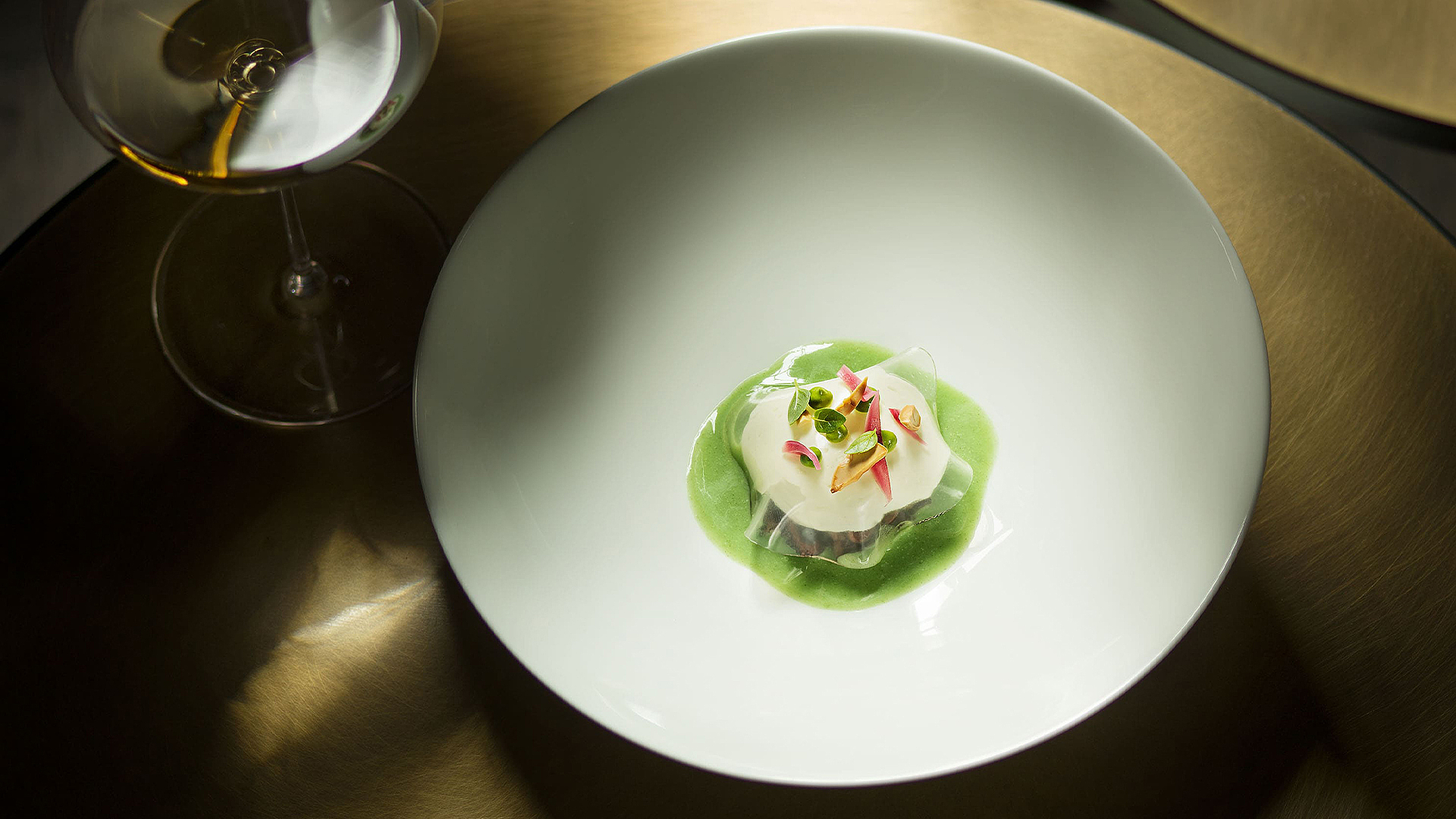 Octopus with white gazpacho, tomato jelly and herb sauce
Automatic programme 'octopus steamed in stock' (Step 3)
Preparation
OCTOPUS
1. Peel and coarsely dice the onions and garlic. Peel the carrots, trim and wash the fennel then coarsely chop up both.
2. Heat the oil in a pan, add the prepped ingredients and sauté them over a medium heat. Pour in the red wine and thicken uncovered over a medium heat. Add 500 g water, stir in the spices and simmer the seasoning stock over a low heat for about 5 minutes.
3. Meanwhile, wash the octopus and remove the head. Place the arms and seasoning stock in a vacuum bag and steam in the X BO (90°C/100% humidity) for about 2 hours until soft.
HERB SAUCE
4. Wash the herbs and shake them dry then pluck the leaves or needles. Peel and finely dice the onions and garlic.
5. Heat the oil in a pan. Sauté the onion and garlic, then deglaze with a little white wine. Pour in the tomato water and chicken stock, bring to the boil and simmer over a medium heat until reduced to about two-thirds of the liquid volume.
6. Add the crème fraîche and prepped herbs and blend into a fine purée. Strain the sauce through a sieve and season with salt, pepper and vinegar.
WHITE GAZPACHO FOAM
7. Peel and halve the garlic, removing the germ.
8. Lightly toast the almonds in a non-oiled pan. Pour in the milk, add the garlic and simmer gently for about 10 minutes. Blend with the rest of the ingredients until smooth and pass through a sieve. Transfer the gazpacho to an iSi whipper, twist in 2 chargers and keep the whipper warm until ready for use.
TOMATO JELLY
9. Soak the gelatine in cold water.
10. Season the tomato water with salt and vinegar. Place in a pan with the agar-agar, stir and bring to the boil. Squeeze out the soaked gelatine, dissolve in a pan over a low heat then gradually stir in 2–3 tbsp of the tomato water mixture, only then stirring the gelatine into the overall concoction.
11. Line the universal tray with a silicone baking mat. Pour on the jelly in a thin layer and leave to solidify then carefully cut into pieces of the desired size.
FINISHING TOUCHES
12. Toast the chopped almonds in a non-oiled pan until golden brown. Wash the basil and dab it dry. Peel and thinly slice the onion then briefly bring to the boil in vinegar in a small pan.
13. Remove the octopus arms from the bag, sear in hot olive oil then remove from the frying pan and place in the centre of the plates. Pipe on the white gazpacho foam. Place the tomato jelly on top. Garnish with toasted almonds, onion slices and basil leaves. Pour on the herb sauce.
This and other inspiring recipes can be found in the cookbook for the BORA X BO.
Preparation time: 55 min.
Cooking time: 2 hrs
Serves 4
For the octopus
1 white onion
1 garlic clove
2 carrots
1 fennel bulb
5 tbsp olive oil
250 g red wine
1 bay leaf
1 tsp black peppercorns
4 juniper berries
1 octopus (approx. 1 kg)
For the herb sauce
25 g fresh herbs (e.g. parsley, basil, dill)
½ white onion
½ garlic clove
1 tbsp olive oil
125 g white wine
125 g tomato water
125 g chicken stock
100 g crème fraîche
Natural or sea salt
Ground pepper
White balsamic vinegar
For the white gazpacho foam
½ garlic clove
25 g almonds
75 g milk
75 g tomato water
50 g mascarpone
75 g crème fraîche
Natural or sea salt
Tomato vinegar
For the tomato jelly
1 gelatine sheet
125 g tomato water
Natural or sea salt
White balsamic vinegar
1 g agar-agar
To finish
1 tbsp chopped almonds
10 small basil leaves
½ red onion
100 g vinegar
2 tbsp olive oil
Additional items
iSi whipper
2 iSi chargers