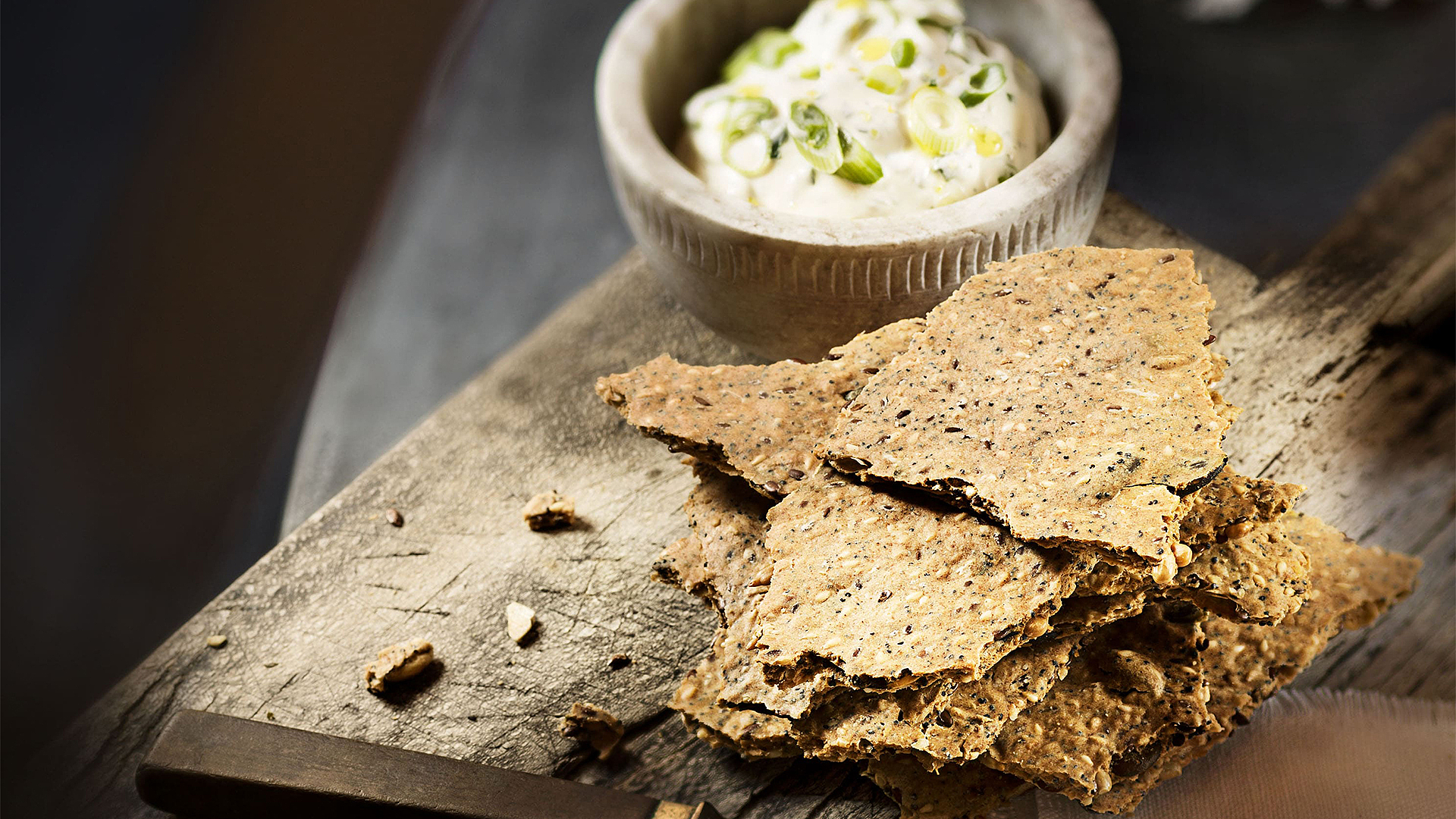 Home-made crispbread with a herb dip
Automatic programme 'crispbread' (Step 4)
Preparation
CRISPBREAD
1. Melt the coconut oil in a small pan.
2. Mix together the seeds, oats, flour, baking powder and 1½ tsp salt in a large bowl. Add the melted coconut oil and 125 g cold water and knead by hand to a firm dough.
3. Place the dough on a baking mat and put a second mat on top. Use a wooden rolling pin to carefully roll out the dough to the size of the universal tray, maintaining an even thickness. Remove the mat from the top. Use a knife or dough wheel to carefully cut the dough crosswise into three approx. 12 cm wide strips. Next, cut these lengthwise into approx. 6 cm wide strips to create 21 rectangles.
4. Bake the crispbread in the X BO (130°C/-80% humidity) for about 30 minutes. Remove from the oven and allow to cool slightly before dividing into 21 pieces along the marked lines and leaving to cool fully. Store in an airtight container.
HERB DIP
5. Mix together the quark and yoghurt in a bowl until smooth.
6. Trim and wash the spring onion and cut into thin rings, including all the fresh green leaves. Wash the chives and herbs and shake dry. Pluck the chervil and parsley leaves and chop finely together with the chives. Stir all of the prepped ingredients into the quark and yoghurt mix. Season with salt and pepper.
FINISHING TOUCHES
7. Drizzle the dip with olive oil and serve with the crispbread.
This and other inspiring recipes can be found in the cookbook for the BORA X BO.
Preparation time: 20 min.
Baking time: 30 min.
Serves 4
For the crispbread:
3 tbsp coconut oil
25 g pumpkin seeds
30 g sunflower seeds
50 g flaxseed
25 g sesame seeds
25 g poppy seeds
50 g crunchy oats
75 g wholegrain spelt flour
100 g buckwheat flour
1 tsp baking powder
Natural or sea salt
For the herb dip
125 g quark
50 g yoghurt
1 spring onion
½ bunch of chives
½ bunch of chervil
¼ bunch of parsley
Natural or sea salt
Ground pepper
1 tbsp olive oil