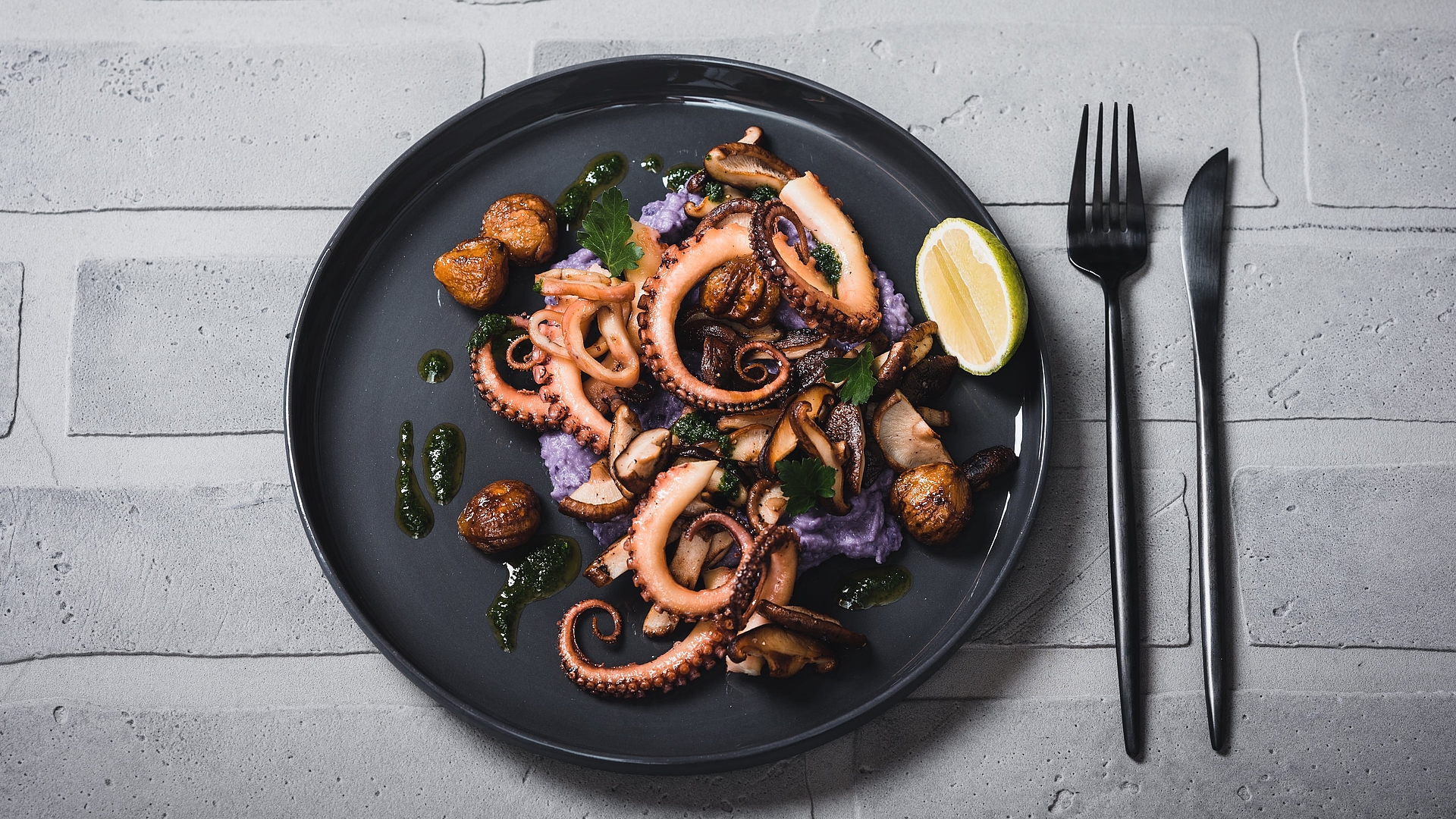 Crispy octopus, mushrooms, chestnuts, purple potato purée
Preparation
Cook the octopus in plenty of water for approx. 60 minutes until soft. It is done when the legs can be pulled off easily. Wash, peel and finely dice the potatoes and cook in boiling water for 40 minutes. When the octopus has
cooled, cut it up, removing the outer skin and larger suckers. Season with salt and pepper and sauté in oil in a non-stick frying pan. Drain and purée the potatoes. Add butter, cream and a little oat milk, if required, for a creamy
consistency. Add salt and pepper. To make the sauce, blanch the parsley leaves in boiling water for 30 sec. and then rinse with cold water. Purée together with lime juice and 40 ml olive oil and add salt and pepper to taste. Clean and thinly slice the mushrooms and then sauté in an oiled frying pan for 3 to 4 mins. Glaze the chestnuts with agave syrup and fry in a non-stick frying pan over a medium heat for 5 minutes. Arrange the octopus, mushrooms and chestnuts on top of the potato purée and drizzle with the parsley sauce. Garnish with parsley leaves.
Serves two
600 g octopus
400 g purple potatoes
60 ml olive oil
50 g butter
200 ml cream (or soya cream)
oat milk (if required)
1 bunch of parsley
juice of 1 lime
100 g shiitake mushrooms
10 chestnuts, pre-roasted
30 ml agave syrup
natural or sea salt, freshly ground pepper