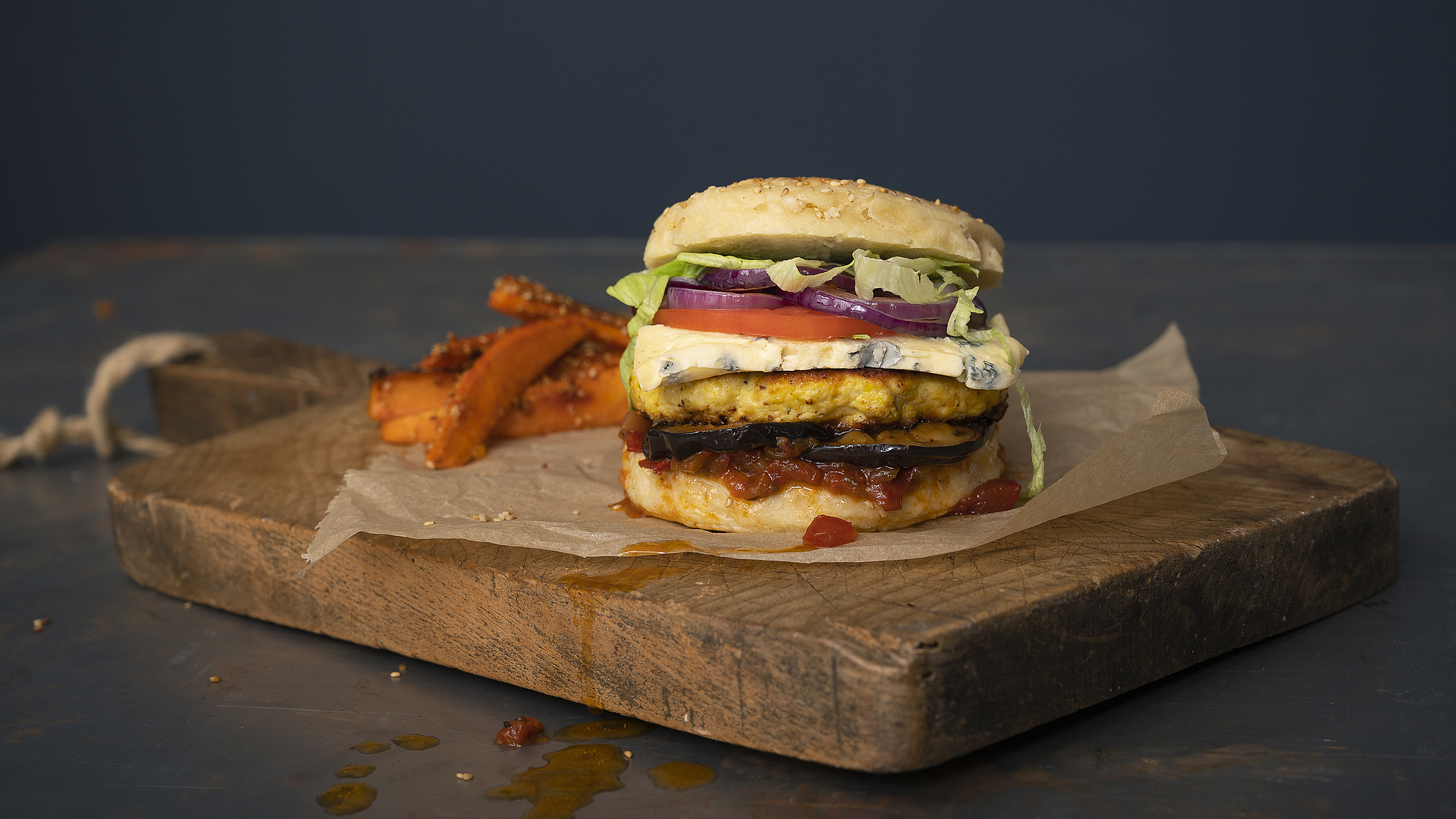 Burger with sweet potato wedges
Preparation
For the burger buns
Place 35 ml water, the oat milk, sugar and yeast in a bowl and mix together. Add the flour, salt and butter and knead into a dough. Leave to prove for about 20 minutes then shape into four bread buns and leave to rest for another 10 minutes.
Preheat the back half of the Tepan stainless steel grill to 200 degrees and thinly drizzle with groundnut oil. Gently press the bread buns flat, coat with water and sprinkle with the sesame seeds. Grill the buns on both sides for about 8 minutes then remove from the Tepan.
For the burger patties
Coarsely tear up the chicken breast fillet. Peel and dice the onion(s) then mix with the meat and breadcrumbs. Put the mixture through the mincer or chop up with the blender. Combine with all the remaining ingredients except the oil and season to taste. With damp hands, divide the mixture into four patties and cook on both sides in a little oil on the back half of the Tepan grill at 190 degrees for 8–10 minutes depending on thickness.
For the sweet potato wedges
Peel the sweet potatoes and cut into wedges. Briefly marinate in salt, paprika, sugar and black cumin then cook in coconut oil on the front half of the Tepan stainless steel grill at 190 degrees until golden on both sides. Keep warm.
For the topping
Wash the aubergines, dab dry and cut into slices. Place on the front half of the Tepan stainless steel grill with plenty of cooking olive oil at 190 degrees. Season well with salt. Peel the onion, cut into rings and sauté with the aubergines after 3 minutes. Wash and slice the tomatoes, removing the stalk bases. Cut the iceberg lettuce into thin strips.
Finishing touches
To serve, spread the tomato chutney onto the burger bun bases. Layer on the tomatoes, aubergines and onions. Add the patties, slice the cheese and place on top. Top with iceberg lettuce and finish with the burger bun lids.
For the chutney
Peel and finely dice the onion. Cut a cross into the tomatoes and briefly place in boiling water. Peel and quarter the tomatoes, removing the stalk bases. Heat a medium pan on level 6 and roast the mustard seeds until they start to jump.
Add the diced onion and the cooking olive oil and briefly sauté. Top up with the tomatoes and bring to the boil. Stir in the remaining ingredients and simmer the chutney for about 15 minutes.
Info
Either use the tomato chutney immediately or transfer it into pre-sterilised glass jars while still hot and seal with a lid. It will then keep for several months.
Preparation time: 50 minutes
Cooking time: 45 minutes
Serves 4
For the burger buns
55 ml oat milk
½ tsp raw cane sugar
10 g fresh yeast or 5 g dry yeast
150 g spelt flour (type 630)
½ tsp natural or sea salt
30 g butter
Groundnut oil
2 tbsp sesame seeds
For the burger patties
600 g chicken breast fillet
1–2 onions
4–5 tbsp breadcrumbs or mie de pain
100 g cream cheese
100 ml oat milk
1 tsp thyme, dried
½ tsp curry powder
2 tbsp mango mustard or medium-hot mustard
Natural or sea salt
Ground pepper
1–2 eggs (size M)
Groundnut oil
For the sweet potato wedges
2 sweet potatoes
1– 2 tsp natural or sea salt
1 tsp paprika, hot
1 tsp brown sugar
6 tbsp black cumin
8 tbsp coconut oil
For the topping
1 aubergine
Cooking olive oil
Natural or sea salt
1 large onion
1 large tomato
1 iceberg lettuce
200 ml tomato chutney
175 g full-flavoured blue cheese
For the chutney
(makes approx. 400 g)
1 onion
750 g tomatoes
1 tsp mustard seeds
1 tbsp cooking olive oil
1 small chilli pepper
110 g raw cane sugar
150 ml white wine vinegar
¼ tsp natural or sea salt
Ground pepper
¼ tsp paprika, sweet