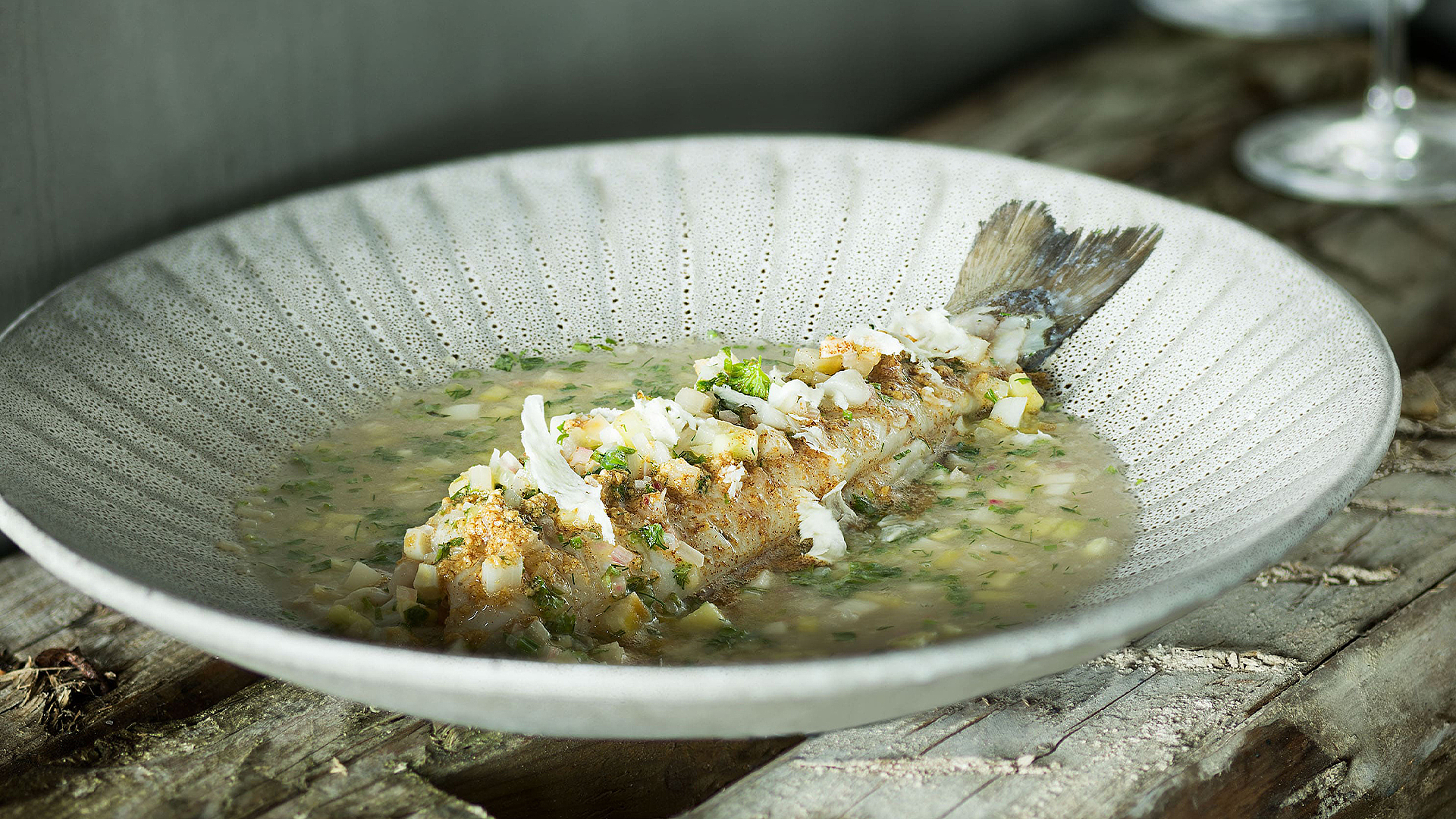 Brown trout in a herb & vegetable vinaigrette
Automatic programme 'fish in stock' (Step 5)
Preparation
VINAIGRETTE
1. Peel the carrots, trim and thoroughly wash the leek and celery. Prepare the mush-rooms by removing the stalks and rubbing them with a cloth if necessary. Cut the prepared ingredients into small cubes.
2. Heat the butter in a frying pan, add the vegetables and mushrooms and fry them over a medium heat. Pour in the white wine and fish stock followed by the vinegar and bring to the boil.
BROWN TROUT
3. Wash the herbs and shake them dry, pluck the leaves and finely chop them. Put the stems to one side to stuff the trout.
4. Wash the trout and dab them dry. Season the inside with some sea salt and lemon juice, then stuff the belly cavity with the parsley and dill stems.
5. Season the vegetable stock with salt and pepper and pour it into the non-perforated steamer tray. Place the fish on the tray and steam in the X BO (75°C/80% humidity) for 9–12 minutes.
FINISHING TOUCHES
6. Once the fish is cooked, carefully remove the head. Remove the fillets from the skin, place them on the plates and drizzle with the stock. Lastly, garnish with the chopped herbs and serve with some freshly grated horseradish.
This and other inspiring recipes can be found in the cookbook for the BORA X BO.
Preparation time: 25 min.
Cooking time: 12 min.
Serves 4
For the vinaigrette
2 carrots
60 g leek
50 g celery
6 button mushrooms
30 g butter
250 g white wine
250 g fish stock
2 tsp tarragon vinegar
For the brown trout
20 g dill
20 g chervil
20 g parsley
2 brown trout (approx. 300 g each, ready to cook)
Natural or sea salt
Lemon juice
Ground pepper
To finish