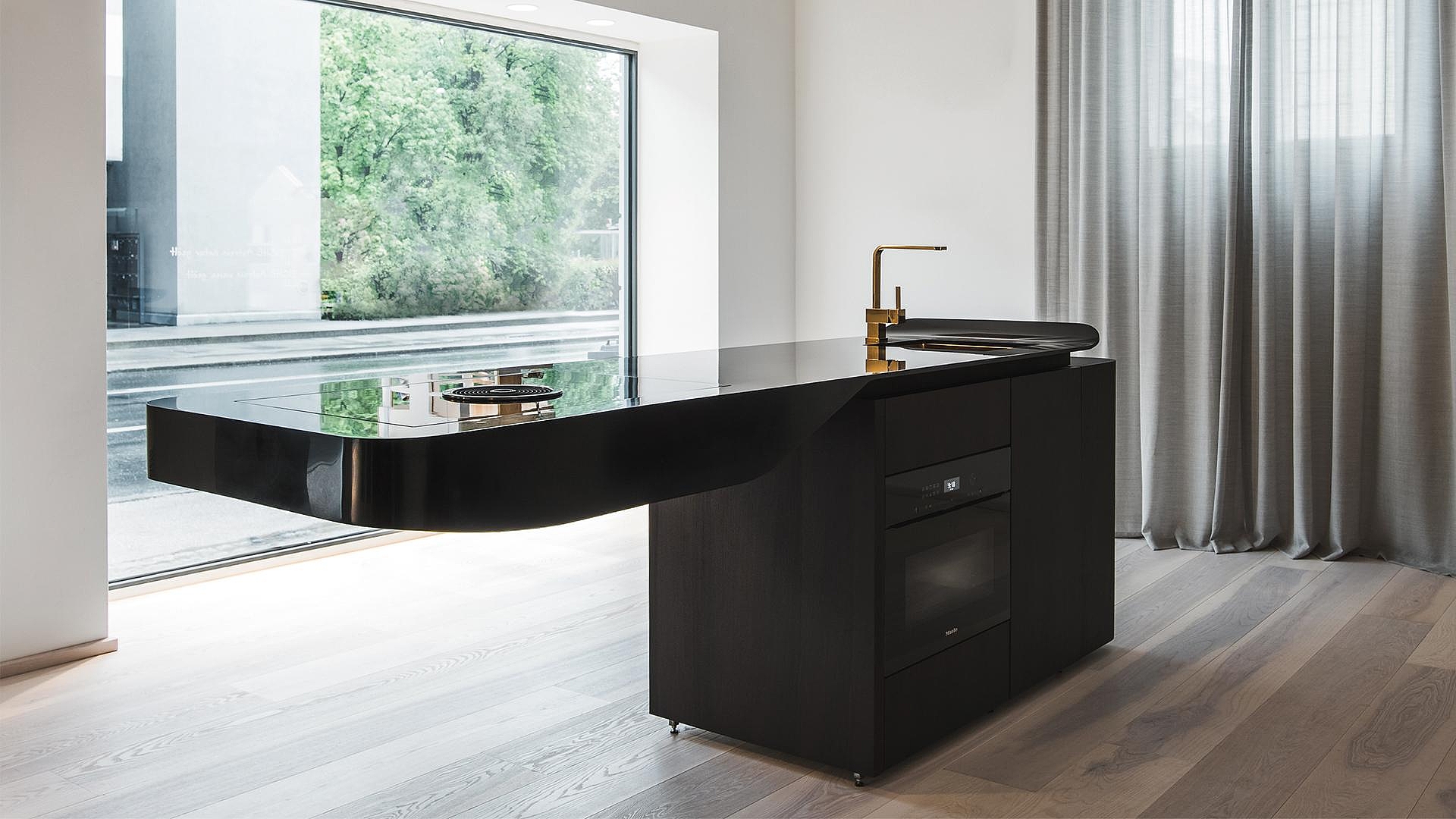 CLEAR THE STAGE FOR THE KITCHEN SOLO
ALL IN ONE: DESIGNER BARBARA GOLLACKNER HAS CREATED A SINGLE UNIT THAT ENCOMPASSES ALL THE FUNCTIONS OF A KITCHEN – INCLUDING A BORA Basic COOKTOP EXTRACTOR SYSTEM.
In the original meaning of the word, a fetish (or 'Fetisch' in German) is an object believed to have magical powers linked to a religion. And the 'Fetisch' kitchen unit certainly lives up to its name, with the design invoking a sense of something magical the instant you lay your eyes on it. The black, monolithic kitchen island stands freely in the centre of the room and brings together several contrasting notions: it looks both stable and delicate, angular and curved, compact and yet with everything you need to cook. In creating the 'Fetisch', designer Barbara Gollackner has succeeded in developing an extraordinary piece of modern kitchen design.
'Fetisch' was a family project: the design by the Salzburg-based designer was turned into a reality by her brother and skilled joiner Paul Gollackner in his own workshop. The producers explain the concept behind the sculptural furniture as follows: "It is made for people with a passion for cooking, design and craftsmanship – and who are open to new concepts of home living. In short, for those who are not afraid to position the kitchen in the middle of the living room and show off their skills." While the sink, oven, a small fridge and even storage space for cutlery, crockery and cooking utensils are all found in the main base made of smoked oak, the cooktop sits in a slender, overhanging Corian worktop.
If you consider the design concept behind the kitchen island, it is only logical that this is a BORA cooktop with a downdraft extractor system. Barbara Gollackner: "We wanted to ensure that we had something monolithic and sculptural." The minimalist and compact design of BORA Basic is wonderfully subtle and blends seamlessly into the work surface. The integrated extractor system makes the designer piece functional. The BORA cooktop extractor draws away cooking and frying vapours downwards, straight from their source. Without it, you would have to install an extractor hood, which would inevitably impede the visual effect. Or simply not cook. You could almost say that it is only with the cooktop extractor that the freestanding unit becomes a proper kitchen.
'Fetisch' is the visionary kitchen unit that has already impressed the judges at the ICONIC AWARDS Innovative Architecture 2019 and been named one of the most innovative products in the internationally renowned design and architecture competition.