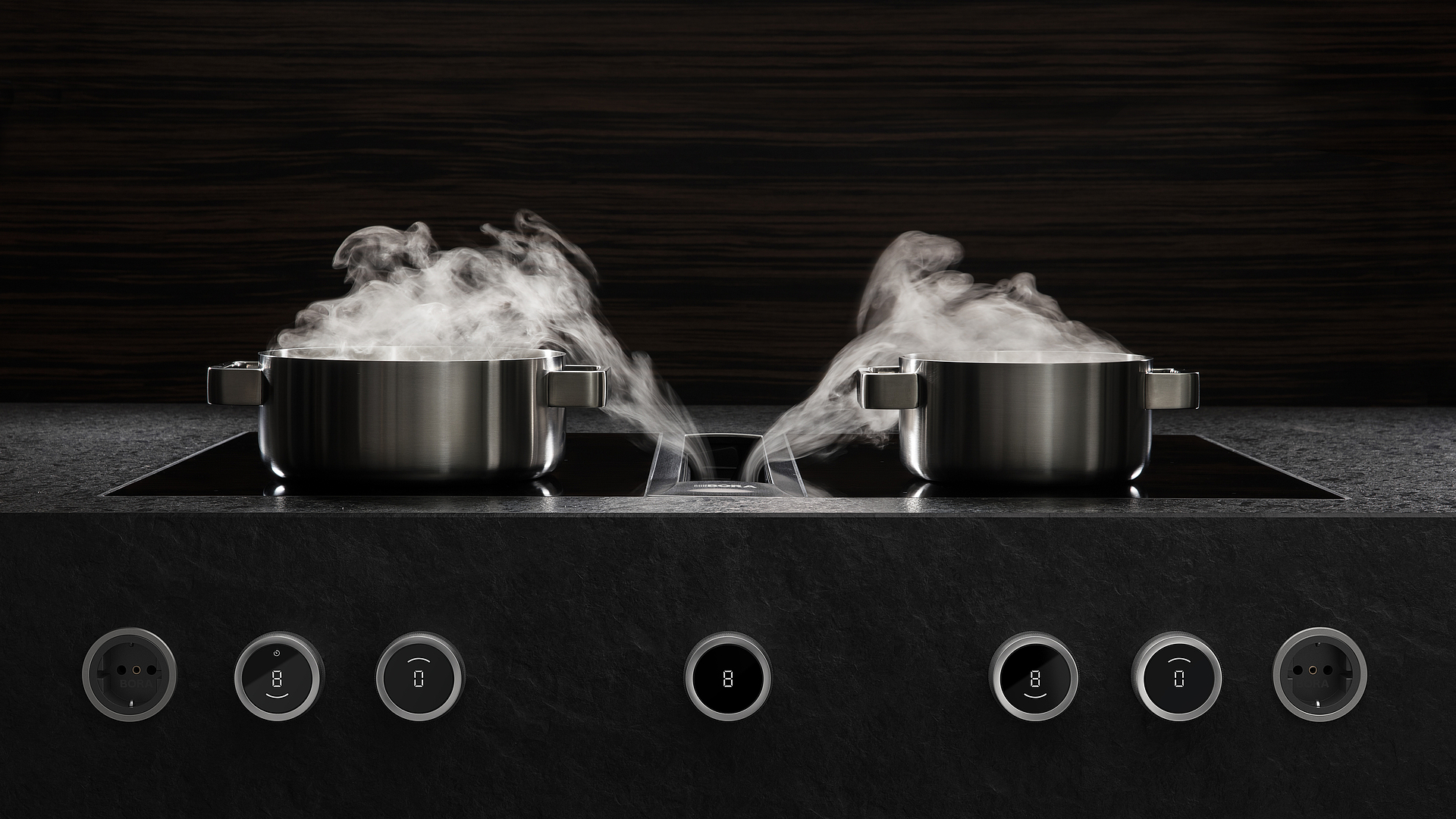 Thank God no more extractor hoods
Conventional extractor hoods are loud, take away storage space and disrupt the overall look of the kitchen, as well as causing a few bumped heads. Thanks to BORA cooktop extractor systems, these disruptive factors are a thing of the past.
From the fireplace to the kitchen as a living space – that is BORA
Originally, Willi Bruckbauer simply wanted to make his kitchen look more attractive, with a nicer atmosphere and a clear view. A "living" room where people could cook, sit and enjoy themselves without any hindrances. This vision has now become a strong brand which stands for "Made in Germany and Austria" quality, premium materials, impeccable workmanship and constant innovation. Effective filtering of odours is a must when it comes to creating a feel-good atmosphere in the kitchen as a living space, and BORA's ventilation technology is pioneering in the field of air filtration.
Nowadays, the kitchen is the centre of our living space – a place where families and friends come together to enjoy culinary delights, but a good 20 years ago one main feature caused a major disruption: the extractor hood. Therefore, master joiner Willi Bruckbauer thought to himself: "What can I do to effectively extract cooking and frying vapours downwards?" This question led to a kitchen revolution that is still under way today.
For BORA, the revolution of the kitchen as a living space begins at the heart of every kitchen: the fireplace. In 2005, Willi developed the first prototypes of the BORA Professional, the flagship among his cooktop extractor systems. His aim was for cooking to become more of an experience again and for the kitchen to become a place for sharing activities and rediscovering the art of communication. Design, functionality and customisation played an increasingly important role here. An effective vapour extraction system that is quiet, doesn't get in the way, reliably filters odours and is easy to clean redefined the kitchen as a living space.
BORA's modular and compact cooktop extractor systems opened up brand new kitchen design possibilities. Cooking became easier and more enjoyable. Visual and noisy disturbances were eliminated. The BORA Professional and Classic modular cooktop extractor systems offer plenty of scope for customisation thanks to their wide range of freely selectable cooktops. The BORA Basic, Pure, X Pure and S Pure compact systems have different-sized cooktops to ensure that there's a cooktop extractor system to meet everyone's needs.
How BORA cooktop extractor systems work
All BORA cooktop extractor systems are based on the innovative BORA principle: the cooking vapours and odours generated while cooking and frying normally rise upwards due to the heat. BORA draws vapours away right where they are created: at the cooktop, directly from the pots and pans. The extractor in the middle of each cooktop ensures maximum air purity, quiet operation and a clear view.
It's easy to explain how downdraft extraction works, as it's based on the principles of fluid mechanics. Cooking vapours rise at a maximum speed of one metre per second. BORA cooktop extractors draw vapours downwards at around four metres per second. This generates a cross flow which is greater than the speed at which the cooking vapours rise. As such, vapours and odours are suctioned away effectively and directly.
Whether your kitchen is big or small, open-plan or in a separate room, BORA cooktop extractor systems enable all customers to have a modern kitchen and a completely redesigned living space. This makes preparing meals even more fun and allows undisrupted communication with guests, friends and family members. BORA is more than cooking.
Click here to go to the BORA cooktop extractor systems.