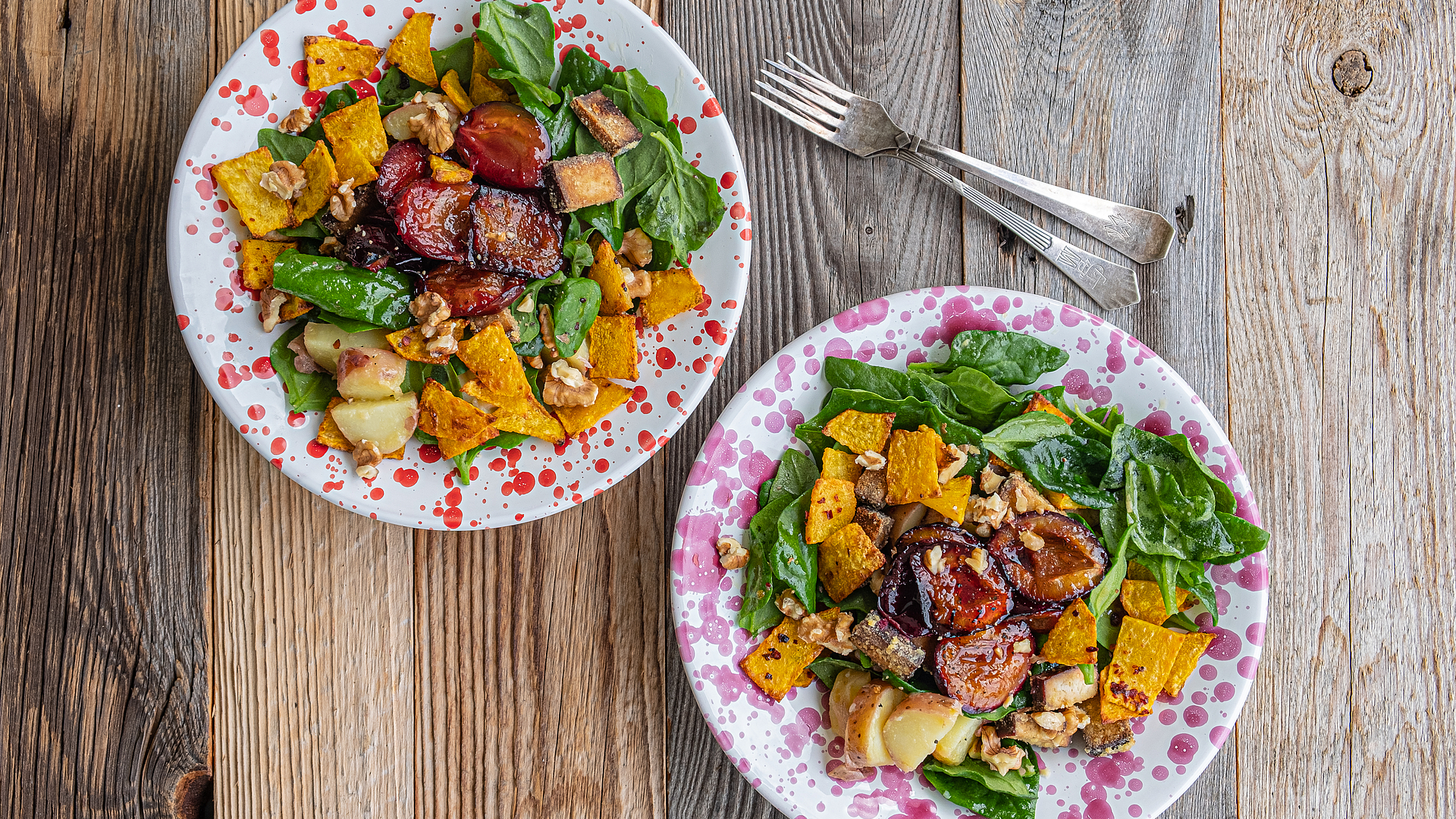 Plums – one fruit, many possibilities
Late summer is plum season. Arguably the most well-known plum dish in Germany is the Zwetschgendatschi, a kind of plum cake where plums are halved and pressed into a thin, rolled-out dough. Its name 'Datschi' comes from the Bavarian dialect, roughly meaning 'to press something'. This popular plum cake originally hails from Augsburg in Germany.
Photocredit:
Anya Rüngeler
This dessert begs the question what the difference is between a 'normal' plum and a zwetsche – a damson-like plum, also known as an Italian prune plum. The latter are oblong and slightly smaller than their bigger, rounder plum cousins. They come in both dark purple and golden yellow, and smaller ones have a firmer flesh with a sweet and tangy taste. 'Normal' plums on the other hand have softer flesh and taste nice and sweet when they're ripe. Both plum varieties are rich in vitamins C and B and aid digestion.
Like other fruit, plums are not just great for cakes and compotes, but they can be paired with a whole variety of other foods, both sweet and savoury. One such pairing is putting plums in a colourful, autumnal salad. The options for this are endless. One spin on this kind of salad is to lightly caramelise the plums in oil and maple syrup and mix with fresh spinach. Crispy cubes of sautéed tofu, either plain or smoked, add protein to the salad. If you want your tofu to be extra crispy, press the liquid out of it and toss the cubes in some cornflour. Add in small, boiled potatoes for energy and oven-roasted pumpkin slices slightly seasoned with chilli for colour. A light vinaigrette and a handful of toasted walnuts put the finishing touches on this autumnal salad.
Popular uses of plum include a purée for Kaiserschmarrn (Austrian shredded pancake dish) or a simple jam. It also makes a great tangy chutney, which takes cheeseboards to the next level. The tangy spread is also delicious on a slice of crusty bread with smoked fish and cucumber slices.
Another option is one that some Germans are sure to remember from their childhood, having had it lovingly made for them by their grandmas: pasta with caramelised plums and crunchy toasted breadcrumbs. For this dish, the cooked pasta is cooked in milk or mixed with one to two spoonfuls of ricotta. The plums are caramelised in maple syrup and cinnamon and cooked for a short enough time that they keep their shape. The breadcrumbs are toasted in cinnamon and butter until they're nice and brown. With everything combined, it's a sweet pasta dish that's easy to get hooked on!
Ingredients for 2-3 portions:
250 g fusilli pasta
8–10 ripe plums
approx. 8 tbsp breadcrumbs
1 tbsp butter
1 tsp cinnamon
2 tbsp brown sugar
1–2 tbsp ricotta
3–4 tbsp olive oil and maple syrup
Method:
Cook the pasta until al dente. Before draining, reserve a small amount of pasta water
While the pasta is cooking, wash and halve the plums before adding them to a frying pan with the olive oil and maple syrup and caramelising them
Brown the breadcrumbs in the butter together with the cinnamon and 1 tbsp of the brown sugar
Once the pasta is cooked and drained, mix it with 2–3 tbsp of the reserved pasta water, 1 tbsp ricotta and 1 tbsp brown sugar in a pan. You can mix in 1–2 tbsp of the breadcrumbs at this point if you wish
Serve with the plums and breadcrumbs