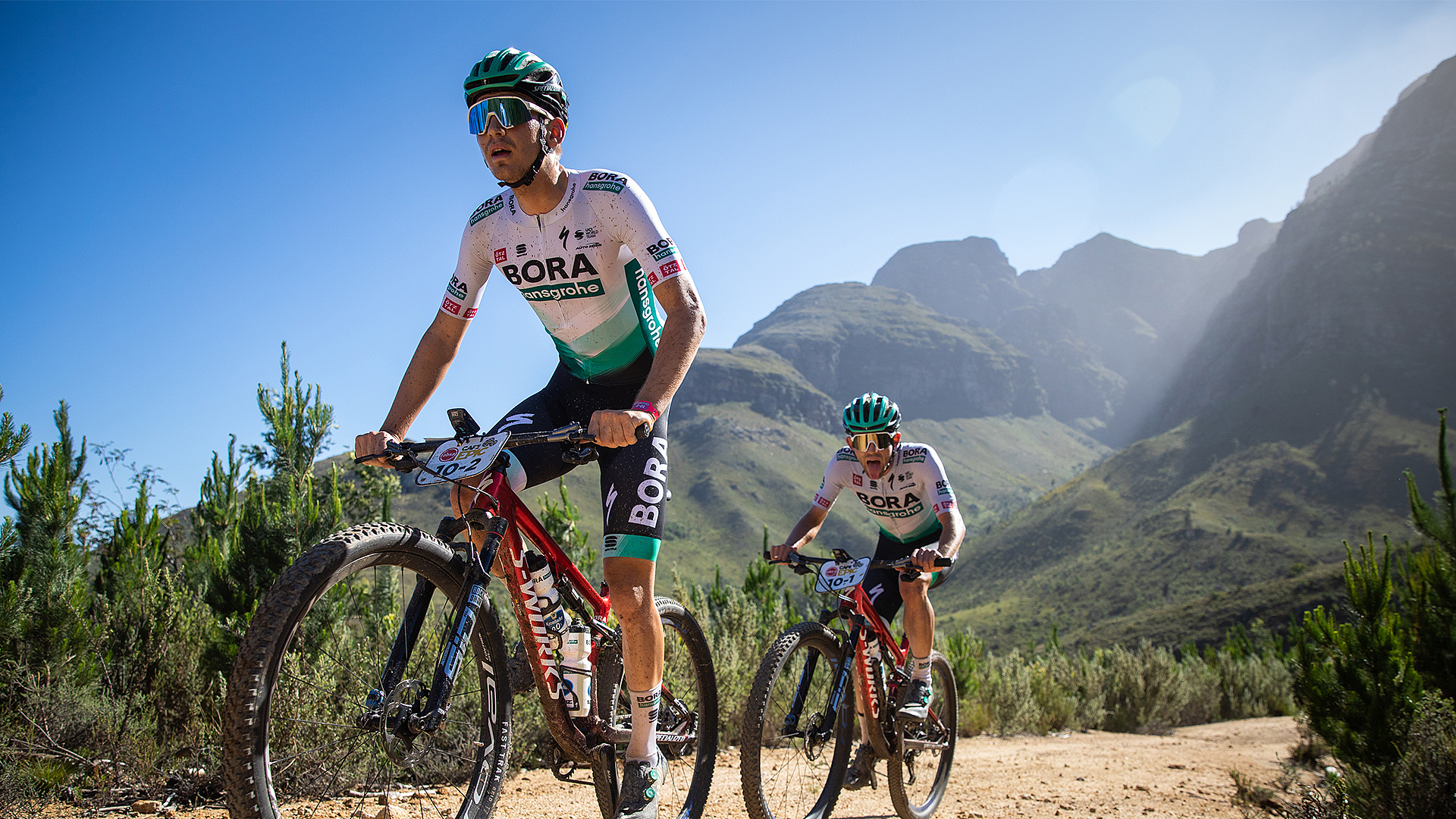 Leaving it all behind – bike adventures as a pro
July 2022
Whether you have perfectly blue skies, or the heavens open. Whether you're high up in the mountains or down in sandy deserts. Whether you've got it planned out or just winging it. Whether your best mates are along for the ride, or you're going it alone. There's many ways to have a bike adventure. And it's not just amateur cyclists who look to get away from the daily grind – the pros on the BORA – hansgrohe team each have their own tales of biking escapades.
Photo credit:
michal červený photography
BORA – hansgrohe / veloimages.com
BORA – hansgrohe / Sprintcycling
Bikepacking is considered a classic of the genre and is hugely popular with cyclists of all abilities. Everything you need for your trip comes with you on your bike. There's something for everyone, from taking a leisurely riverside ride with mates to taking a solo trip through the mountains. And that's just what Patrick Gamper decided to do on a whim in 2020 when the cycling season ground to a halt due to the pandemic. He lives in the Alps anyway, so he spent five days travelling through the Dolomites, staying every night on the mountain passes, never in the valley. And when the hunt for food and water suddenly become that day's priority, it puts all other problems into perspective. Around that same time, Felix Großschartner rode 280 km during training simply for the fun of it – contrary to the logic of any training plan. The chance to switch off, meet new people and enjoy nature motivated Felix on long rides. Marco Haller also leaves it all behind when he sets out on his mountain bike in his native Carinthia, conquering the mountains and taking in the panoramic views from the summit cross.
Life is full of surprises
Like anything in life, plans are subject to change, and bike adventures are no different. A mistake when planning the route, a fault on the bike or a blocked road, and a laid-back training session soon turns into a tense, drawn-out ride. Every pro cyclist can tell you a thing or two about this, such as Sam Bennett. Night fell during one of his training sessions on Tenerife, and he had to use his phone to light his way and phone a taxi, which he could only pay for with the help of his wife once he was back at the hotel. But at least he was lucky to still be riding on paved road. Lukas Pöstlberger and Patrick Konrad lost their way once near Valencia and had another two climbs to cycle when suddenly the road disappeared, turning their ride into a hike in road cycling shoes. The two long-standing teammates can now look back and laugh about it. Emanuel Buchmann has a similar tale to tell. His high-altitude training suddenly turned into a 5 km off-road trek across rocky terrain, which even his support vehicle could barely get over. But these challenges can be overcome as a team and provide great stories that are endlessly entertaining.
Dare to dream
While many amateur cyclists fantasise about participating in particular open races, the pros dream of destinations that give them greater freedom when it comes to routes. The Band of Brothers each have different ideas about what they would like to do once they have retired, and training plans no longer determine what every ride is like. Nils Politt would like to go on a bikepacking adventure around Germany, while Max Schachmann would like to travel abroad and get to know countries and people off the beaten track. Frederik Wandahl would love to do this outside of Europe and discover Africa, Asia or the US. Many started going on biking adventures at a young age, long before their cycling careers. For instance, Luis Lührs spent three days cycling from Munich to South Tyrol with his mum and older brother Leslie (who now cycles for team Lotto-Kernhaus) when he was in year four at school. Matthew Walls cycled across England on a coast-to-coast ride with his dad. Jonas Koch and his friend rode across the Black Forest on mountain bikes during winter, and the cherry on the cake was a specially planned night-time ride. Wilco Kelderman went bikepacking to Austria with his family when he was still a kid, but he couldn't understand why people loved cycling and found it quite boring. Thankfully for BORA – hansgrohe, he has since changed his mind!