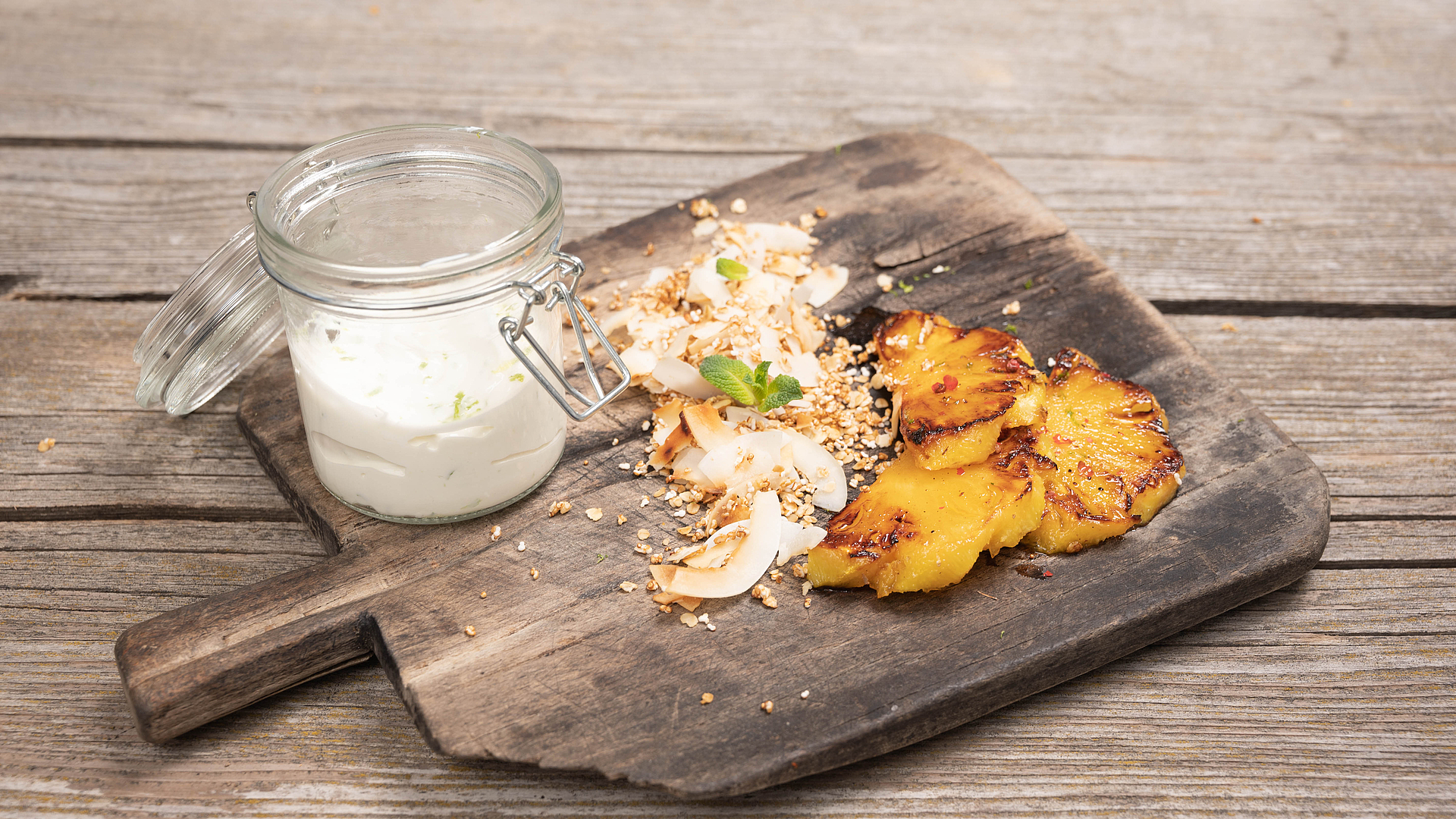 Grilled spiced pineapple with coconut crisps and coconut & lime yogurt
Preparation
Preheat the Tepan stainless steel grill to 210 degrees. Clean the pineapple and cut into 8 slices. Coat the Tepan grill with a little coconut oil and place the pineapple slices on one half.
Meanwhile, mix together all of the ingredients for the coconut crisps in a bowl then cook on the other half of the Tepan grill until golden brown. Remove from the Tepan.
Stir together the ingredients for the marinade in one small bowl and the yogurt in another.
Once the pineapple is golden brown on both sides, remove from the Tepan and generously drizzle with the marinade. Serve 2 slices of pineapple per person with a little coconut crisp and coconut & lime yogurt. Garnish with finely grated lime zest.
For four persons
1 pineapple (8 slices)
A little coconut oil
For the coconut crisps:
50 g wholegrain oat flakes (fine)
20 g puffed amaranth
50 g coconut chips
15 g coconut oil (1 heaped tsp)
1 tbsp agave syrup
For the marinade:
1 tbsp agave syrup
1/2 tsp ground ginger (or freshly grated)
1/2 tsp cinnamon powder
1⁄2 tsp vanilla powder
A little cayenne pepper or chilli powder (to taste)
Optional: 1 tbsp brown rum
For the yogurt:
4 tbsp natural coconut yogurt
1 tbsp agave syrup
1 tbsp lime juice
Zest of 1 organic lime + additional lime zest to garnish