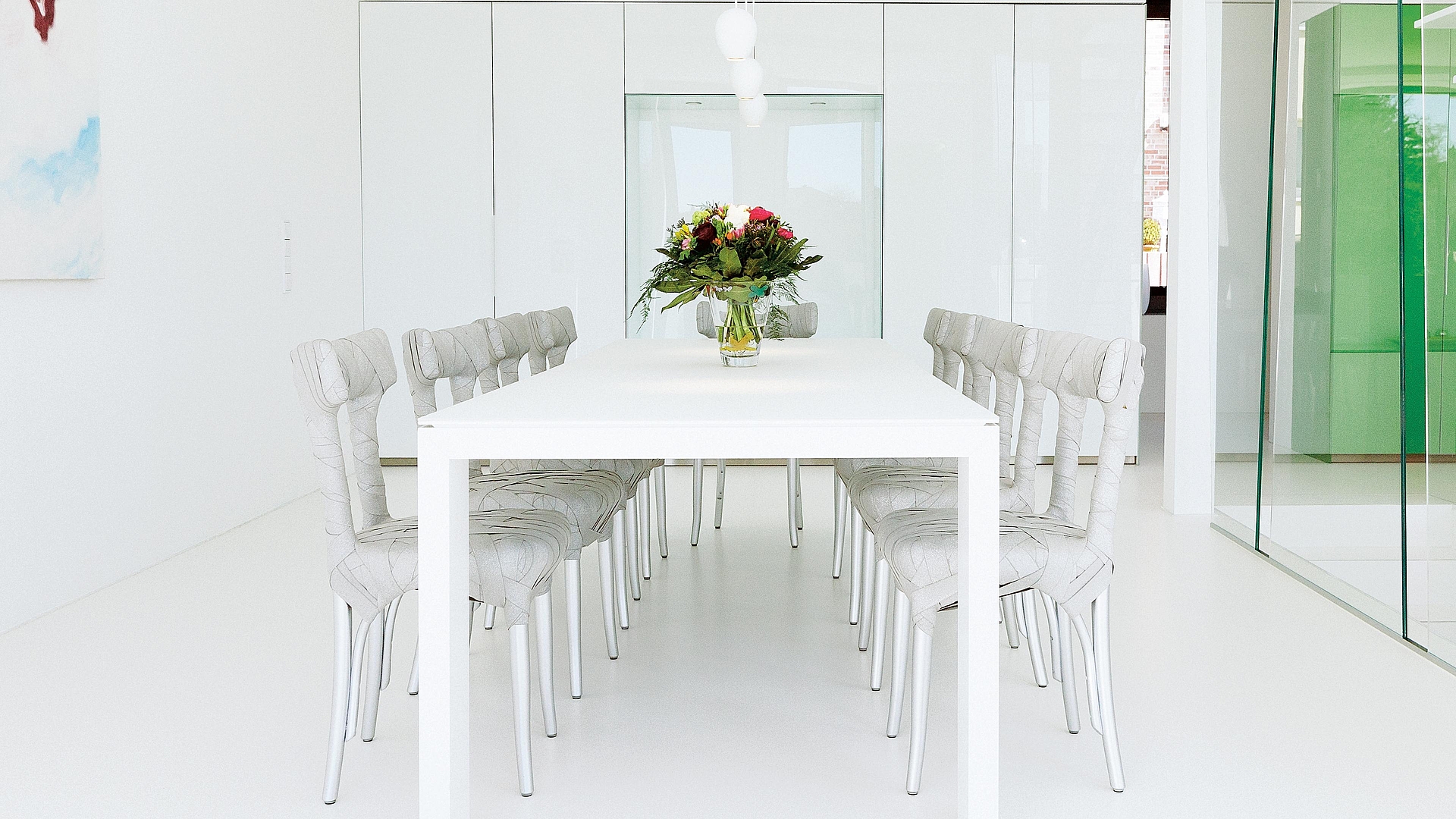 PLENTY OF ROOM for good style
To be able to live under the same roof, you need to know each other really well. This is the case with Gundhild and Werner Seelbach, and Claus Hölzer and Hans-Georg Hölzer-Wied.
They've been close friends for many years. They get on like a house on fire. And so they decided to build a pair of semi-detached houses together in Siegen. Work began in 2015. And since December 2017, both couples have been living side by side. In complete harmony. Together but not in each others' pockets. Something else that they have in common is a particular feature in their kitchens: Unbeknown to each other, they both opted for BORA cooktop extractors. The initial conditions for building the houses didn't make things easy. 'The plot sits on a steep slope,' explains Werner Seelbach, 67, himself an architect. 'That's why the work on the foundations was extremely laborious. Strutting was necessary right up to the road with a contiguous bored pile wall.' But these teething problems are a thing of the past. Now Gundhild and Werner Seelbach enjoy natural light in the rooms that they have decorated simply and modestly. 'Neither of us like cluttered rooms,' says Gundhild, 57, 'and we've also avoided stark contrasts. Our design style is predominantly clear, yet subtle.
This also applies in the 15-square-metre kitchen, designed by the 'plan 3 Küche' team. The couple first came into contact with BORA in the company's showroom and was immediately enthused by the benefits of an extraction system without a cumbersome hood to restrict their vision. 'We have an open kitchen here,' says Werner, 'and that's where the advantages of the BORA Classic system really come into play. Thanks to optimum extraction, there are no odours in the kitchen or in the neighbouring dining and living room.
This is especially advantageous given that Gundhild, the unreserved chef, likes to cook tagine in the kitchen; a dish cooked in an earthenware pot, which often simmers away on the hob for several hours. Alongside oriental cuisine, such as meze, both of them also love Spanish tapas. 'We often invite friends around to cook together and enjoy each other's company,' Werner tells us. 'Many of them have become aware of the advantages of BORA through us.' Claus Hölzer, 52, and Hans-Georg Hölzer-Wied, 61, are often round at the Seelbachs' as guests. They don't have to go far to see their next-door neighbours. In turn, Claus and Hans-Georg also enjoy being the hosts. 'I'm the enthusiastic cook out of the two of us,' Hans-Georg admits. 'We both love French and Mediterranean cuisine. But we often organise a culinary world tour with a few friends. Then we can have up to eight courses, each of them from a different country.' Claus, a dentist by trade, relates. 'One of our best friends is a trained chef and brings the most spectacular, delicious dishes to the table.' The 25-square-metre kitchen is the heart of the home for the couple. 'From the start our idea was for cooking, living and entertaining to blend in together,' says Claus. 'We live around the kitchen island. And even when we're sitting at the dining table, we have a clear view of the kitchen through the glass wall.' They came across BORA thanks to advertising. 'We saw the system and found it really interesting because we didn't want to have one of those funny hoods hanging from the ceiling,' Hans-Georg explains. 'Everything should be light and airy. And BORA was the first company to offer something like that. As they'd developed and perfected the system, they made a reliable impression on us.' In the end they decided on the BORA Professional system. 'Some kitchen islands are free-standing in the room but totally closed off underneath,' says Claus. 'We didn't want that. And luckily with BORA that isn't the case.' Both of them are more than satisfied with how BORA works. 'The extractor works even better than we could have wished for,' Claus adds happily. 'The livingroom suite that we watch TV on is just two metres away from the cooker. But because there are no odours it doesn't feel like the living room joins directly on to the kitchen.' Like their neighbours, Claus and Hans-Georg also love simplicity. Their decorating style is plain, without whistles and bells, straight to the point. In their part of the house the colours aren't so much warm as bright. For example, deep signal red or fresh green apple on the kitchen surfaces. 'When people come into the house, they think that everything is new,' says Hans-Georg. 'But that isn't the case. Many of our pieces of furniture are Italian classics, some of which are already 30 years old.' Claus adds: 'It's important to us for things to be unusual but not to be over the top. We still want to enjoy looking at them in 20 years' time.' There's a good chance of that as both the décor and the clear, transparent architecture have achieved a pair of modern semi-detached houses here in Siegen that can be best described as exemplary. And trendsetting.
Photos: Evelyn Dragan
Texts: Martin Fraas
kitchen studio: Plan 3, www.plan3.pro