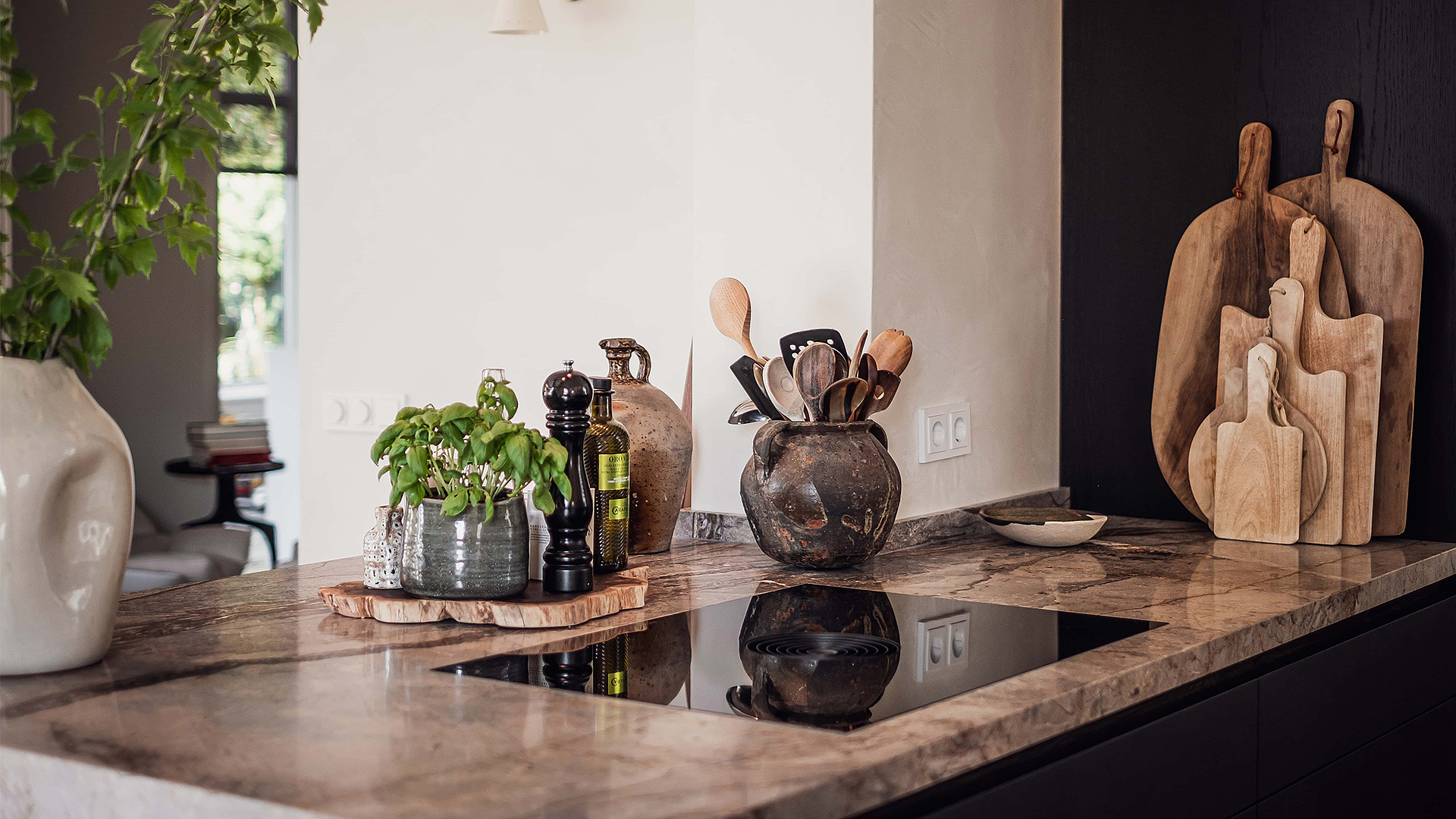 Marvellous Marble - Villa Naarden
When you glance at the marble counter from the dining area, it looks as if it has been hewn from a rock. It's not until you look at it from the other side that you realise it's not a massive monolith, but a marble worktop and a skilfully mounted stone cladding for the kitchen units. In addition to the natural stone itself, the BORA Pure cooktop system is another reason why this astounding optical illusion works so well. It is so discreet that the stone can really make a statement.
Photo credit:
Kitchen design: Eginstill, www.eginstill.com
BORA Pure induction cooktop with integrated cooktop extractor
Photos: Patrick van Riemsdijk
The word 'marble' comes from the ancient Greek term 'marmaros', which means 'shiny'. After all, the shiny surface that emerges after polishing is characteristic of this precious natural stone. Marble can be found in a broad range of colours and patterns in the world's quarries. It comes in shimmering shades of red, green or even blue, or (in the case of this kitchen) in silver, shot through with dark, almost-black veins as a contrast. It's therefore little wonder that this stone is appropriately named 'Silver Roots'. The owner of the property, a design enthusiast and interior designer, Anouk van den Brink, who presents her ideas and designs to a growing audience on her Instagram blog Sala_interior, wanted this specific type of marble for her new kitchen – as an elegant eye-catcher in an otherwise very sober setting.
So the designers from Eginstill – a group of artisans from Amsterdam with a penchant for timelessness – employed a trick: they gave the wild-textured stone the perfect stage by ensuring that the rest of the kitchen was extremely discreet and understated. The kitchen units therefore feature handleless, dark-stained oak fronts and all of the appliances have black fronts. This makes the marble and oak shine through in an incredibly warm and natural ambiance.
Cooking on a stone block
The marble panels around the island-like counter, which looks as though it's made from one piece from the dining area, deliberately create the optical highlight of the kitchen. The BORA Pure cooktop with integrated downdraft extractor appears to blend into the shiny marble surface of the kitchen island as it sits completely flush in the stone surface. The cooktop controls are almost invisible in standby mode, and it takes a second look to realise that the stone block is actually there to cook on.
Marble evolves
As a natural material, marble ages over time. Even though the surface of marble worktops is generally treated to make it more resilient, the stone is still prone to staining. Fruit acids in particular, but also other liquids can leave traces if they aren't wiped away fast enough. Scratches and stress marks are also inevitable to some extent over the years. This forms the typical marble patina. But if the marks get too much, you can always have your natural-stone worktop polished at any time. Once it has been treated, the marble then looks as good as new again. Yet another reason why this premium, timeless natural material is currently all the rage in kitchens.