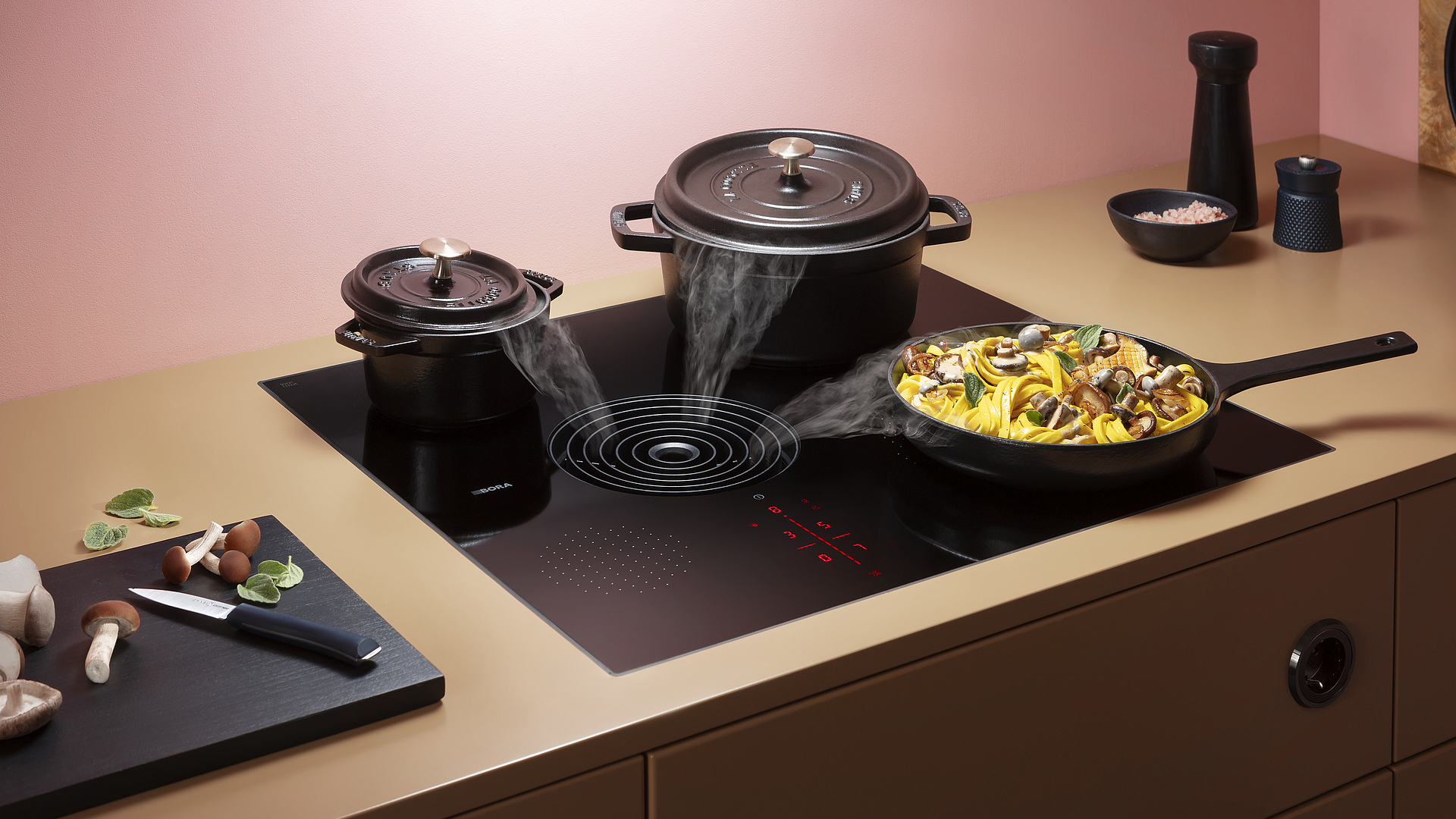 BORA S Pure offers a surprising number of options.
A completely rethought cooktop: The extremely compact dimensions of BORA S Pure mean that it fits into even the tiniest of kitchens, solving all of your space dilemmas. BORA S Pure can also easily be installed into standard kitchen units, opening up a whole new range of kitchen design options. At 199 mm, the low installation height and integrated recirculation unit guarantee maximum storage space for pots and other kitchen utensils in the cupboard below. Even in 60-cm-deep kitchen units no drawers need to be shortened in recirculation mode. BORA S Pure will change the way you feel about your kitchen forever. With its space-saving design, the functions can be perfectly coordinated and tailored to suit your needs. BORA S Pure has four different cooking zones which are suitable for all standard pot sizes. The entire cooktop surface can be used optimally thanks to the specially developed induction coils. That way, even large pots and pans can be used without any issues. Due to the completely flush, minimalist design of the extractor and cooktop, BORA S Pure integrates seamlessly into modern kitchen architecture. The motto is 'form follows function'. The asymmetric position of the air inlet nozzle is designed to make best use of the available space. As such, there is room for four cooking zones.
Just like the classic BORA Pure, the controls are practically invisible in standby mode, and during operation they are scaled down to the essentials through the use of intelligent lighting. The vertical slider makes operating the cooktop easier by intuitively swiping your finger up or down or tapping the controls. All important functions can be quickly accessed with a single touch. When the automatic extractor function is activated, the extractor power level automatically adjusts itself according to the current cooking conditions, so there's no need for constant manual adjustment. If anything is spilt during cooking, the integrated tray safely catches both solids and liquids. In recirculation mode, odours are neutralised by a highly efficient activated charcoal filter. To make it easier to change the filter, it can be accessed from the top through the air inlet opening, without removing drawers or plinth panels thanks to the innovative eSwap feature. All parts that come into contact with cooking vapours can be easily removed through the wide and easily accessible inlet opening. They can then be cleaned in the dishwasher, where they take up very little space. It has never been so easy to feel good in your kitchen!