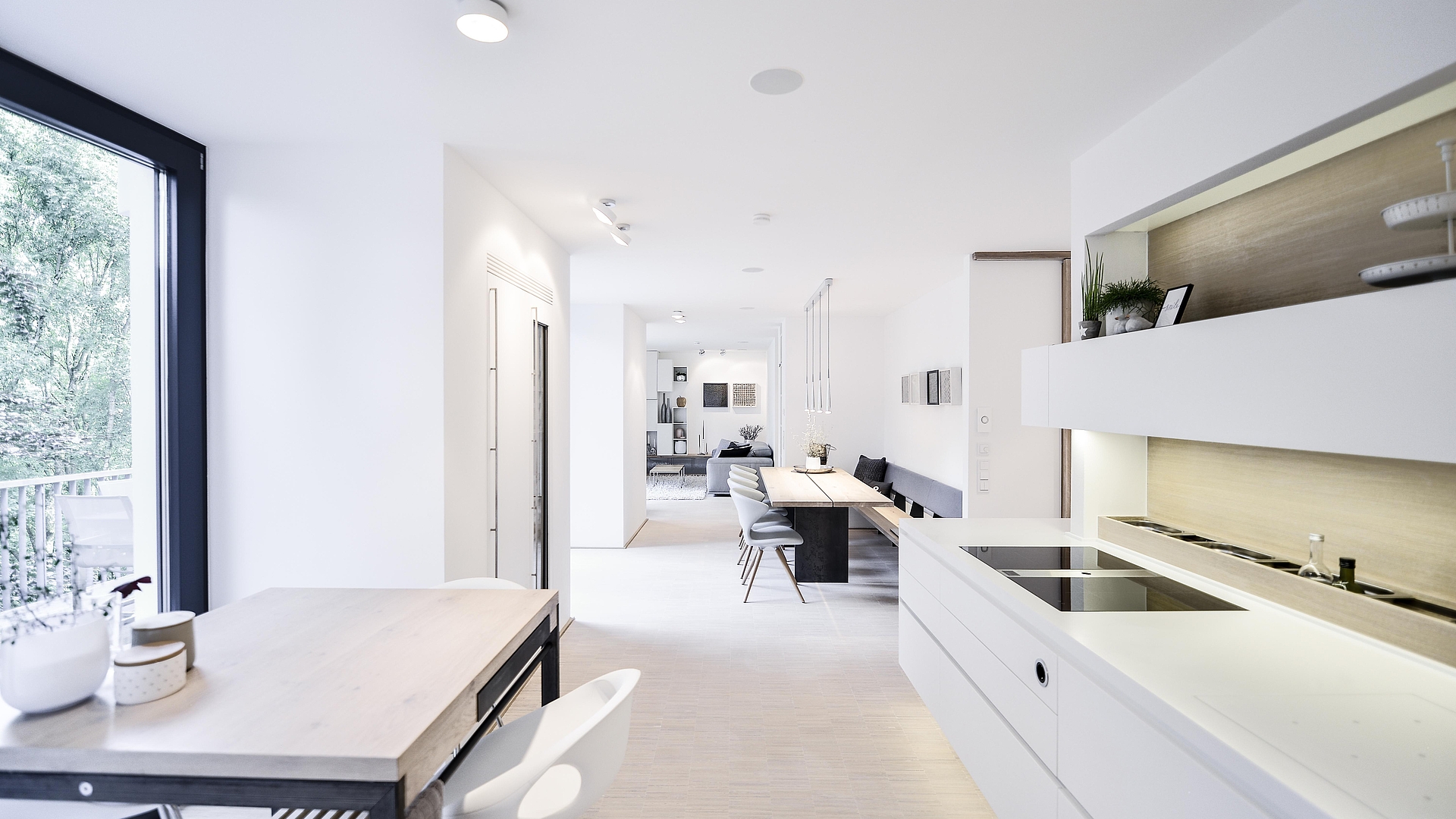 Luxury living in a bunker
or: when the kitchen counter seems to float
Luxury living in a bunker: what sounds almost contradictory has been made possible through the extensive renovation of an above-ground bunker in Siegen, Germany. The extraordinary building from 1941/42 presented major challenges for not only the architecture firm but also, and in particular, the kitchen designers at Plan3. The latter was assisted in its work by its choice of the BORA Classic cooktop extractor system, which enables outstanding design freedom by doing away with an extractor hood. It is even possible to cook in front of a window or under eaves.

The apartment presented here is characterised by a long, narrow layout in the kitchen and living areas, which required customised planning and a precise design. The wall counter ends freely and floats towards the dining table to make the room appear wider and brighter. The BORA Classic cooktop extractor system with two induction cooktops blends in subtly with its minimalistic design. However, the inner values that it offers are truly impressive: the cooktop extractor draws away cooking vapours quietly and effectively, delighting all cooks as neither their clothes nor hair smell of food and nothing settles on the elegant white kitchen units. What's more, the system is wonderfully easy to clean as the extractor's individual components are dishwasher safe.

At the opposite end of the sleek kitchen counter is the utility room with the oven and a panel wall as visible features. As the utility room and kitchen are divided by a sliding glass system, the counter is consciously fitted with a joint here. The small, mobile food preparation and breakfast island provides a vibrant contrast to the intentionally minimalist white kitchen. Equipped with a knife drawer and a solid wood slatted frame as a visible storage solution, this kitchen unit has become a favourite item – always mobile and functional while also suitable for incorporating into all sorts of designs in multiple versions.
kitchen studio: Plan 3, www.plan3.pro

BORA Classic cooktop extractor, 2 x cooktops with surface induction
Photographs with the kind support ̈of modulbüro® - Alexander Görg