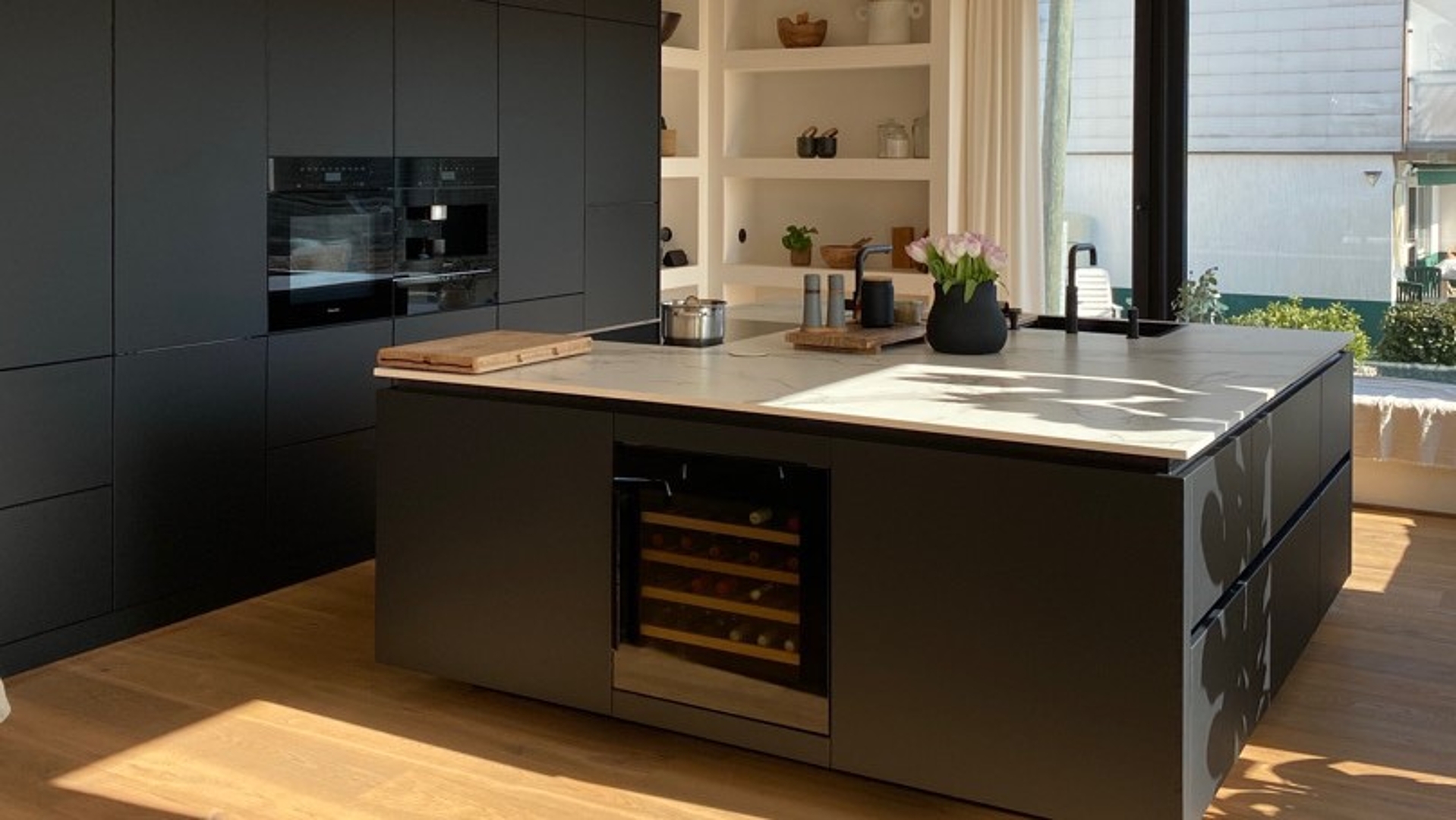 The kitchen island: the mega star
At first glance, it's clear to see who plays the leading role in this trendy black and white kitchen: the kitchen island. At over 2 x 2 meters, it offers a huge amount of working and storage space. There are many things to discover both in and on the island, such as a wine cooler, a sink with two different taps and an elegant BORA Pure cooktop.
"My husband and I happily sit for hours with a glass of wine on the couch working things out until they're just right, and that's precisely what we did when planning our kitchen", explains Miriam Lobato Gonzalez. Together with her partner, Sebastian Weiss, she completely renovated a 1972 bungalow, transforming it into a modern and minimalistic home. Miriam loves showing off the results on her Instagram channel and regularly receives plenty of praise for her efforts.
Kitchen design: Küchenstudio Grimm, Ulsenheim, www.grimm.de
BORA Pure induction cooktop with integrated cooktop extractor
Photos: Miriam Lobato Gonzalez
A central cuboid
"The kitchen is now where the living room used to be, and vice versa", she explains while recounting the renovation work. "We therefore had a large area available for the kitchen and we wanted to make full use of it." This is how they came up with the idea of creating an expansive kitchen island that could be used for cooking, washing up, chopping food and spending time together. "I find it great that 12 people can actually stand around the island. Everyone can prepare something and no one is in the way", enthuses Miriam. She also explains that she and her partner deliberately decided against creating a seating space with bar stools around the island. After all, the bench by the big windows offers a much cosier sitting area in the kitchen. The kitchen island therefore offers enough space to really spread out when preparing meals.
What's unusual about this island in the middle of the room is that it is completely square: it measures exactly 2.20 x 2.20 metres. This matt-black cuboid is topped with a white Dekton worktop that looks as if it's made of real marble but it is actually much more resistant to stains and scratches than the natural material – a recommendation by the kitchen planner who happens to be Sebastian's brother. As no single worktop in this material was available in these dimensions, the planner came up with a cunning trick: instead of having just one worktop we used two which meet in the middle. "It's true that the structure doesn't fit in the middle, but that doesn't bother us", says Miriam. "And to be honest it's barely even noticeable."
Practical storage room and a great design
"I love the fact that we have so much storage space in our kitchen. We have room to store everything. Even our vases live in our kitchen cupboard", she adds, emphasising the practicality of the designer kitchen. The island houses the microwave, coffee machine, fridge and all the other electric appliances that are needed in a kitchen. There is even a fold-out bread machine hidden in one of the island's drawers, not to mention a wine cooler and the highlight of any kitchen: a BORA cooktop with an integrated extractor. "For us, it was clear from the start that we definitely didn't want an extractor hood below the ceiling. In fact, I'd advise anyone against this", says Miriam firmly. They first came across the BORA Pure in Miriam's brother-in-law's kitchen studio. The subtle and pared-back design with the round inlet nozzle in the middle of the cooktop perfectly matched the couple's style and the kitchen they were planning.
It was also important to them that the cooktop blends seamlessly into the worktop. Another plus point for BORA. But Miriam had yet another argument in favour of the stylish cooktop extractor system: "I still find it amazing that you can simply take out the middle part, pop it in the dishwasher and it comes out squeaky clean. I think that's absolutely brilliant – especially when you recall how things used to be with greasy extractor hoods that were impossible to clean!"
Even the sinks are integrated into the island. The special features here are the left and right taps. One is a Quooker tap that instantly provides warm, cold, boiling or chilled sparkling/still water. The other is a pull-out tap that can reach as far as the cooktop, to fill up a pan with water for example. That way, the pan doesn't have to be taken to the tap.
"We live in our kitchen",
says half-Spanish Miriam with complete conviction. She loves it when her family, including her siblings, parents and children, all come together in her kitchen. "There's always someone chopping or cooking. We drink cocktails and spend a lovely evening together", she recalls, before adding with a chuckle: "I can't actually cook myself. Even though I have the biggest kitchen in our family, I never have to cook as fortunately my grandparents used to have a restaurant and my dad and brother are qualified chefs. Plus my partner owns a restaurant."