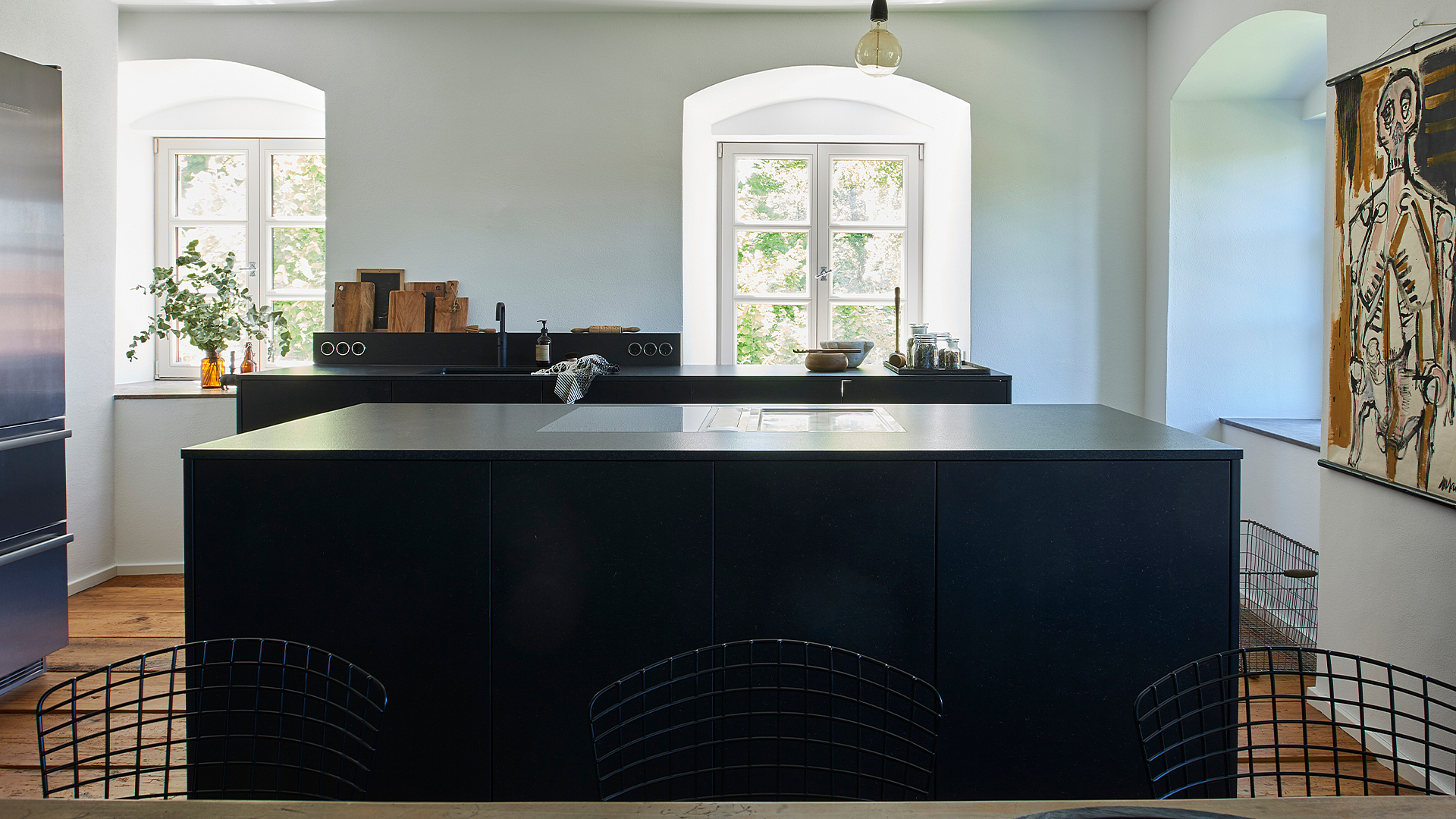 When animals camouflage themselves, they do so either to protect themselves against predators or to hunt better. When kitchens camouflage themselves, there is generally a design idea behind it. As is the case with this modern kitchen in trendy matt black. The kitchen units, including the BORA Professional 2.0, elegantly take the back seat so that they don't steal the show from the other details in the kitchen of this period villa. This creates an all-round harmonious symbiosis between history and modernity.
Photo credit:
Kitchen design: werkhaus küchen, www.werkhaus.cc
BORA Professional 2.0 induction cooktop with integrated cooktop extractor, BORA Pro Tepan grill
The owner of this period property located in the Bavarian upland shows that young and old can go together very well, especially when it comes to architecture and furnishings. Throughout the living area he cleverly combines a modern, minimalistic interior with period pieces. For example, there's a farmhouse cupboard next to an XXL stainless-steel standalone fridge, while an antique-style wooden coffee table stands next to some black dining chairs with steel-mesh armrests. And everything looks completely coherent, as if it was meant to be – framed by the graceful architecture of the period building.
Two blocks make up the kitchen
Although the kitchen fits in perfectly with the overall picture, it doesn't look like a kitchen at first glance. This is essentially due to kitchen designer Christian Birneder's decision to do away with shelves and fitted units, and to install two parallel kitchen islands instead. If you look fleetingly, these islands look like homely items of furniture.
The fronts of the islands were custom-made by a cabinetmaker from werkhaus küchen out of black-painted and waxed MDF: clear and functional, without frills. The worktop and sides are made of nero assoluto granite, making the kitchen shine with a certain elegance. All in black, it creates a calm haven in the living area. The understated look of the two kitchen islands leave the other 'players', such as the fridge and the dining area, to take centre stage.
Black exterior, functional interior
When you take a closer look, the beauty of the kitchen design soon shines forth in all its glory. Everything is carefully thought out – from the black Quooker tap to the BORA Professional 2.0 cooktop that is installed flush in the counter, with its downdraft extractor and a BORA Pro Tepan grill. Here, the owner can even sear meat without creating much smoke because the powerful cooktop extractor suctions vapours and odours away directly at the Tepan stainless steel grill – for clean indoor barbecuing with no regrets. So, behind the stylish, dark exterior lies a well-camouflaged, highly functional interior.