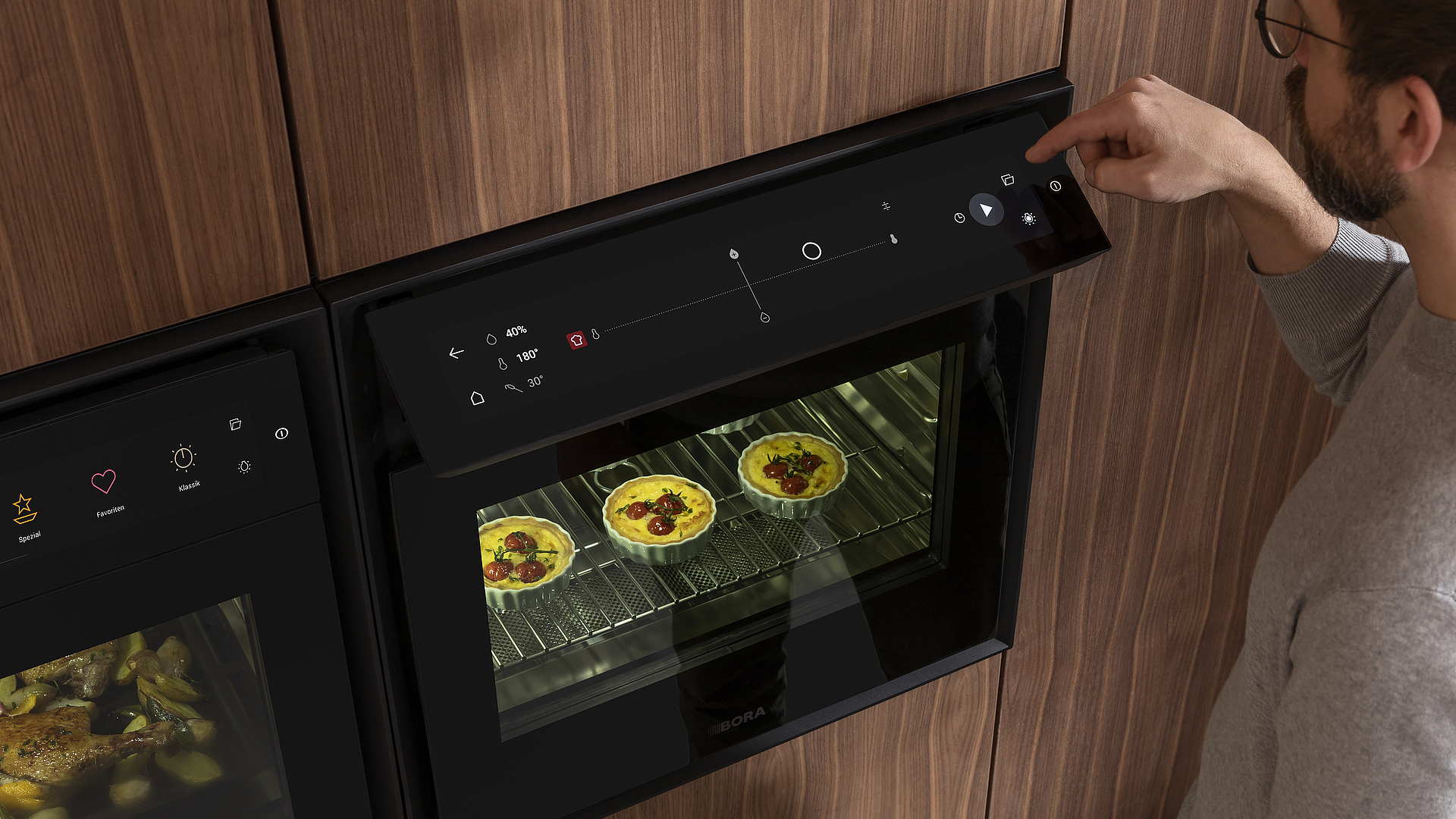 Steam oven checklist: How to find the right one!
What should you look for when buying a steam oven? Which system is best suited for which requirements? The buying tips in our checklist will help you find the appliance that best suits your cooking needs and kitchen.
1. Which water supply system do you need?
The water supply system is the first question to be considered when deciding which steam oven to choose. For there are three different ways in which steam ovens can be supplied with water. The simplest model is a unit with a bottom trough into which water is poured. The somewhat more convenient models are those with a water tank or water tray. Both of these systems are particularly suitable for upgrading existing kitchens where there is no water connection in the oven area. The disadvantage with both systems, however, is that there may not be enough water. Then you have to refill water while preparing dishes in the cooking chamber.
This will not happen with a steam oven that has a fixed water connection. If the kitchen is newly planned or an old one is completely replaced by a new design, water pipes to the oven can usually be planned and laid accordingly. In such cases, a steam oven with a fixed water connection is also the most sensible solution.
2. What do you mainly want to use the steam oven for?
This is probably the most important question you should ask yourself before buying a steam oven. Because the functions the appliance should have depends on the answer. In general, a steam oven is a combination of an oven and a steam cooker. This means that a fully functional steam oven can be used for steaming as well as for baking or roasting. In addition, it can also bake with steam, which makes many dishes better. Bread as an example: The regular bursts of steam make bread particularly crispy and fluffy. In addition, some cutting-edge steam ovens also offer other preparation methods, such as sous-vide cooking or automatic programmes. So consider which cooking methods you would like to use and which additional functions are important to you (see also point 3).
Good to know: In addition to fully functional steam ovens, there are also ovens with a steam boost function. Such appliances cannot be used for steam cooking.
3. What additional functions does the steam oven provide?
This question follows on directly from question 2. Whether it is steaming, baking or grilling, the time and temperature for each function of a steam oven must always be set to suit the dish. This is the basic set-up. In addition, some appliances offer special automatic programmes that make it easier for the cook to prepare food. The user just has to select the corresponding dish with weight and the time and temperature are then set automatically by the steam oven. Anyone who wants this convenience should therefore look carefully into which and how many of these cooking-aid functions the appliance has before buying.
Furthermore, high-quality steam ovens have other functions such as disinfecting or sterilising, sous-vide, preheating crockery, keeping food warm or even regenerating, as gentle reheating under steam is also called. A childproofing feature and an integrated roast thermometer are also additional elements that top-quality appliances have.
4. How is the appliance operated?
The proof of the pudding is in the eating! That's why a trip to a kitchen showroom is simply a must before deciding to buy. Test the different steam ovens in the showroom. This is the only way to see whether the controls on the display are user-friendly and – even more important - whether you feel comfortable using them. You can also quickly check how convenient the steam oven is to use. Can the cooking chamber be opened easily? A tip: Whatever the case, have the appliance installed at chest height in your kitchen later on. This way, operating the appliance will not require acrobatics and your back will thank you for it.
5. Is the visual appearance attractive?
You can also see whether you like the look of the steam oven in the kitchen studio. Does the exterior match the kitchen ambience? Is the display pleasing on the eye? Glass fronts or fronts that are completely black, for example, look particularly elegant.
6. How easy is it to clean the steam oven?
A steam oven is an ultra-modern kitchen appliance in which all kinds of programmes and functions run fully automatically. You should also expect such a high-tech appliance to make cleaning as easy as preparing the food. High-quality steam ovens are therefore equipped with special self-cleaning programmes that keep the effort involved in cleaning to a minimum. So make sure that the steam oven of your choice has a cleaning programme that uses steam to soften stubborn residues so that they can be easily wiped off with a cloth. So take a look inside the appliance in the kitchen studio beforehand and ask yourself the question: Are there corners and edges that are difficult to reach with a cloth or is everything easy to clean?
To prolong the service life of the appliance, the steam oven should also be descaled regularly. How often descaling is necessary depends on the water hardness. Appliances that automatically indicate when descaling is soon due again are practical. In this way, the user can prepare everything for descaling and, for example, obtain or provide the descaling agent recommended by the manufacturer.
7. How much energy does the appliance consume?
Last but not least, the energy efficiency class of a kitchen appliance is also a selling point. Appliances rated worse than class A should not be on the shortlist from the outset. But there are differences even in the best class A: The more plus signs after the A, the less energy the steam oven consumes. An A+ appliance can consume up to 30 percent less energy compared to an A appliance.