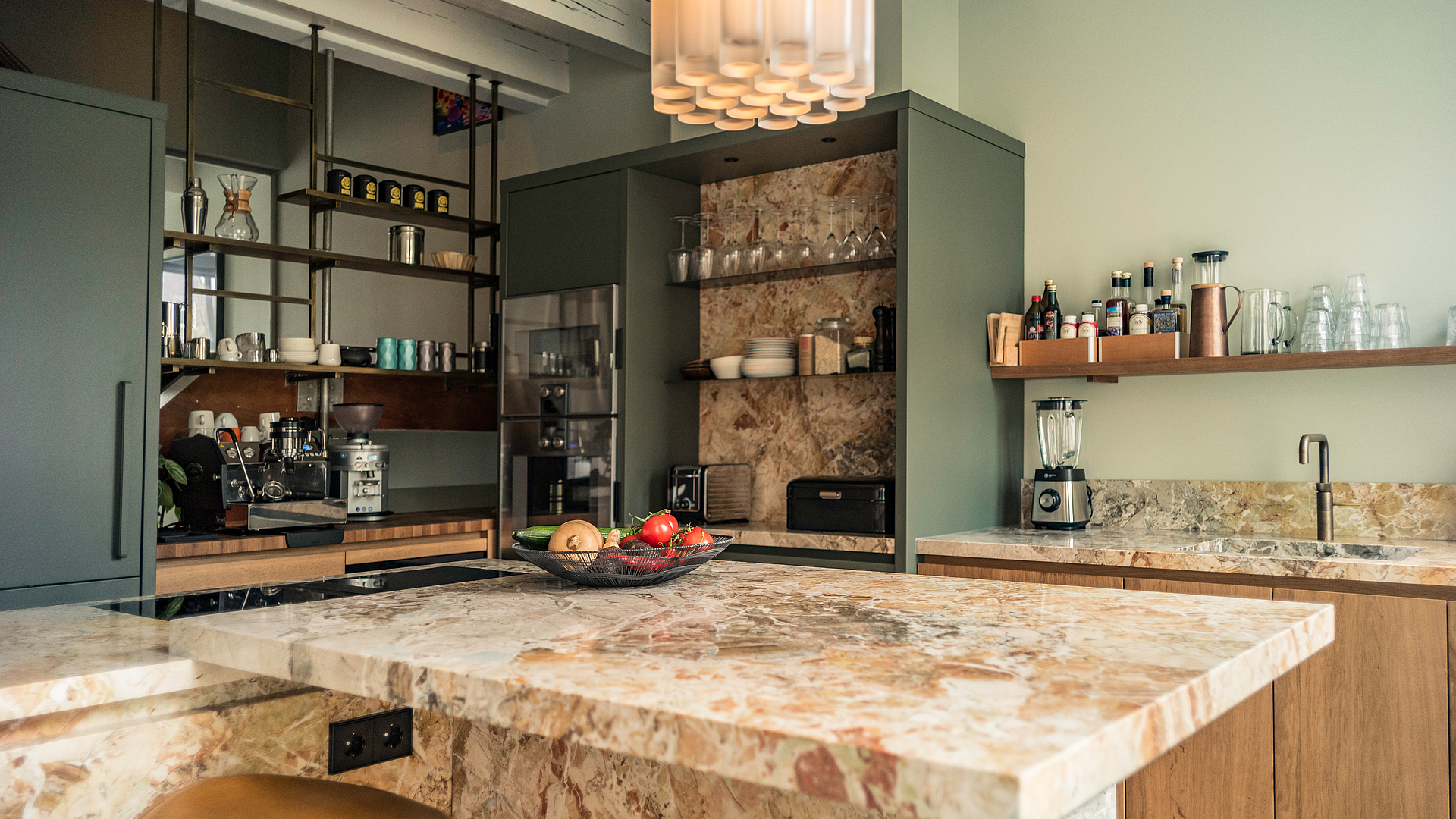 Marvellous Marble - Amsterdam Canal House
A family of cooking enthusiasts wanted a professional kitchen with refined marble in their old house overlooking the Keizersgracht canal. This posed a challenge for the designers because to bear the weight of the heavy Italian natural stone, the canal house's wooden floor first had to be reinforced. But the effort paid off: against all the odds, the owners now have a top-class kitchen with premium materials and appliances.
Photo credit:
Kitchen design: Eginstill, www.eginstill.com
BORA Professional 2.0 All Black induction cooktop with integrated cooktop extractor
Photos: Jasper Faber
Having plenty of space is not a typical characteristic of Amsterdam's famous, picturesque canal houses. And that's also the case in this old property in which the owners commissioned Eginstill's artisans to design and install a new kitchen. The family of five cooking enthusiasts wanted plenty of appliances and premium materials which surpassed the standard range, including a kitchen island made of marble. In addition to the lack of space, the family's wish posed another challenge which the kitchen designers adeptly overcame.
Optical enlargement
To make the comparatively small room look wider, the kitchen designers opted for light natural stone and predominantly light oak for the unit fronts. The family took an instant liking to the proposed Capella marble from Italy. After all, the dynamic colouring of the stone lends the kitchen a particularly natural charisma, which is highlighted further by the genuine-wood fronts. The filigree shelves, which allow a clear view of the staircase behind, also create a sense of space. They are framed by two kitchen units, which round off the overall picture with their dark-green coated steel fronts and a back panel also made of Capella marble. In the middle of the room stands a two-piece kitchen island which looks as if it is made entirely of marble. Even the drawers are made of this noble natural material.
Premium selection of appliances
As requested by the family, the kitchen contains numerous appliances, from a wine cooler and a professional coffee machine to a steamer. They are so ingeniously spread around the kitchen that it doesn't look cluttered at all. But another reason why everything fits together so seamlessly is because the appliances aren't in the spotlight. In fact, the BORA Professional 2.0 All Black cooktop system is a real design statement in terms of simplicity. This all-black cooktop with its pared-back design sits flush in the kitchen island's marble worktop. Even the downdraft extractor's motorised cover plate and the control knobs are completely black. The cooktop extractor's efficient performance guarantees a premium cooking experience in a premium setting.