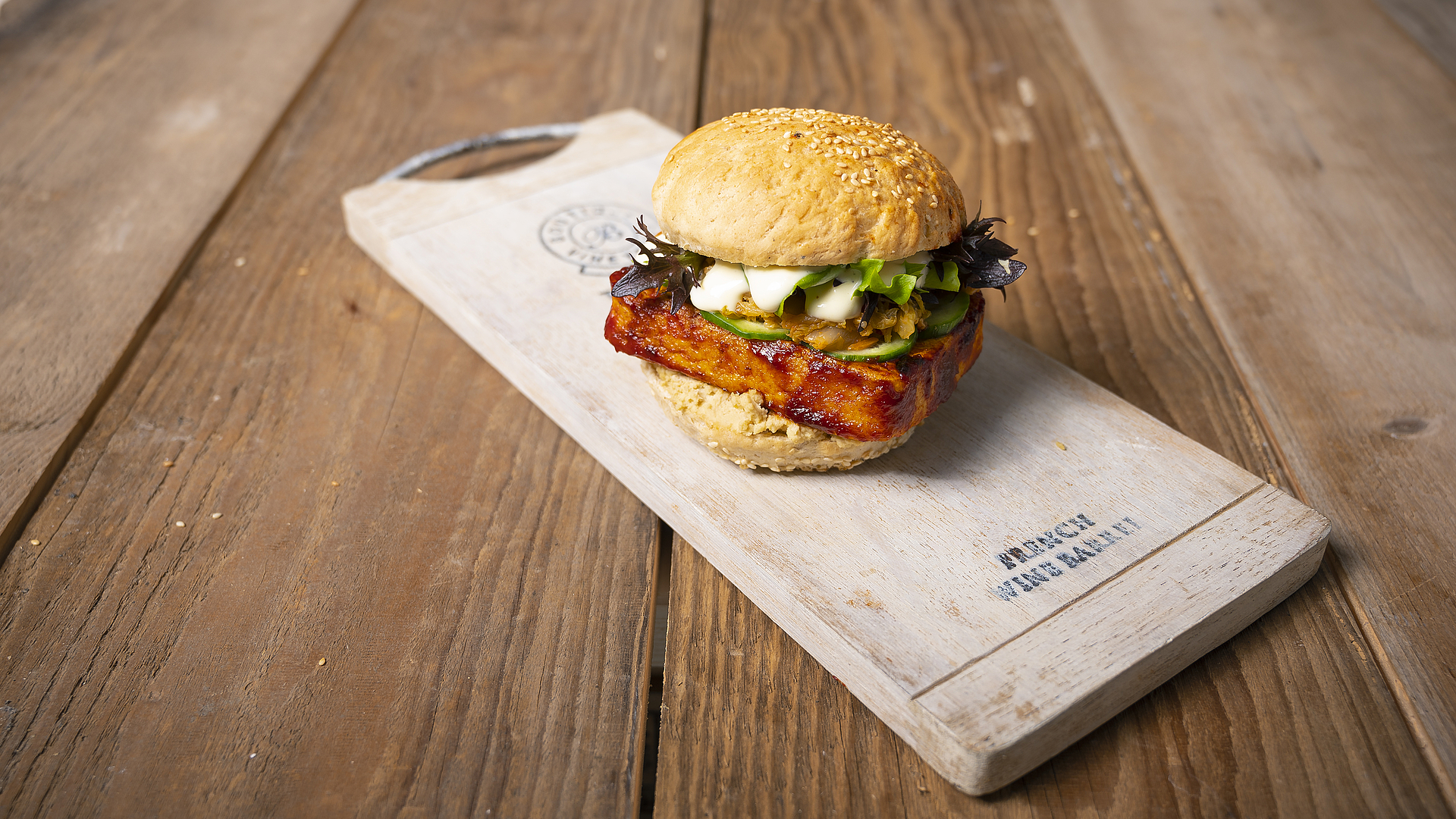 Preparation
Preheat the Tepan stainless steel grill to 190 degrees. Cook the tofu slices in 1 teaspoon of oil each for 6 minutes on each side until a beautifully crispy layer has formed.
Mix the soy sauce, maple syrup, lime juice and tomato puree in a glass or small bowl to create the glaze.
Cut open the burger buns and toast on the Tepan stainless steel grill cut-side down for just under 1 minute, then remove.
Deglaze the tofu with the glaze and reduce the liquid slightly turning the tofu several times. Work quickly during this step as the glaze burns easily.
Spread a little hummus onto the burger buns, then add a small handful of lettuce leaves, the tofu, vegetables and pickles of your choice and top with mustard, ketchup and mayonnaise (again according to taste).
For the vegan mayonnaise
Put the soya milk and lemon juice in a blender cup. Slowly mix in the oil using the hand blender then gradually add the remaining ingredients.
TIP
You can refine the vegan mayonnaise by adding chopped herbs.
For the ketchup
Peel and finely dice/grate the onion and ginger respectively. Crush the garlic cloves in their skins and quickly sauté everything in the olive oil in a small pan for 3–5 minutes until a crust starts to form on the base. Deglaze with the orange juice and use a flat wooden spoon to loosen the crust from the base.
Add the strained tomatoes, cider vinegar and tomato puree and stir well. Finally, add the lemon juice, syrup and spices then simmer the sauce over a medium heat for at least 30 minutes.
Strain the ketchup through a sieve and pour into a clean glass or bottle while still hot.
For the hummus
Wash the lemons. Zest 1 lemon and squeeze both. Put 100 ml lemon juice and ½ teaspoon of lemon zest into a measuring jug with the rest of the ingredients and puree with the hand blender adding more seasoning if necessary
TIP
If you have the chance, simply cook your chickpeas yourself. This is admittedly more timeconsuming, but the taste is worth the effort!
Preparation time: 15 minutes
Cooking time: 15 minutes
Serves 4
4 slices of white tofu (firm, à 100 g)
4 tsp olive oil
4 tbsp Tamari soy sauce
2 tbsp maple syrup
2 tsp lime juice
2 tbsp tomato puree
4 burger buns Hummus
Mixed lettuce leaves Vegetables of choice (e.g. tomatoes, cucumber, carrot sticks, celery, fennel)
Pickles of choice (e.g. gherkins, sauerkraut, kimchi, silverskin onions)
Mustard
Ketchup
Vegan mayonnaise
For the vegan mayonnaise
150 g soya milk, unsweetened and chilled
3 tbsp lemon juice
250 ml groundnut oil
½ tsp agave syrup
1 tsp medium-hot mustard
Natural or sea salt
Ground pepper
For the ketchup
1 onion
1 walnut-sized piece of fresh ginger
3 garlic cloves
2 tbsp olive oil
150 ml orange juice
700 g strained tomatoes
100 ml cider vinegar
200 g tomato puree
1 tbsp lemon juice
2 tbsp date or maple syrup
1 tsp paprika, sweet
2 tsp natural or sea salt
6 peppercorns
4 cloves
2 bay leaves
Chilli powder to taste
For the hummus
250 g chickpeas from a jar
125 g light, liquid tahini paste (sesame paste)
2 organic lemons
Natural or sea salt
2 tbsp sesame seeds
1 tbsp agave syrup
100 ml olive oil
A little cayenne pepper and sweet paprika