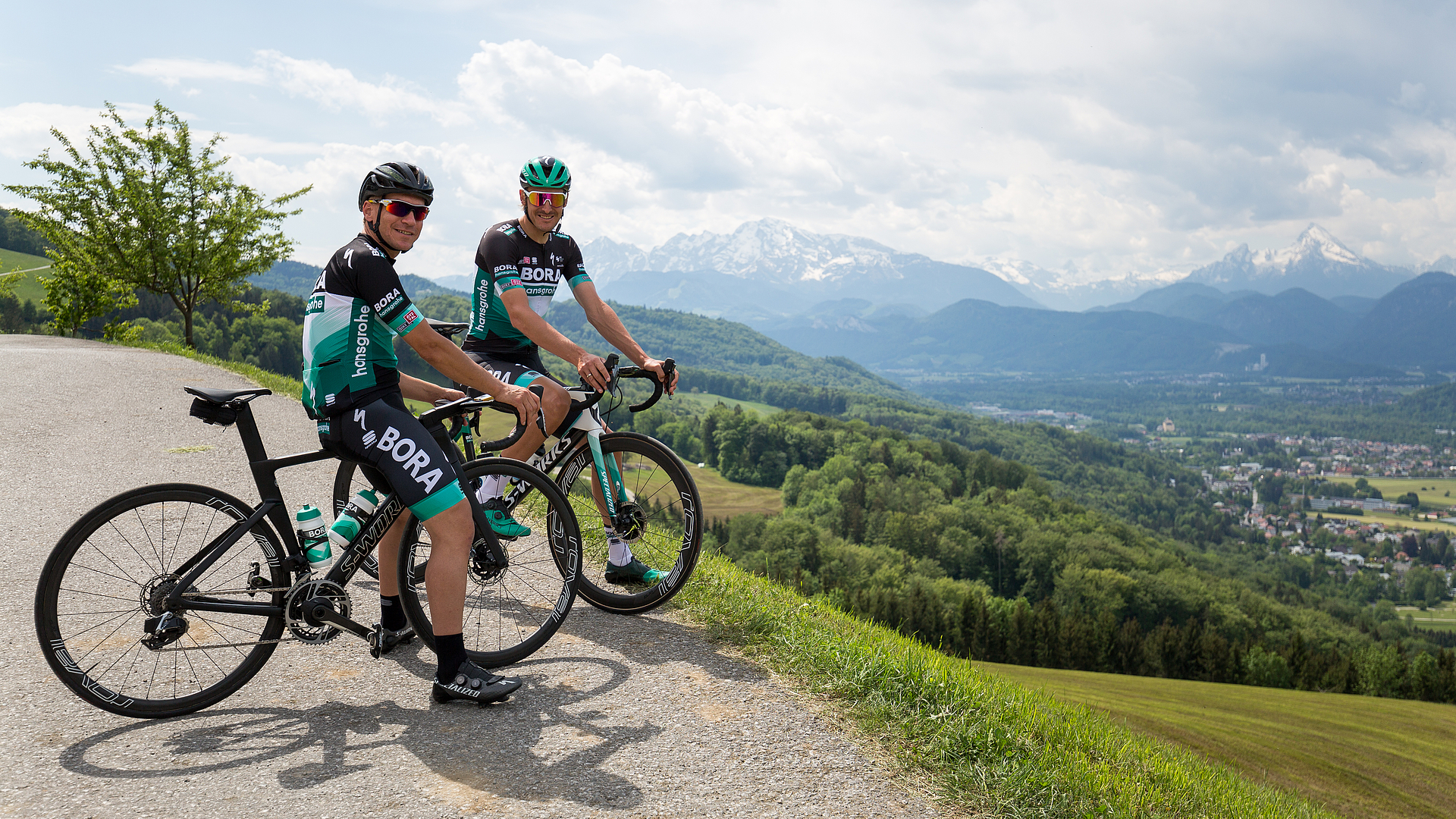 Cross-over – fine dining meets cycling
The journey from passion to profession
What happens when a two-Michelin-star chef with a passion for cycling meets a professional cyclist with a passion for cooking? They find out what their careers have in common and discover some interesting differences, highlighting just how long it sometimes takes to go from amateur to pro. Andreas Senn, one of Austria's most successful and creative chefs who lives in Salzburg, met for a chat with Marcus Burghardt, a professional cyclist in the BORA – hansgrohe German cycling team.
The two share similarities: they both pursued their passion from a young age, and both had the support of their families and sponsors. They are driven by a love of what they do and are living out their dreams. While one of them combines his passion for cooking with sports and a health-conscious lifestyle, the other needs to maintain a healthy lifestyle and eat a balanced diet so that he can be a top sportsman. The two family men take the same approach in their private lives too as they believe that it's important to act responsibly and set a good example for their children. Both have also travelled a great deal in their careers. Most of a professional cyclist's year is spent on the road living out of a suitcase: in addition to 60-70 days of racing, they spend several more weeks at training camps every year. A chef's career traditionally involves a few years travelling and learning on the job after completing training. For Tyrol-native Andreas, these years were spent on board cruise ships and in various restaurants in Austria before ending up in Salzburg.
Moments of joy
As a keen cook, Marcus was fascinated to learn about Andreas's day-to-day work in greater detail: what a typical day looks like, how he creates dishes, what ingredients work perfectly together on the hob and on the plate, and why Andreas is so keen on cooking in a big open kitchen where customers can watch. It usually takes around two weeks to come up with a new recipe from devising the initial idea to perfecting the finished dish, including how it is plated up and presented. Just as a sprinter rides hard to clinch the victory at the end of a race, Andreas goes all out in the kitchen to put the finishing touches on the meal. Delighted guests are the reward for his 'victory'. Cooking in an open kitchen enables him to receive feedback straightaway as he can see how diners react to his dishes, which is crucial. Guests also enjoy an enhanced dining experience when they can watch the team cook. Every flawless dish that leaves the kitchen brings Andreas a moment of joy and is, for him, the best reward.
A healthy diet isn't just a means to an end for Marcus; it's a key part of being an athlete. For him, cooking is relaxing. He takes pleasure in trying something new every now and then and enjoys cooking with his family. From a simple lasagne with the kids to a shoulder of chamois, he has tried all kinds of dishes. That said, there are some ingredients in Andreas's dish 'Trio of asparagus with scarlet prawns (Carabineros), kohlrabi, sea lettuce and Cape gooseberries' that are completely new to Marcus, and he's never used tweezers to garnish a meal before either.
Simple pleasures
As the two cycle together, Marcus learns that they do eat pizza once in a while at Andreas's house, but mostly they eat simple, healthy homemade food – that's the kids' favourite. And Andreas will never turn down a fresh pasta dish with delicious tomatoes and good quality olive oil.
Cycling up on the Gaisberg mountain, Andreas starts to get a little out of breath alongside Marcus. This is where the ease with which a professional cyclist can climb becomes apparent. Nevertheless, the struggle uphill was all worth it for the spectacular views over Salzburg. For Marcus this also brings back very happy memories of proposing to his wife while dining at a great restaurant in Salzburg ten years ago.
Milestones, successes and awards – so different, yet so similar
The two have experienced very different successes, milestones and challenges in their careers. Although good fortune played a role here and there, the two haven't had anything handed to them on a plate. They have had to work hard to reach their goals and make their dreams come true. For Marcus, this meant conquering almost 300 km with 4,500 m altitude gain in freezing rain. Giving up was not an option since – as many people don't realise – cycling requires teamwork, just like in the kitchen: you support each other, fight for each other and celebrate your wins together. They make up for all the blood, sweat and tears. Helping his teammates take two podium places was Marcus's reward. He still considers his stage win at the 2008 Tour de France to be his greatest success, though he is extremely proud of winning the German National Road Race Championships in 2017 too. For Andreas, his biggest successes are his many accolades, but his greatest by far are his first Michelin star and his second that came just a year later, much to his surprise. He popped quite a few corks with his team when the stars were awarded. There's no resting on your laurels at Senn's restaurant, though; he takes far too much pleasure in constantly finding ways to up his game and discover new inspiration. Of course, Andreas's next goal is to secure the highest Michelin honour – the third star. Years ago, he couldn't have imagined that he would have come this far. Marcus will be eagerly following Andreas's journey as he progresses toward his next milestone. After all, if there's one thing that Marcus has learned over his career, it's that you should not forget to enjoy what you do despite all of the important hard work. They agree on one thing: there is nothing more enjoyable than going to Mallorca to train when the almond trees are in full bloom and spending your evenings relaxing with a good, simple meal.
Photo credit:
BORA – hansgrohe I Bettiniphoto
BORA – hansgrohe I Mario Stiehl Photography
BORA I Valentin Rapp
Andreas Senn