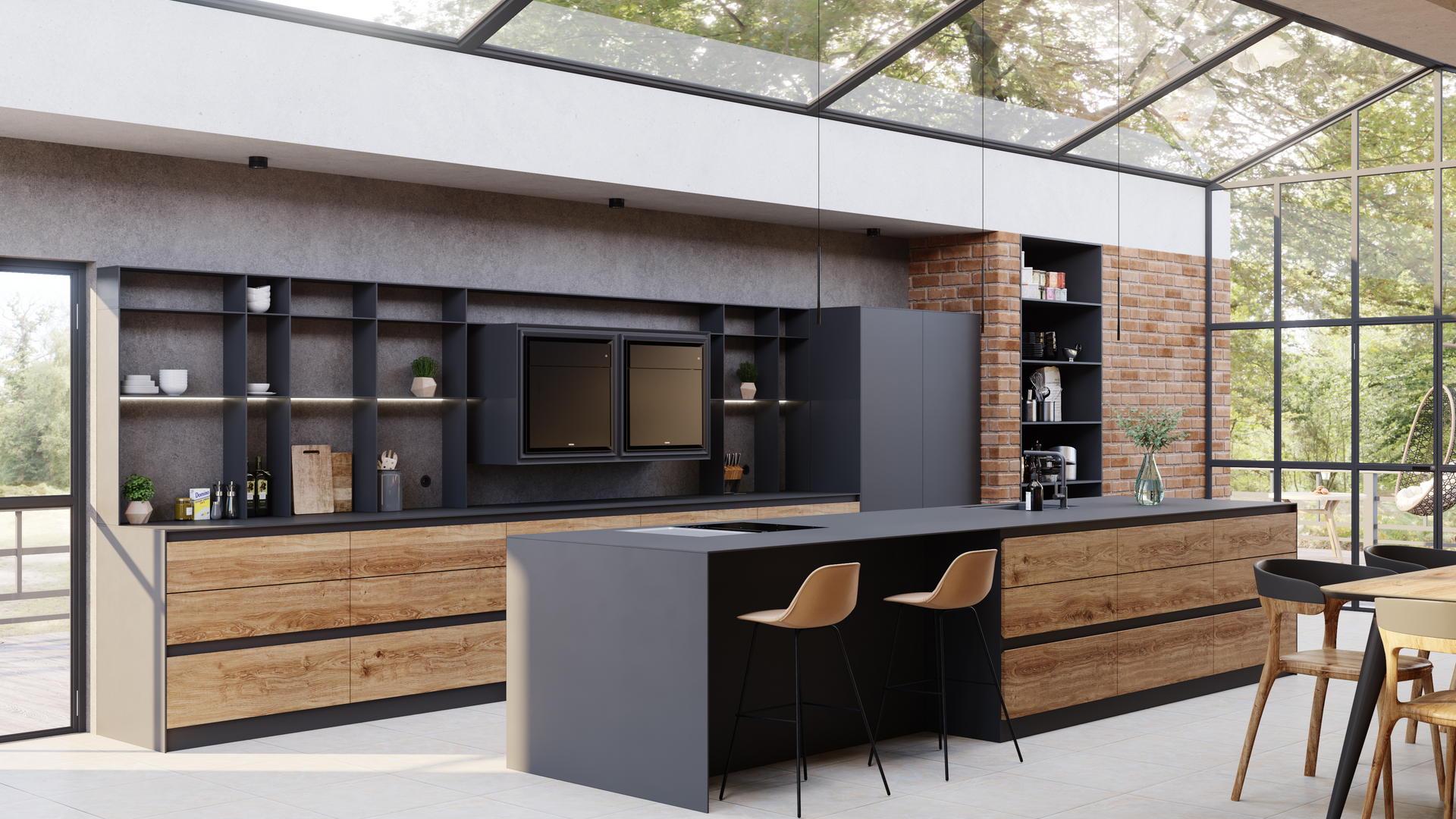 Ergonomics in the kitchen
A kitchen is (like) a workplace, says kitchen designer and master joiner Max Kaltner. He works where the first BORA cooktop extractor system was once developed and where today, brand products can be acquired for home furnishing and interior design purposes: in the werkhaus in Raubling. In an interview, he explains why the ideas of the well-known German designer Otl Aicher now need to be expanded upon.
Expanding on the 'kitchen as a place for cooking'
Otl Aicher co-founded the famous Ulm School of Design – and had several ideas about what made the ideal kitchen. He did a great deal of research when writing his book 'Die Küche zum Kochen. Werkstatt einer neuen Lebenskultur' ('The kitchen as a place for cooking. The workshop of a new lifestyle culture') – in both Michelin-starred professional kitchens and his own private kitchen. After all, Aicher believed that to design kitchens, you need to cook regularly.
What conclusions did he draw from his research and what characterises a 'kitchen as a place for cooking'? The answer is clear: it's first and foremost about functionality. The utensils that are regularly used when cooking on an everyday basis should be positioned as freely and thus as accessibly as possible rather than disappearing into the 'long-stay storeroom' as Aicher called the often bulky kitchen cupboards.
However, our kitchen design specialist Max Kaltner believes there is one aspect that Aicher did not consider in the 1980s: "Aicher's book talks about kitchens that – contrary to the norm today – are separate from the living room." As cooking, eating and living are increasingly taking place in the same room, part of designing a kitchen involves successfully balancing design and functionality.
The golden triangle
Otl Aicher and Max Kaltner both agree that when designing a kitchen, it has to be looked at holistically. Instead of individual appliances, the focus lies on cooking workflows: refrigerating and storing, washing, preparing, cooking, plating up and serving all have to be considered as a kind of triangular arrangement – known as the 'golden triangle'.
This is created through the logical, consecutive positioning of the work areas and plays a major role in determining the design of a functional kitchen. The arrangement of the refrigerator, sink, worktop areas, stove and oven eliminates unnecessary steps while cooking.
The golden triangle also enables multiple people to help prepare meals without getting in each other's way. A kitchen island that is easily accessible from all sides is ideal for this. After all, meals are a sociable occasion – as is cooking.
Key considerations when designing a new kitchen
What other ergonomic factors should be considered when designing a kitchen? Max Kaltner offers you several tips to help you enjoy your kitchen for years to come:
The worktop height should be tailored to the height of those who do the cooking. In the event of a major height difference, e.g. in the case of a couple, this can be offset by using an extra-thick chopping board.
Install the (steam) oven, such as the BORA X BO, and dishwasher at operating height. This enables you to see what is on the top shelf.
To improve wellbeing, the person cooking should have a clear view into the room or outside, instead of permanently looking at the wall. You should therefore position your sink or (BORA) cooktop in front of a window or on the cooking island wherever possible.
Our BORA cooktop extractor systems also guarantee a clear view. They are furthermore ergonomic because you do not have to stoop while cooking. In addition, they optimally integrate into your living space from a visual perspective.
All in all, Kaltner summarises the aim of ergonomic kitchen design as the creation of working conditions that meet users' needs. This makes custom solutions essential when designing a kitchen.