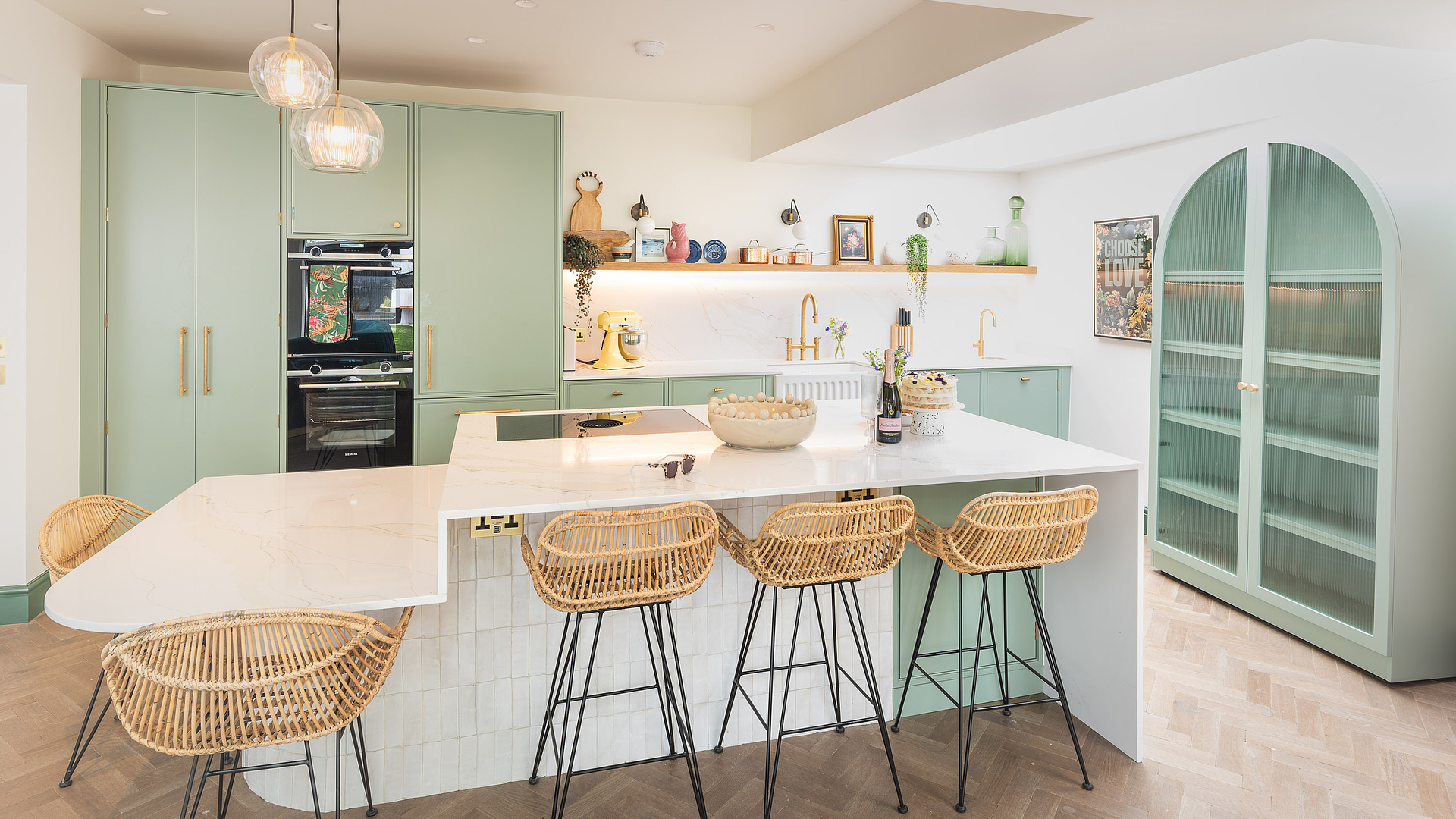 Interior Design Influencer Katie Woods – Her Dream Kitchen with BORA
She shows us that multitasking isn't just a myth. Katie Woods is a blogger, expert dentist, Instagrammer and wife as well as a mother to four children with a passion for interior design. With her @thesmurfhouse renovation project, she has fulfilled her dream of having her own holiday home. This, of course, also involved renovating the old kitchen.
The dream of a holiday home by the sea
"We had a dream we couldn't let go of. One that made our hearts soar and one that we really wanted to make a reality." This is how Katie Woods (@comedowntothewoods) describes her dream of her very own holiday home by the sea. A place (of longing) where she and her family can escape the stress of everyday life and where she can start a holiday rental business. And this place Katie and her family call their holiday home can be found down in South Devon.
But where did this dream come from and why South Devon in particular? "As a large family, we often went on holiday to England. We don't have to deal with hectic airports and, in my opinion, when it's sunny there's no place more beautiful on earth than England," says Katie, who lives with her family in Leeds. During one of her trips to England in 2015, Woods fell in love with South Devon and its seaside location, and so the dream of the smurf house was born. A few years later, this was to become a reality.
"Our dream kitchen is a magical place"
It didn't take long until she found the perfect house on the outskirts of the beautiful town of Salcombe, but the purchase brought about a mammoth task for Woods. "My goodness, that was one heck of a project," Katie recalls, "The walls were damp and the whole property was pure chaos". But despite the imminent Corona lockdown and the challenges the renovation posed, the Woods family rose to the occasion and got to work in high spirits.
"No wall was left untouched. We were steadfast in our decision to create something really special," says the interior design blogger. It was of particular importance to Katie to create a home which would satisfy everybody's needs. For example, there's a fully accessible suite on the ground floor, extra-wide door openings, a modified kitchen island and even a slide that leads from the balcony on the first floor into the garden. But the centrepiece of the project for Katie since its inception was her dream kitchen: "It's a magical place for me and my family."
Planning the kitchen early on is essential
Planning her kitchen early on and with care was essential to Katie. "Rushed things in the planning of my last kitchen led to me regretting some of my decisions for many years", she explains. Mistakes made when planning the kitchen are often costly and impossible to correct. According to Woods, the danger of making rash decisions is particularly high in large construction projects, as sometimes you have to react incredibly quickly to a wide range of situations. So Katie advises, "Make sure you plan in advance, particularly with your kitchen. Imagine yourself standing in your kitchen and how you want it all to be."
It was always clear to Katie that the kitchen in her smurf house should be a sociable place. A place where families could come together, a place full of laughter, love and enjoyment. The intention was to make the kitchen island the beating heart of house. "If you observe how people enter a kitchen, you see that they seem to gravitate towards the island like a magnet", Katie remarks. So the kitchen island for the interior design blogger was just the right place for her to start with in planning her kitchen.
Cooktop or sink on the kitchen island?
Now for an important question: Cooktop or sink on the kitchen island? As a passionate cook and self-proclaimed chatterbox, Katie knew straight away that she wanted a cooktop on the island. "I want to cook and chat with my family or friends at the same time. I want to sauté onions while having a laugh with my friends and family and not have to stand with my face to the wall", Katie says, explaining the reasons for her decision.
She said she was also afraid that with a wash basin on the island it would always looks untidy when stacks of dirty or wet items are laid about there: "At least if you don't wash up straight away, but, honestly, who has time for that?"
A cooktop extractor system – the best choice for a kitchen island
So the decision to have a cooktop on the kitchen island quickly became clear. Katie had a couple of concerns though: "It's always been difficult in the past to have a cooktop on an island, as the extractor hood isn't particularly stylish and is a head-height obstacle." However, BORA was able to put these concerns to rest. "BORA has the perfect answer with an elegant device and an integrated extractor that fits in seamlessly," she says excitedly.
Katie even went for a BORA cooktop in her previous kitchen plans in 2016: "Buying the BORA Classic cooktop extractor for our last kitchen was probably the only decision I never regretted. It was a groundbreaking product at the time and a carefully thought-through acquisition", she remembers. So it immediately became clear to her and her family: "We had to go for BORA again".
@thesmurfhouse X BORA Pure
The blogger decided on the BORA Pure with an induction cooktop for the kitchen in her smurf house and has some enthusiastic words to say about it: "It's high-performance as well as elegant, stylish and quiet. It's also unbelievably easy and super intuitive to operate, which is very important for a property that's going to be used by a lot of people."
Now after more than three years of renovation work, the dust has settled in the smurf house, the walls have been painted and the Woods' dream is a reality. The kitchen is full of people, laughter and happiness. Katie says the sound of clinking glasses, sizzling food and conversation between family and friends is "simply beautiful". The BORA Pure is an essential component for bringing family and festive meals to the table when hosting several guests.
According to Katie, even a private chef used the BORA to cook for a special event: "Even he said how great it was to cook with our BORA", she reports.
It doesn't matter whether you're whipping up a bowl of noodles after a long day on the beach or trying out new, eccentric dishes for special occasions, (a cook's) life revolves around the kitchen island. She gives one closing piece of advice: "Follow your dreams and they'll lead you to incredible places. Oh, and start by planning your kitchen!"