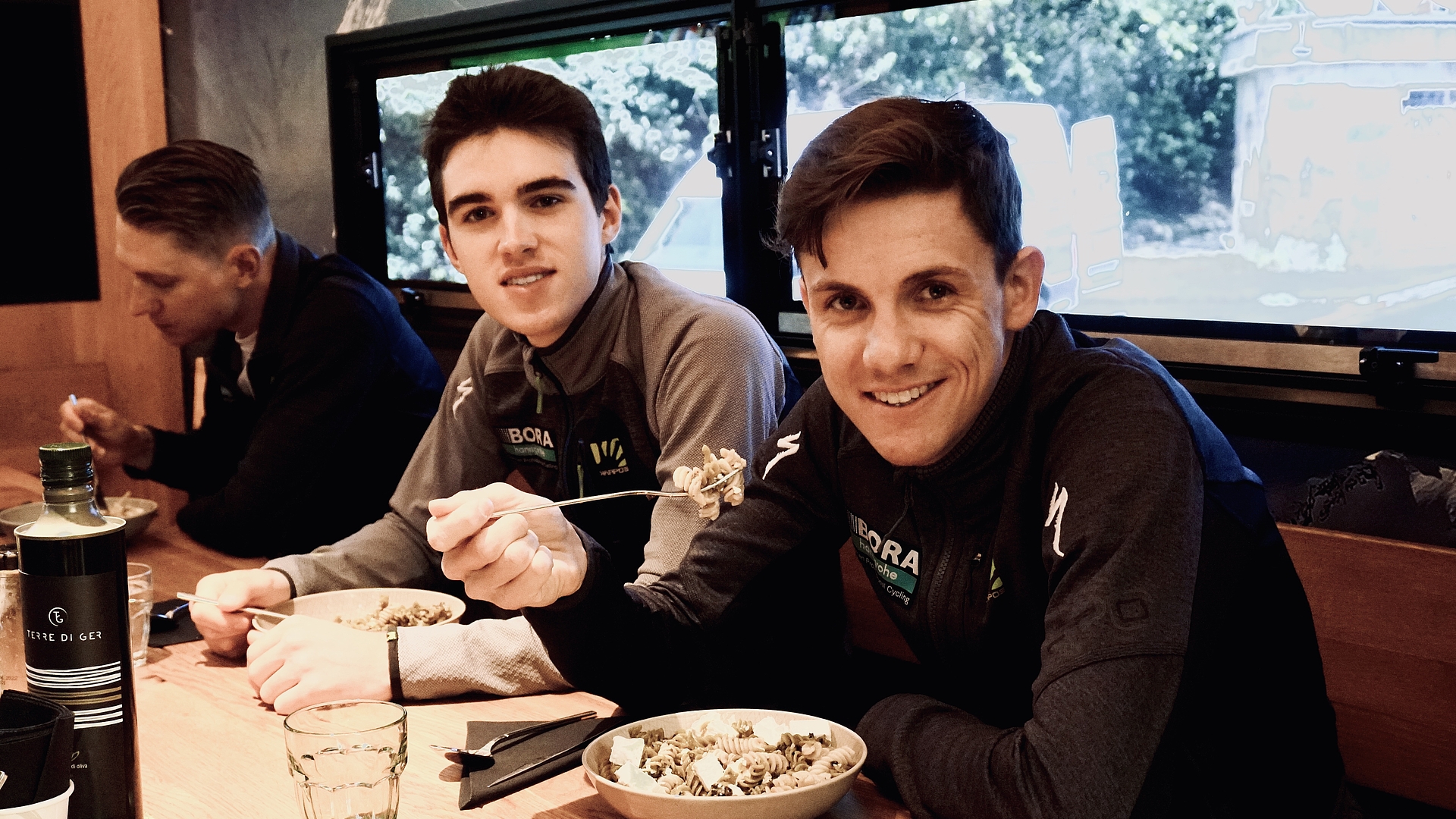 Eating a gluten-free diet as a pro cyclist
October 2021
A gluten-free diet is more than just a fad, and for some people it's absolutely essential so that they can stay healthy and active. Whether by necessity or by choice, avoiding gluten in what you eat means giving your diet a radical overhaul. It's a fundamental part of being a pro cyclist; after all, it impacts your physical and mental fitness. You need to have a balanced diet that provides the body with enough energy so that what you eat doesn't hamper your performance. But what if an athlete needs to give up their beloved pasta? Can a gluten-free diet provide them with enough energy for competitive sport? Could such a diet even work as part of a professional athlete's daily routine?
The answer? Yes! With the right changes, it's no trouble whatsoever. Two of our BORA – hansgrohe pro cyclists are gluten intolerant and are examples of how you can give up gluten and still ride to victory.
Photo credit:
BORA – hansgrohe / Stephanie Constand
BORA – hansgrohe / Bettiniphoto
BORA – hansgrohe / Mario Stiehl
What exactly is gluten?
Gluten is a naturally occurring protein that is a combination of glutelin and prolamin protein molecules. Gluten is the main protein for storing energy in wheat, rye, barley and many other types of grain. It has little nutritional value, but it is a good flavour carrier, so it is often used as an additive in ready meals, and as a binding agent it makes baking bread easier, for instance. You can also find gluten in oats, starch, semolina, einkorn and spelt, meaning a number of our favourite meals and treats contain gluten.
Gluten-free diet: neither oddity nor obstacle
Some people are unable to eat gluten without it causing inflammation in the stomach and increasing intestinal permeability. Coeliac disease is when someone has a high gluten intolerance. Coeliacs experience chronic inflammation in the mucous membrane of their small intestines which causes major gastro-intestinal issues when gluten is ingested. Such severe side effects don't have to be inevitable, however. Patrick Konrad, a pro cyclist on the BORA – hansgrohe team, is gluten intolerant, but for many years now he has shown how adapting his diet and lifestyle means that his condition is far from an impediment. In addition to making it into the top ten in the overall standings at the Giro d'Italia twice, his biggest achievement is his stunning stage 16 win at the Tour de France 2021.
The 22-year-old pro cyclist Giovanni Aleotti also suffers from gluten intolerance. He only recently won the yellow jersey at the Romanian Sibiu Cycling Tour and is a rising talent in the world of tour cycling. His dietary changes mean that he doesn't experience any issues either, and he's sure to delight cycling fans over the coming years. There are also pro cyclists who cut gluten out of their diet simply because they feel fitter and not because it's medically necessary.
A gluten-free life
People with a gluten intolerance often feel stronger, healthier and able to perform better in sports by removing gluten from their diet as they don't have to worry about any adverse effects. With the right know-how, making the switch in your everyday meal preparation is relatively easy as there are now gluten-free alternatives for a range of wheat-containing food products. There's gluten-free pasta and bread, for instance, and you can even buy gluten-free flour at the supermarket. But you should keep an eye on the ingredients in some gluten-free alternatives as they are frequently enriched with potato or maize starch, or fat and sugar may have been added to enhance their flavour, meaning they can be loaded with calories without you noticing. Grains such as rice, wild rice, amaranth, buckwheat, maize and quinoa are gluten free and healthier. Instead of eating cereal bars during races, gluten-free rice cakes are available for BORA – hansgrohe riders Patrick and Giovanni (and whoever else wants one). The rice cakes give their bodies the energy needed for peak athletic performance, even when they're giving it everything they've got. Whether you're currently gluten intolerant or not, one thing remains true: a balanced diet of high-quality food helps you stay at the top of your game while supporting your body when it's working and recovering. After all, engines are only as good as what fuels them.