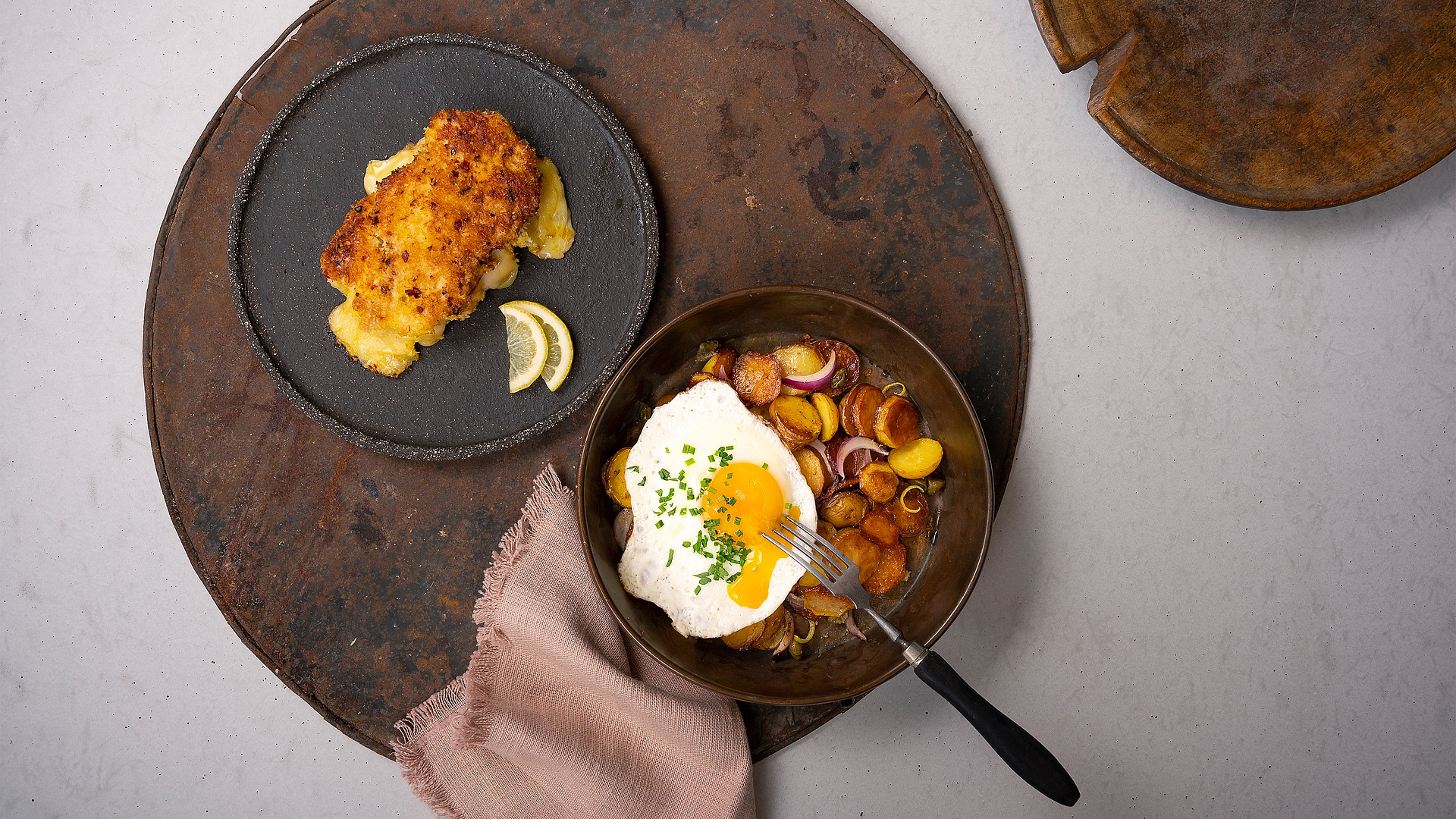 Stuffed turkey escalopes with coconut and chilli panade and lemon potatoes
Preparation
For the potatoes
Cook the potatoes in salt water with a little caraway for 20 minutes. Drain, allow to cool slightly, peel and slice.
For the escalopes
Wash the lemon in hot water, dab dry and zest. Place on a plate with the grated coconut and chilli flakes and mix together to create the panade. Lightly season the escalopes on both sides with salt and pepper. Coat one half with mustard and layer with the turkey ham and Gouda. Fold over the escalopes and hold in place with the toothpicks. Whisk together the egg and cream, pull the turkey escalopes through the egg mixture and instantly roll in the coconut panade.
Preheat the back half of the Tepan stainless steel grill to 200 degrees, drizzle with a little sesame oil and cook the breaded turkey escalopes on both sides for about 10 minutes until golden.
Cook the potatoes in a little clarified butter on the front half of the Tepan stainless steel grill at 190 degrees until golden, turning occasionally. Peel the onion, halve, cut into thin slices and add to the potatoes. Wash, zest and squeeze the lemon. Season the potatoes with the lemon juice and zest, salt, paprika, a pinch of cayenne pepper, ground pepper and a little olive oil. Finally, stir in the capers and season to taste with the Cajun spices or other spices.
For the fried eggs
Move the lemon potatoes to the back half of the Tepan grill. Pour 1 tablespoon of clarified butter onto the front half and fry the eggs at 190 degrees for 3–4 minutes. Season with salt and pepper.
Finishing touches
Sprinkle the chopped herbs onto the turkey escalopes and serve with the lemon potatoes and fried eggs. Garnish with slices of lemon.
Preparation time: 40 minutes
Cooking time: 35 minutes
Serves 4
For the potatoes
4 potatoes
Natural or sea salt
1 tsp caraway seeds
150 g clarified butter
1 onion
1 organic lemon
Paprika
Cayenne pepper
Ground pepper
Olive oil
1 tbsp capers
Cajun spice or paprika, dried thyme, ground pepper and a little ground cumin
For the escalopes
1 organic lemon
200 g grated coconut
½ tsp chilli flakes
4 turkey escalopes (à 150 g)
Natural or sea salt
Ground pepper
4 tsp medium-hot mustard
4 slices of turkey ham
4 slices of Gouda
4 eggs (size M)
50 g cream
Sesame oil
8 toothpicks
For the fried eggs
1 tbsp clarified butter
4 eggs (size M)
Natural or sea salt
Ground pepper
1 tbsp chopped herbs to taste (e.g. chives, parsley)