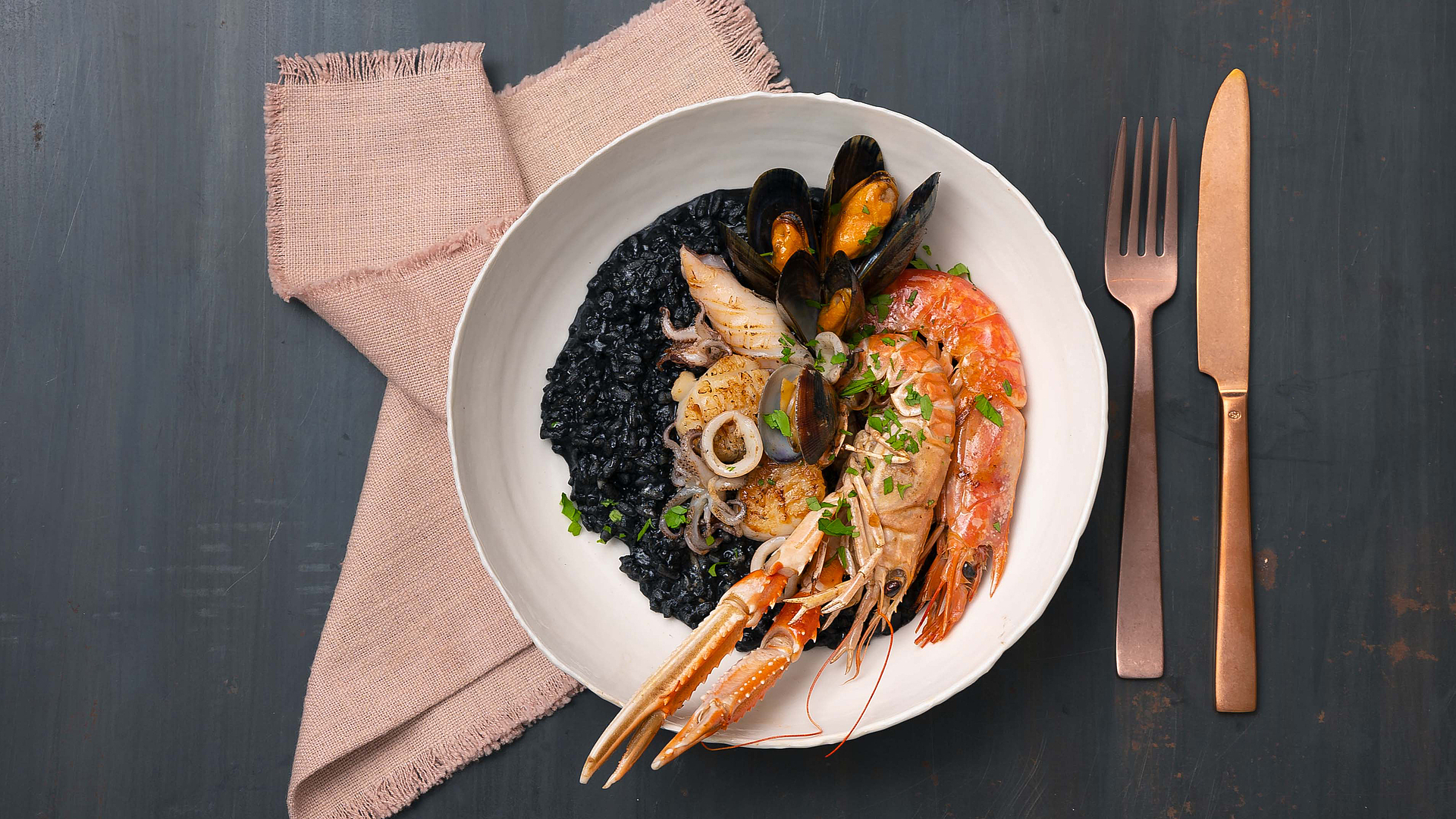 Black risotto with crustaceans
Preparation
Preheat the Tepan stainless steel grill to 230 degrees. Peel and finely chop the shallots. Sauté on the Tepan in clarified butter until translucent. At the same time, heat the fish stock and simmer.
Add the rice and calamari to the shallots and cook briefly. Reduce the temperature to 180 degrees and deglaze the rice mixture with the white wine. Allow the wine to almost entirely boil off, then gradually pour the fish stock into the rice. At the same time, thoroughly stir in the squid ink. Cook the risotto for about 15–20 minutes, constantly stirring and adding more liquid.
Move the risotto to the back half of the Tepan stainless steel grill and heat the front half to 250 degrees. Heat a little cooking olive oil on the front half, quickly sear the prawns and molluscs then set aside briefly.
Spread out the risotto over the entire Tepan grill again, fold in the Parmesan (A) and add a little more stock to bring it to the desired consistency. Wash the parsley, shake dry, chop and mix in a handful. Wash the lemon in hot water, squeeze out the juice and zest ½ the skin. Stir into the risotto. Serve the risotto on deep plates, season the prawns and molluscs with salt, pepper and lemon juice to taste and place on the risotto. Grate a little Parmesan on top.
Preparation time: 20 minutes
Cooking time: 30 minutes
Serves 4
2 shallots
50 g clarified butter
1.5 l fish stock
250 g carnaroli rice (risotto rice)
600 g calamari, cleaned, in strips
200 ml white wine
1 tbsp squid ink
2 tbsp cooking olive oil
8 prawns
4 different molluscs
50 g Parmesan
1 bunch of parsley
1 organic lemon
Natural or sea salt
Ground pepper