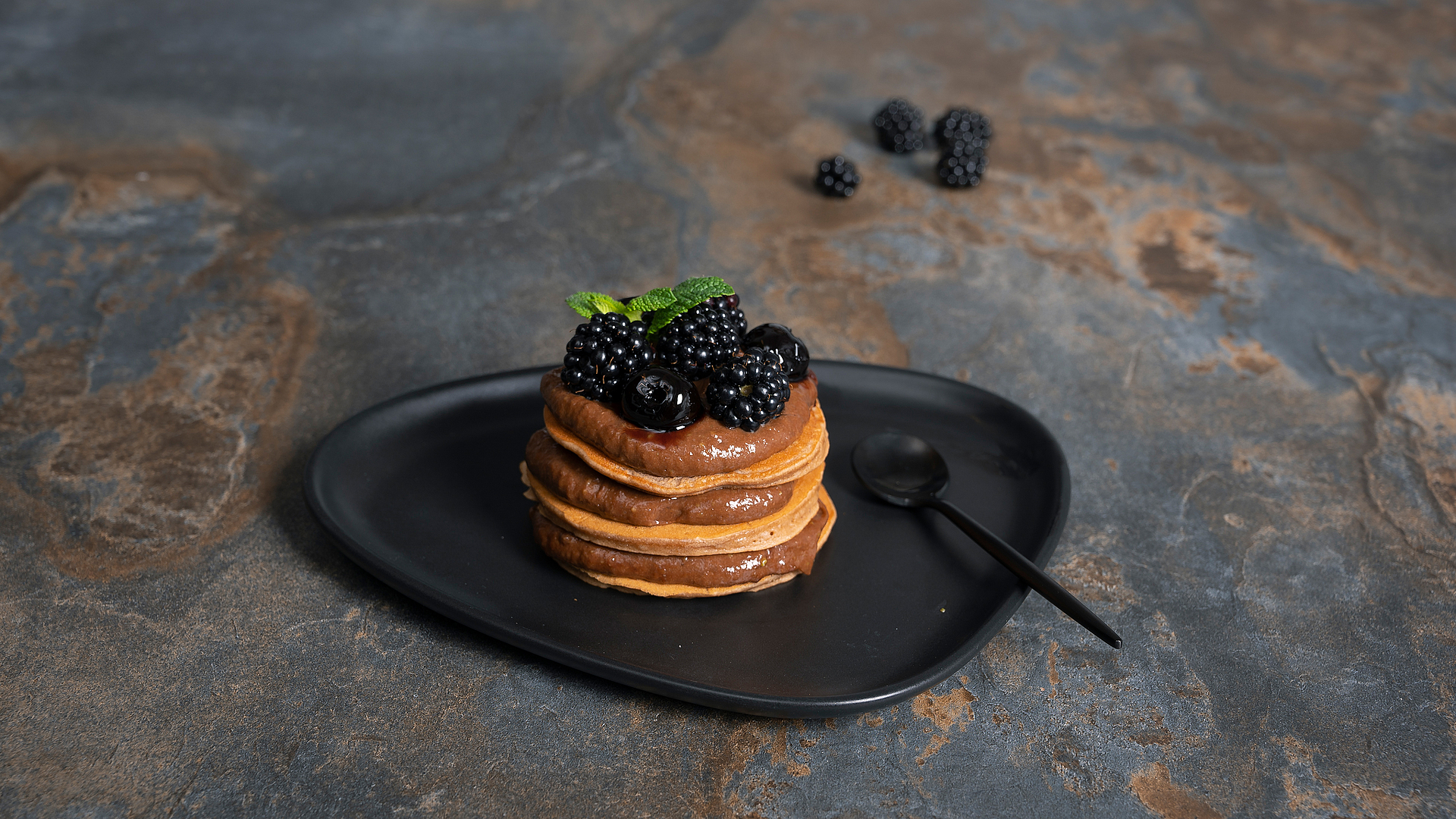 Chestnut pancake tower with chocolate cream and fruit
Preparation
For the chocolate cream
Peel the banana and avocado and remove the avocado stone. Use a stand or hand blender to blend the banana, avocado, cocoa and agave or maple syrup to form a smooth, creamy mixture. Sweeten if necessary, then leave the cream to cool.
For the pancakes
Mix together the dry ingredients in a bowl. Melt the butter in a small pan and add the egg and milk. Add this mixture to the dry ingredients, stirring continuously, and quickly beat to form a smooth batter.
Finishing touches
Preheat the Tepan stainless steel grill to 190 degrees and coat with a little clarified butter or oil. Ladle the batter onto the Tepan grill to form pancakes (diameter about 8–10 cm). Cook on both sides for 3 minutes until golden brown then remove from the Tepan. Lightly coat each pancake with maple syrup and allow to cool.
Wash the fruit and pit the cherries if necessary. Stack the components to make a tower alternating between the pancakes, cream and a little fruit. Garnish the towers with a little cream and the prettiest fruit. Dust with icing sugar and serve immediately.
Preparation time: 15 minutes
Cooking time: 15 minutes
Serves 4
For the chocolate cream
1 banana
1 avocado
3 tbsp cocoa powder
4 tbsp agave or maple syrup
For the pancakes
100 g chestnut flour
1 tbsp raw cane sugar
1 tsp baking powder
1 pinch of natural or sea salt
30 g butter
1 egg (size M)
90 ml oat milk (or other vegan milk)
Clarified butter or cooking oil with ghee
Raw cane icing sugar
Additional ingredients
200 g cherries
200 g dark berries, e.g. blackberries or blueberries
4 tbsp maple syrup