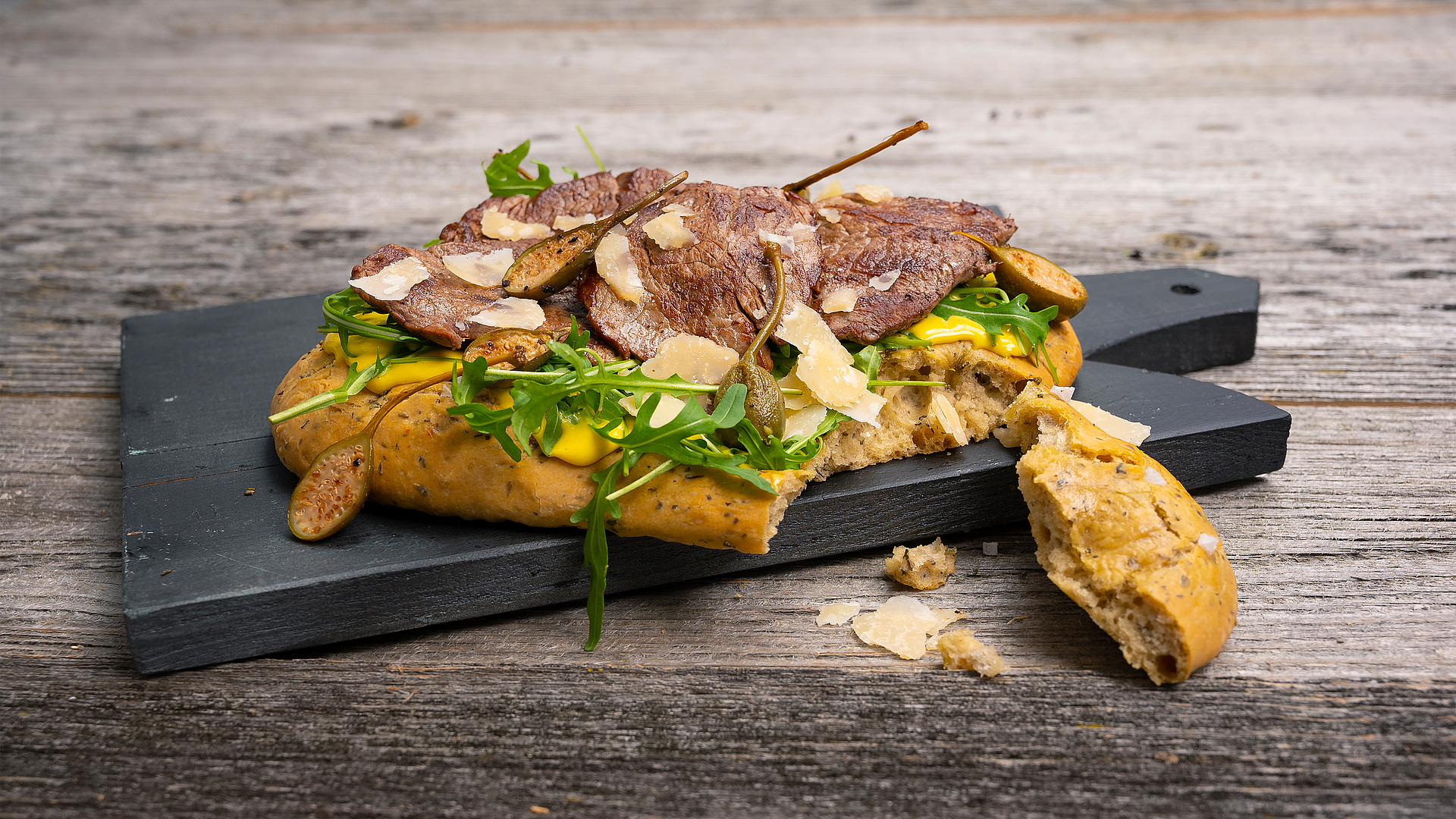 Straccetti on spelt and rosemary focaccia with Parmesan and truffle mayonnaise
Preparation
For the mayonnaise
Allow all the ingredients to come to room temperature. Use a blender to mix together the mustard and egg yolks. Gradually add a third of the groundnut oil until it has combined with the egg to form a smooth mixture. Now pour in the remaining oil in a thin stream, stirring continuously, until a thicker mayonnaise has formed. Add the truffle olive oil followed by the grated Parmesan, again stirring continuously. Season the mayonnaise with sugar, vinegar, salt and pepper to taste.
For the focaccia
Mix together the flour, sugar and salt. Crumble in the yeast and add 150 ml warm water and the olive oil. Use the hand mixer's dough hook to knead into a smooth dough. Cover and leave to rest in a warm place for approx. 30 minutes.
Preheat the oven to 200 degrees (fan). Roll out the dough to a thickness of about 3 cm on a lightly floured work surface then place on a baking tray lined with baking paper. Cover and leave to rest for a further about 10 minutes. Make small wells in the dough with your fingers then brush the entire focaccia with olive oil. Chop the rosemary and sprinkle over the focaccia together with the Fleur de Sel. Bake in the oven for about 25 minutes until golden brown. Leave to cool slightly.
For the straccetti
Cut the fillet of beef into strips about 1 cm wide. Season with pyramid salt flakes. Preheat one half of the Tepan stainless steel grill to 230 degrees and thinly drizzle with groundnut oil. Quickly sear the beef fillet strips on all sides. Halve the caper berries lengthwise and briefly fry with the steak.
Finishing touches
Cut open the focaccia and toast lightly on the other half of the Tepan grill at 200 degrees. Spread a little Parmesan and truffle mayonnaise onto the focaccia and top with rocket and straccetti. Garnish with a little olive oil, pepper and Parmesan shavings.
Preparation time: 25 minutes
Cooking time: 25 minutes
Serves 4
For the mayonnaise
1 tbsp mustard
2 fresh egg yolks (size M)
Approx. ¼ l groundnut oil
1 tbsp truffle olive oil
50 g freshly grated Parmesan
½ tsp brown sugar
1 tsp vinegar
Natural or sea salt
Ground white pepper
For the focaccia
250 g spelt flour (type 630)
1 tsp brown sugar
1 tsp salt
½ cube of fresh yeast
3 tbsp extra virgin olive oil
2 tbsp dried Mediterranean herbs
1 sprig of rosemary
Fleur de Sel
For the straccetti
600 g beef fillet
Pyramid salt flakes
1 tbsp groundnut oil
50 g caper berries
1 bunch of rocket
1 tbsp extra virgin olive oil
Ground pepper
50 g Parmesan shavings