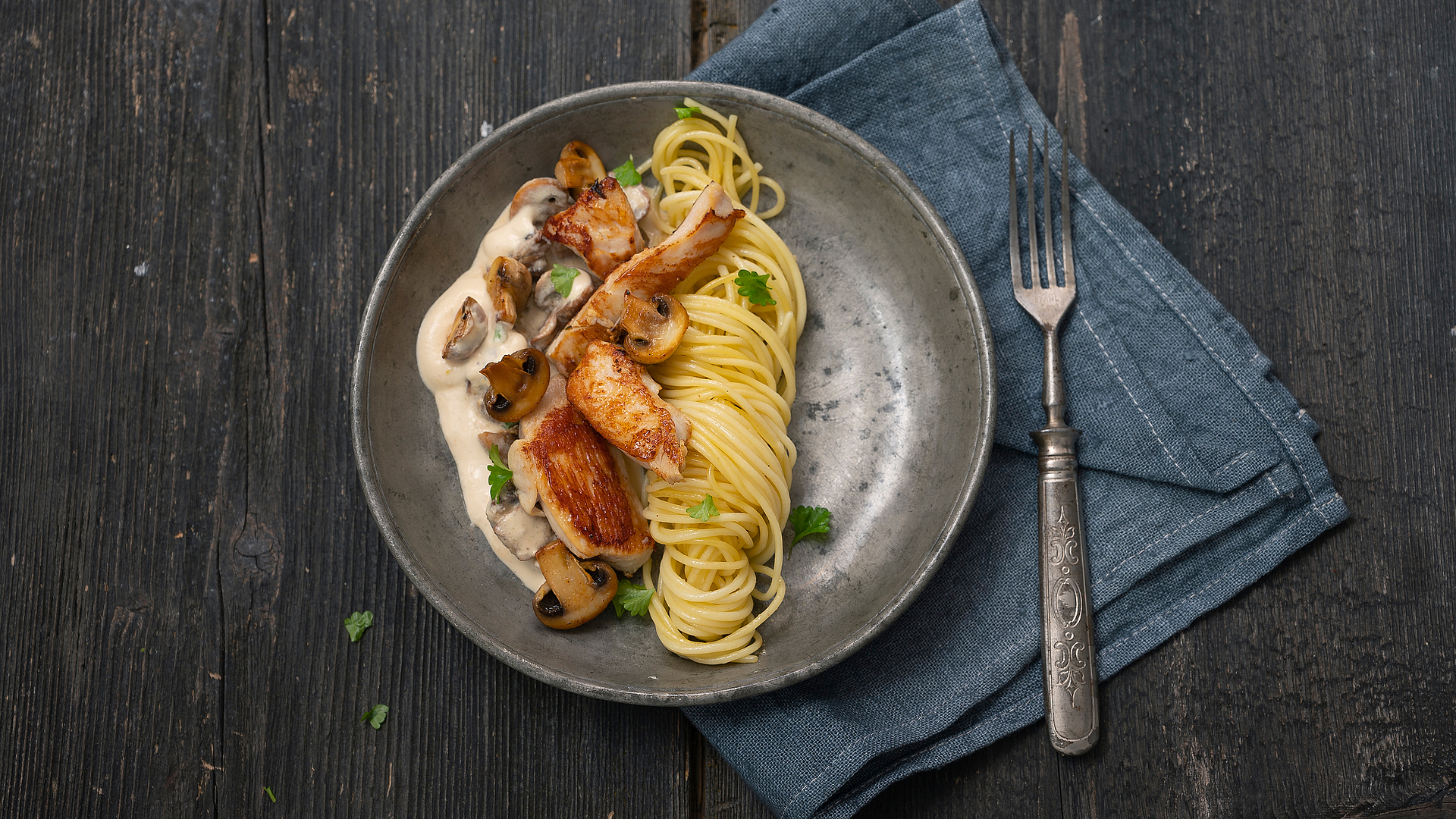 Spaghetti with chicken strips in a creamy mushroom sauce
Preparation
For the spaghetti
Peel and finely dice the onion. Set the entire Tepan grill to 120 degrees and sauté the diced onion in 1 tablespoon of olive oil. Place the spaghetti on the Tepan and pour on 400 ml stock or water. Drizzle 2 tablespoons of olive oil on top and sprinkle with salt.
Frequently turn the spaghetti with two Tepan spatula and slowly pour on the remaining liquid. After about 10 minutes, set the back half of the Tepan stainless steel grill to level C and push the spaghetti across onto it to keep it warm.
For the chicken
Cut the chicken breast fillets into thick slices. Set the front half of the Tepan stainless steel grill to 200 degrees, drizzle on 2 tablespoons of groundnut oil and cook the chicken strips in it for about 6 minutes. Wash the thyme and parsley, shake dry, remove the thyme leaves and finely chop up the parsley. Peel and finely chop the onions. Mix the chicken with the herbs and season with salt and pepper. Add the onions and continue to cook everything for a further 6 minutes. Put the chicken with the spaghetti to keep it warm.
For the sauce
Clean and quarter or thickly slice the mushrooms. Peel and finely chop the onion. Fry the mushrooms in the residual cooking juices on the front half of the Tepan grill at 200 degrees with 2 tablespoons of clarified butter. Add the onion and deglaze with white wine or sherry. Reduce slightly then add the cream and continue to simmer briefly. Wash the parsley, shake dry and finely chop. Season the mushrooms with salt, pepper and caraway then sprinkle with parsley.
Finishing touches
Serve the spaghetti with the fried chicken strips and sauce.
Preparation time: 15 minutes
Cooking time: 30 minutes
Serves 4
For the spaghetti
1 small onion
200 g spaghetti
600 ml vegetable stock
3 tbsp olive oil
1 tsp natural or sea salt
For the chicken
2 chicken breast fillets (à approx. 180 g)
Groundnut oil
8 sprigs of thyme
½ bunch of parsley
2 onions
Natural or sea salt
Ground pepper
Clarified butter
For the sauce
500 g button or other mushrooms
1 onion
2 tbsp clarified butter or home-made ghee
100 ml white wine or sherry
350 g cream
1 bunch of parsley
Natural or sea salt
Ground pepper
1 pinch of ground caraway