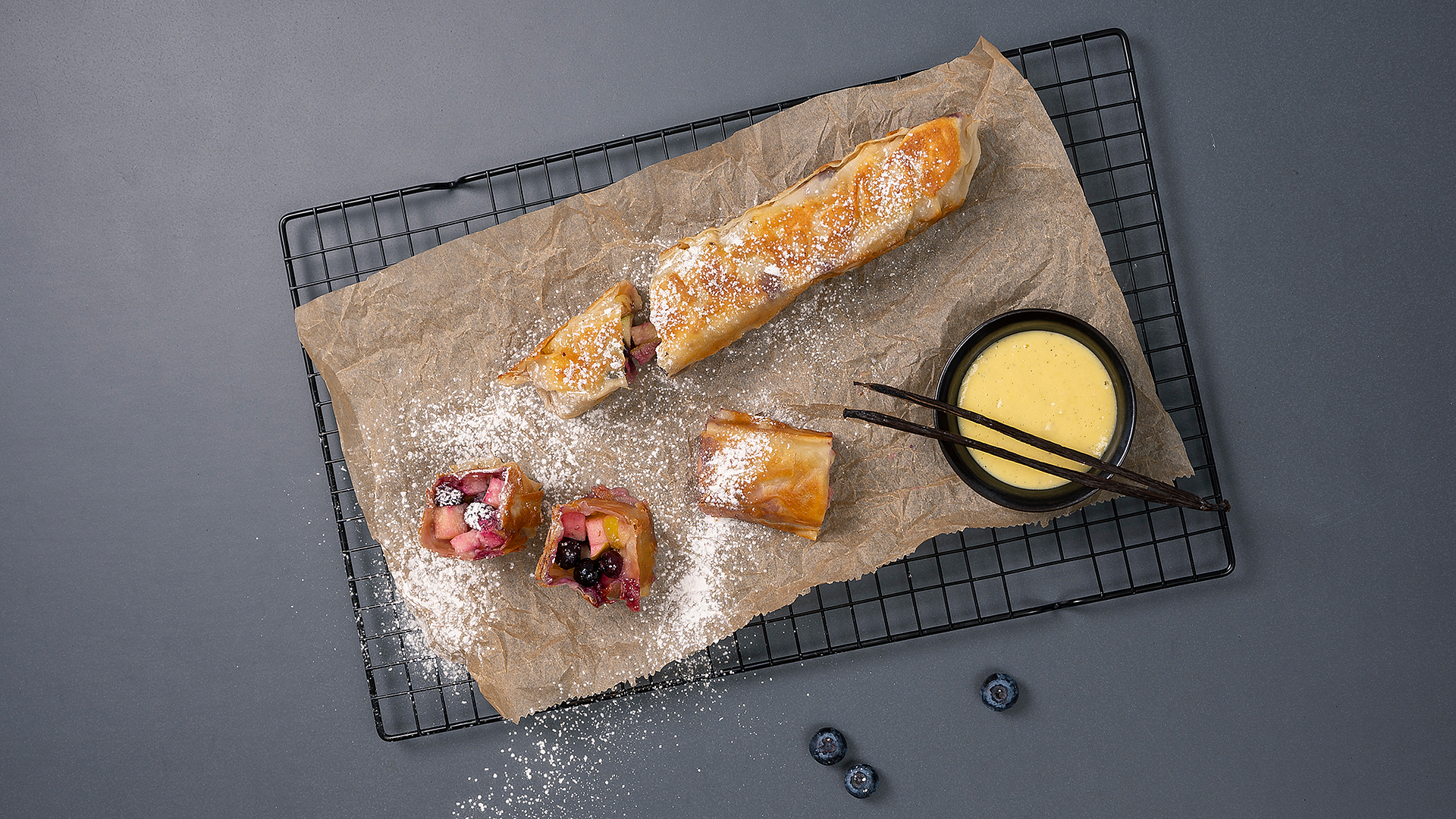 Apple and blueberry strudel with vanilla sauce
Preparation
For the strudel
Wash the apples, dab dry, core and dice. Drizzle with a little lemon juice. Mix together the raw cane sugar, almond flour, starch and tonka bean, then add to the apples. Wash the blueberries, thoroughly dab dry and carefully stir into the apple mixture.
Preheat the Tepan stainless steel grill to 190 degrees, melting the butter on it in a cup (or small pan) as you do so. Coat the Tepan grill with a little clarified butter.
Lay out one sheet of filo pastry and coat with the melted butter. Scatter half the filling onto the lower third leaving a gap of about 5–7 cm at the lower edge and sides. Fold the sides in and the lower edge up over the top. Carefully roll up the strudel and place lengthwise on the Tepan with the fold facing down. Repeat with the second strudel. Use two Tepan spatulas to turn the strudels onto a new side every 5 minutes until they are rectangular in shape and all four sides are golden brown.
For the vanilla sauce
Place the egg yolks in a bowl. Use a sharp knife to cut open the vanilla pod lengthwise and scrape out the seeds. Bring the milk, sugar, vanilla seeds and pod to the boil in a small pan then remove from the cooktop. Whisk the egg yolks then carefully stir in the hot milk. Pour the vanilla sauce into the pan and heat on a low heat (level 5) until it thickens, stirring continuously.
Finishing touches
Use a bread knife to portion up the strudels and serve with the vanilla sauce and a little icing sugar.
Preparation time: 20 minutes
Cooking time: 20 minutes
Serves 4 / Makes 2 strudels
For the strudel
2 apples (e.g. Granny Smith)
Lemon juice
100 g raw cane sugar
2 tbsp almond flour
1 tbsp cornstarch
1 grated tonka bean
100 g blueberries
1 tbsp butter
1 tsp clarified butter or ghee
2 sheets of filo pastry
For the vanilla sauce
3 egg yolks (size M)
1 vanilla pod
300 ml oat or almond milk
50 g birch sugar