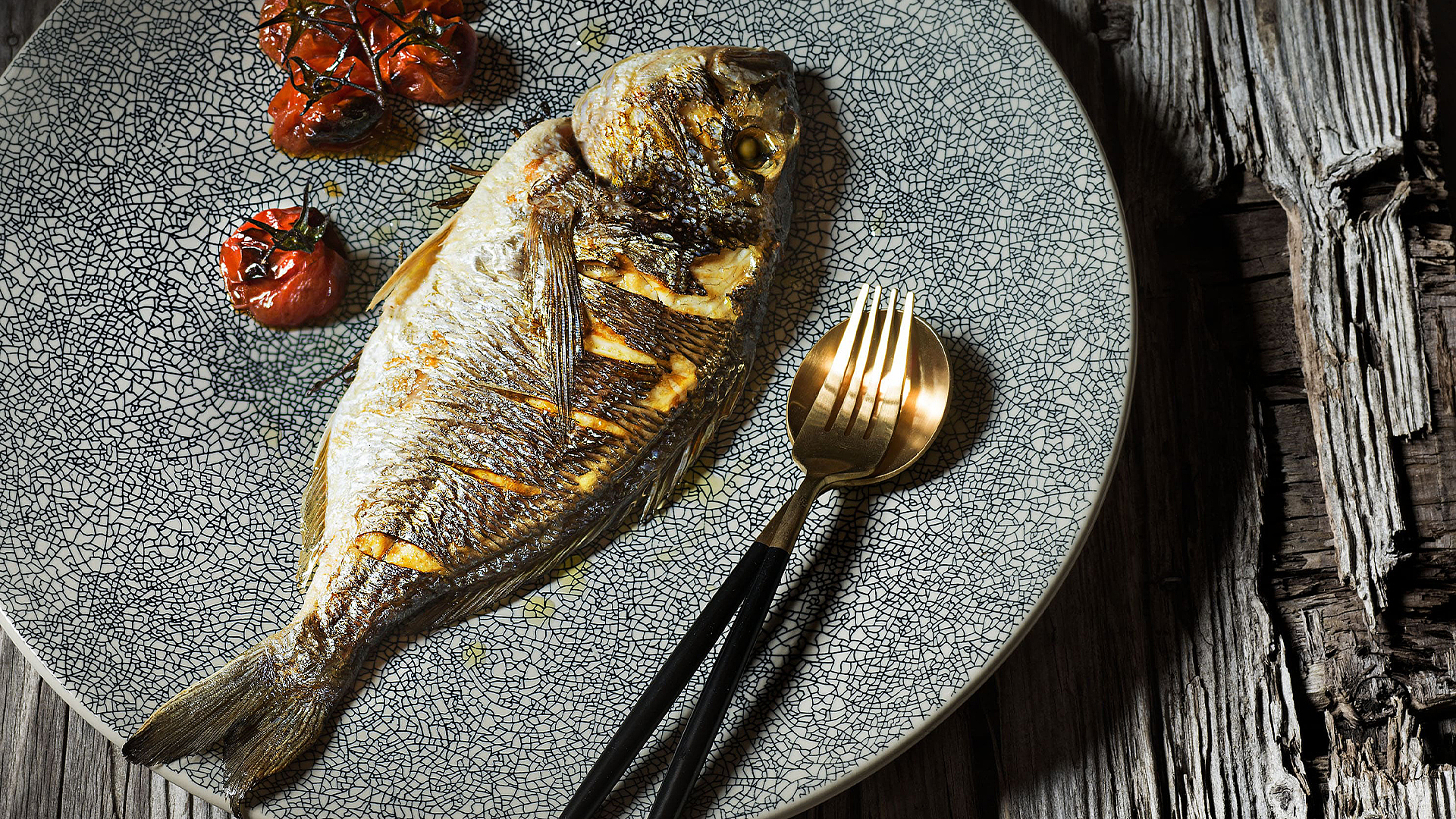 Roast gilthead bream on a bed of herb risotto with glazed cherry tomatoes
Automatic programme 'gilthead bream – whole fish' (Steps 5 + 6)
Preparation
HERB RISOTTO
1. Melt the butter in a pan. Wash the herbs and shake them dry. Finely chop or tear the leaves, add to the melted butter and purée to a smooth paste. Refrigerate until ready to be used.
2. Peel and finely dice the shallots and garlic. Place in the non-perforated steamer tray with the oil and cook in the X BO (100°C/100% humidity) for about 3 minutes.
3. Remove the tray and add the rice, white wine and vegetable stock. Without adjusting the X BO's settings, steam the rice in it for 18–20 minutes until soft. Grate the Parmesan and stir into the risotto with the herb butter about 2 minutes before the end of the cooking time. Season the cooked risotto with salt and pepper and keep warm until you are ready to serve.
ROAST GILTHEAD BREAM
4. Wash the herbs and shake them dry. Wash the inside and outside of the gilthead bream, dab dry and stuff with 3 sprigs each of rosemary and thyme. Carefully score both sides of the fish fillets multiple times at approx. 2 cm intervals.
5. Season the outside of the gilthead bream with salt and pepper. Place on the universal tray and generously drizzle with olive oil. Insert the tray of fish into the X BO (200°C/-100% humidity) and roast for about 7 minutes.
6. Meanwhile, wash the tomatoes, roll in the sugar and divide into smaller vines without removing the stems. After roasting the gilthead bream for about 7 minutes, carefully turn it over, place the tomatoes next to it and return to the X BO for another 7 minutes.
FINISHING TOUCHES
7. Squeeze the lemon. To serve, plate up the risotto. Place a roast gilthead bream and a few tomatoes on top of each portion, drizzle with lemon juice and garnish with fresh herbs if desired.
This and other inspiring recipes can be found in the cookbook for the BORA X BO.
Preparation time: 40 min.
Cooking time: 37 min.
Serves 4
For the herb risotto
75 g butter
50 g seasonal herbs (e.g. wild garlic, basil, parsley)
2 shallots
2 garlic cloves
2 tbsp olive oil
250 g risotto rice
100 g white wine
750 g vegetable stock
50 g Parmesan (one piece)
Natural or sea salt
Ground pepper
For the roast gilthead bream
12 sprigs of thyme
12 sprigs of rosemary
4 gilthead bream fillets (approx. 150 g each, ready to cook)
Natural or sea salt
Ground pepper
4 tbsp olive oil
300 g cherry tomatoes (on the vine)
3 tbsp raw cane sugar
To finish
1 lemon
Fresh seasonal herbs (as desired)