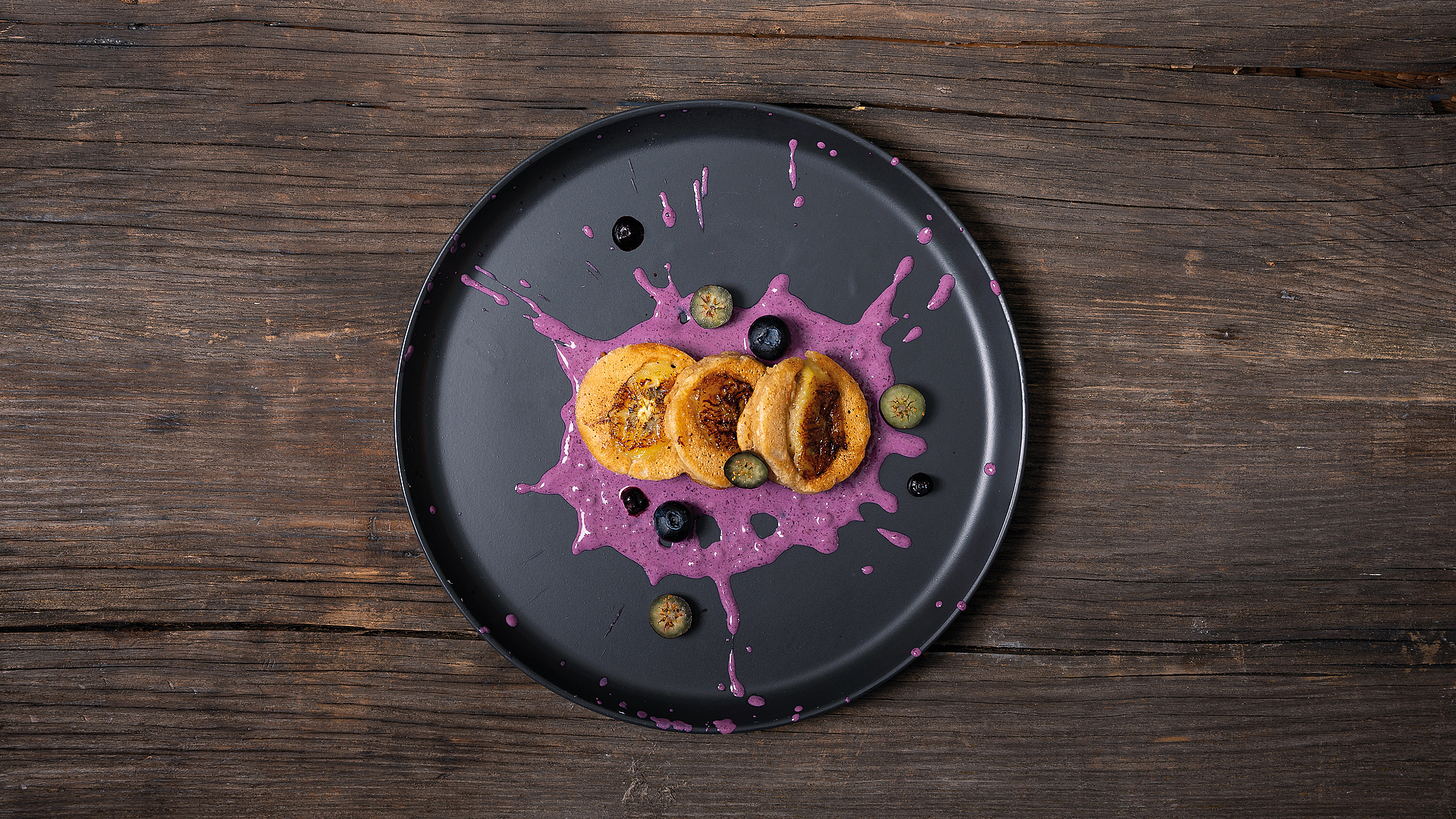 Banana pancakes with blueberry sauce
Preparation
For the pancakes
First, mix together all the dry ingredients, then add the liquid ingredients and work into a slightly liquid batter. Peel the bananas, slice diagonally and set aside.
For the sauce
Wash and zest the lemons. Place 3 teaspoons of lemon zest in a blender with the soy cream, wild blueberries and maple syrup and blend to make a smooth sauce.
Preheat the Tepan stainless steel grill to 180 degrees and drizzle on approx. 1 teaspoon of oil per pancake. Use a ladle to create 8 pancakes on the Tepan surface and press the slices of banana into the batter. Cook for 3 minutes, add another about 1 teaspoon of oil per pancake to the cooking surface, flip the pancakes and cook for ­another 2 minutes until done.
Finishing touches
Serve the pancakes with the sauce and possibly a little fresh fruit.
Preparation time: 15 minutes
Cooking time: 5 minutes
Serves 4
For the pancakes
400 g spelt flour (type 630)
4 level tsp baking powder
80 g brown sugar
½ tsp natural vanilla powder
½ tsp salt
9 tbsp coconut oil
400 ml oat milk or other vegetable milk
200 ml carbonated mineral water
2 bananas
A little fresh fruit as desired
For the sauce
2 organic lemons
800 ml soy sauce
400 g frozen wild blueberries
4 tbsp maple syrup