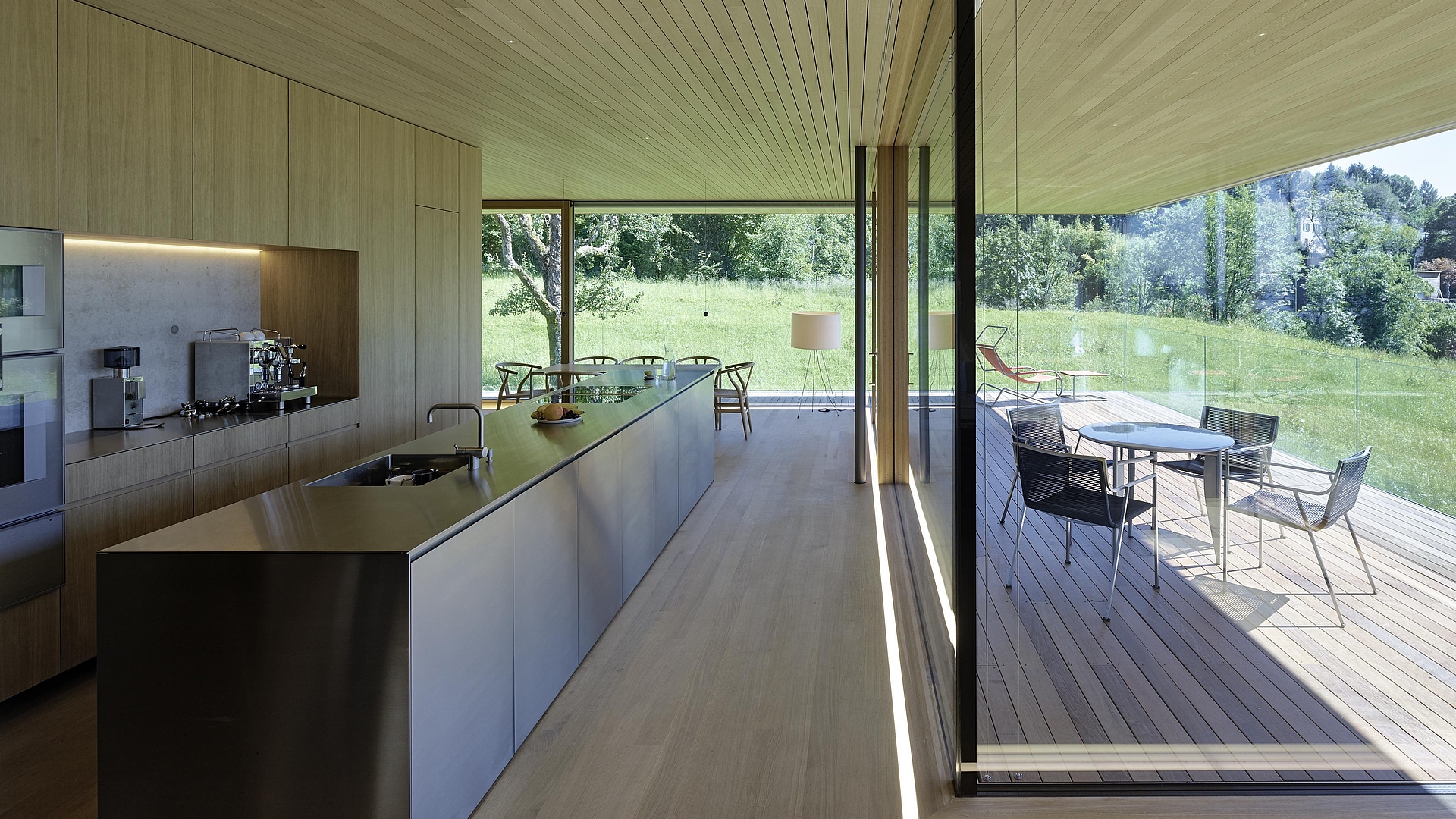 Urban living with country flair
Architecture and kitchen design following in the footsteps of Mies van der Rohe
Urban living with country flair – Architecture and kitchen design following in the footsteps of Mies van der Rohe
Floating, light and airy, yet grounded in a countryside atmosphere in the Pfänderhang area of Bregenz in Austria. There are no walls where they are not absolutely necessary. Nothing blocks the view into the open. Mies van der Rohe would have loved the house from the Dietrich | Untertrifaller architectural practice - not to mention the kitchen, which thanks to BORA Classic fits in perfectly with the restrained architecture of the house. With his philosophy of 'less is more', Mies van der Rohe could be the spiritual father of BORA Classic: "Reduce down to the essential, innovation in every detail".

On three levels, the house provides open views of the lake towards the north and the mountains towards the south. The entrance is on the lower level and above that at ground level are the children's room, guest room and office. 'Floating' above that is the main living area, surrounded on all sides by large overhanging terraces. This is where the kitchen is to be found, although it is almost not recognisable as such. Seamlessly installed are the built-in cupboards made out of oak and in front of those is a row of kitchen units with stainless steel fronts and work surface. BORA Classic, an extractor system that draws the cooking steam downwards, and a recipient of the Red Dot design award, fits in effortlessly with the kitchen units. When it is in use, the BORA Classic system draws attention to itself with its innovative ventilation technology, where steam and cooking smells are drawn downwards as if by magic. This way, it is possible to take a deep breath in a relaxed cooking atmosphere thanks to the airy interior design and the BORA principle.

Whether inside or outside, the minimalist combination of materials is clear to see. Wood, exposed concrete, glass - and stainless steel. Oak and silver fir for the floors, wall and ceiling - interspersed with large glass surfaces and lots of free space. Not much more is needed to achieve an atmospheric environment when you have such carefully chosen surfaces, colours and light, as well as technology that remain discreetly in the background.

All the projects from Dietrich | Untertrifaller have a close connection to their surroundings and are developed using their specific situation and available space as inspiration. This approach guarantees a differentiated solution with an individual and unique character. The BORA systems are perfect for all these solutions - or make them possible in the first place.
Architectural practice: Dietrich I Untertrifaller – www.dietrich.untertrifaller.com

BORA Classic Cooktop extractor system, Induction Cooktop

Photography: Bruno Klomfar