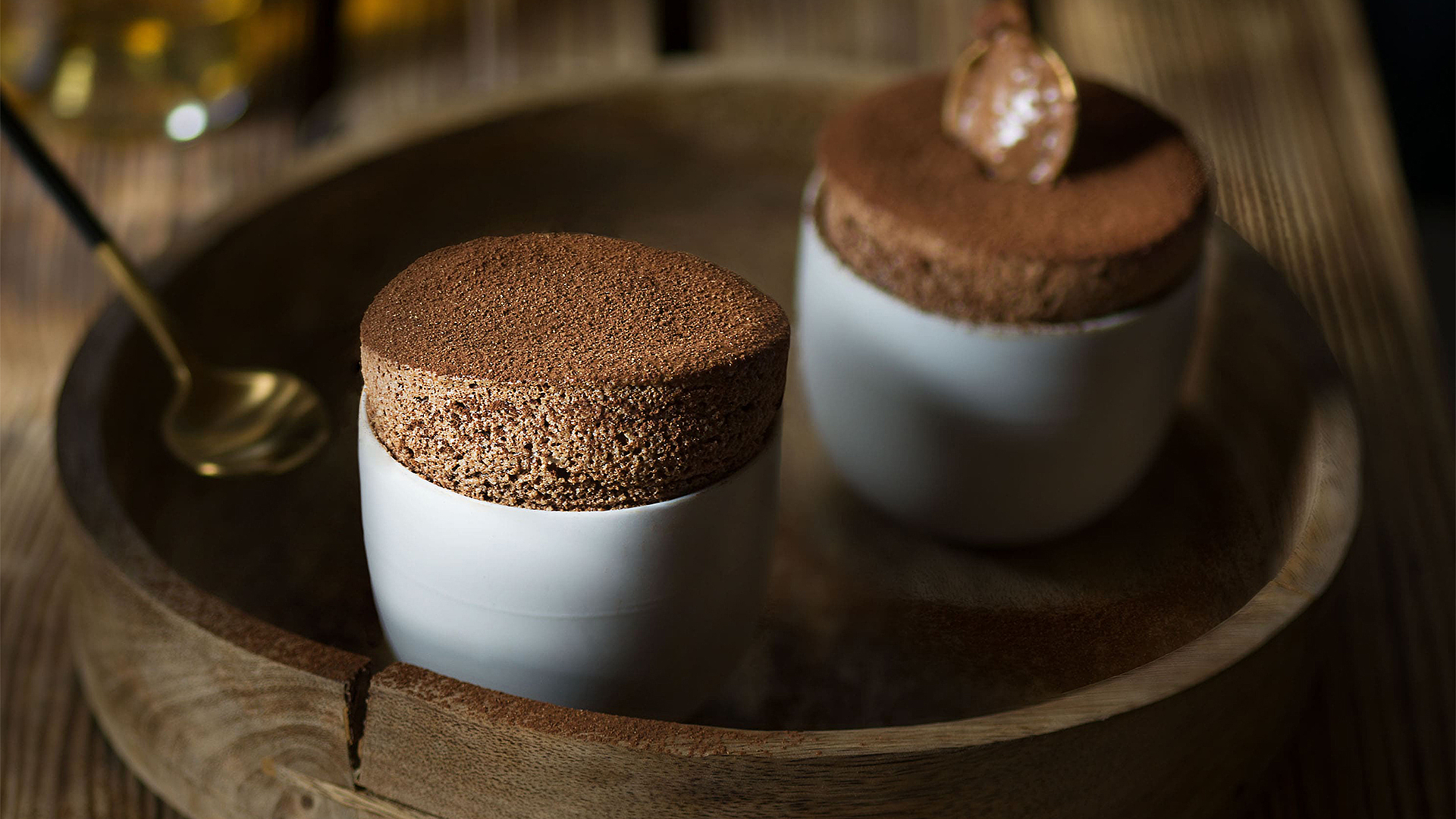 Cinnamon chocolate soufflé
Automatic programme 'soufflé' (Step 5)
Preparation
SOUFFLÉ
1. Melt a little butter. Brush the ramekins with the melted butter and sprinkle with sugar. Chill the ramekins until ready for use.
2. Chop the chocolate into small pieces. Heat the milk and cinnamon powder in one pan and the butter in another. Add the flour to the butter and sauté. Gradually add the hot cinnamon milk into the roux, stirring it quickly.
3. Remove the mixture from the hob and transfer it into a mixing bowl. Add the liqueur and chocolate and mix until smooth.
4. Separate the eggs. Stir the egg yolks into the chocolate one at a time. Put the egg whites and 1 pinch of salt in a tall mixing jug and whisk with a hand mixer until stiff, gradually adding the sugar. Carefully fold the stiff egg whites into the chocolate mixture about a third to half at a time.
5. Transfer the soufflé mixture into the prepped ramekins, filling them to just below the rim. Place the ramekins on the oven rack and bake on the bottom shelf of the X BO (170°C/40% humidity) for 12–15 minutes.
FINISHING TOUCHES
6. Remove the soufflés from the oven, dust with cocoa powder and serve immediately.
This and other inspiring recipes can be found in the cookbook for the BORA X BO.
Preparation time: 20 min.
Baking time: 15 min.
Serves 4
For the soufflé
100 g dark chocolate (70% cocoa)
200 g milk (or oat drink)
1 tsp cinnamon powder
50 g butter
50 g flour (or type 630 spelt flour)
2 tbsp chocolate liqueur (or Baileys)
4 eggs (size M)
Natural or sea salt
75 g raw cane sugar
Additional items
4 ramekins (150 ml each)
Butter for greasing
Raw cane sugar for sprinkling
Cocoa powder for dusting