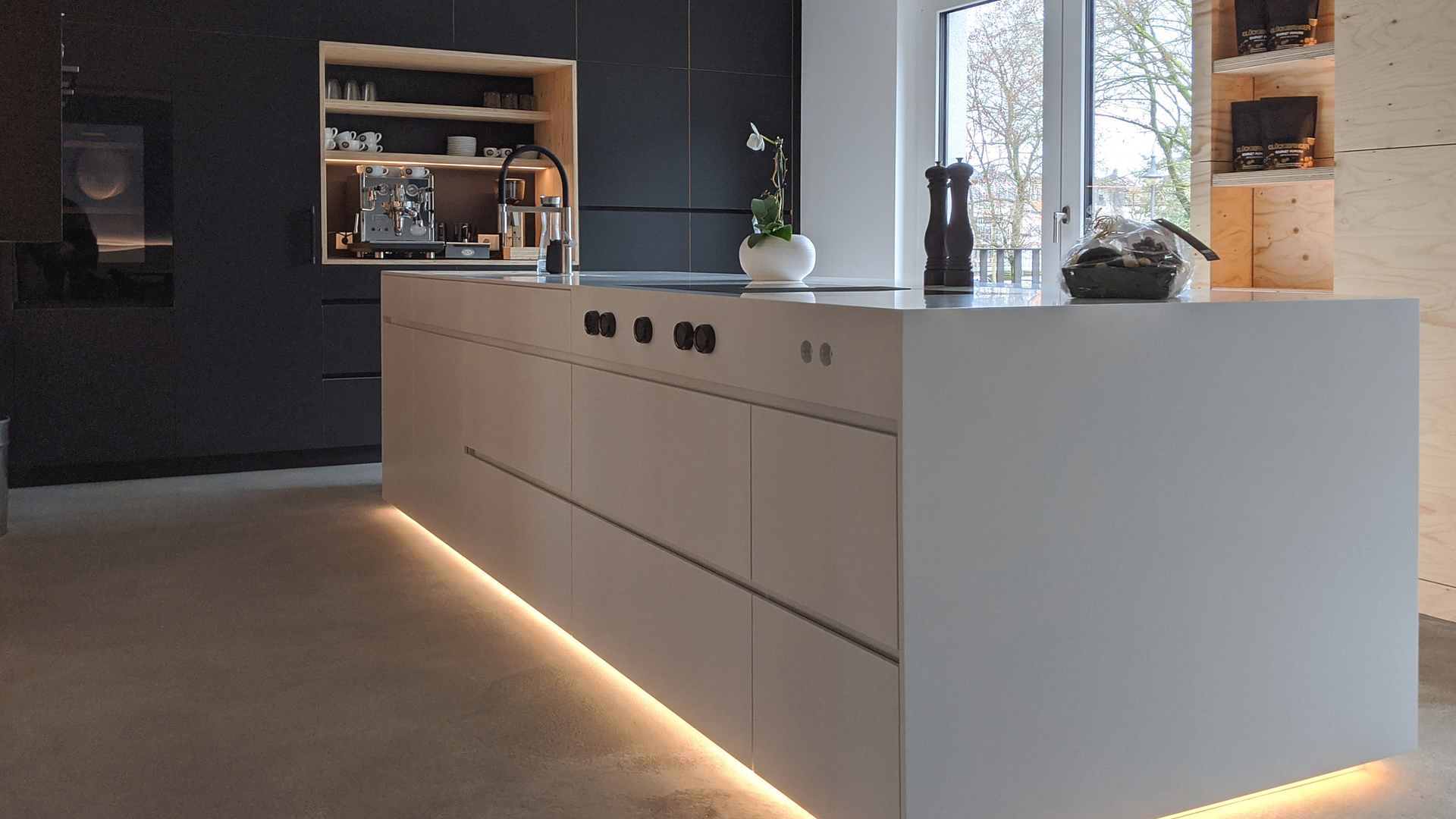 The kitchen as a communication centre
Enjoying a coffee with colleagues and chatting about the weekend in the communal kitchen is a key moment in many people's daily work routine. The kitchen in this architect's office therefore needed to be a communication centre. How was this achieved?
Photo credit:
KLOCKE Interieur Möbelwerkstätte GmbH
Sociable yet separate
The aim was to design a kitchen in this architect's office based in Bottrop that employees could use as a pleasant lounge area and a communication centre. The client clearly understood that while this communal kitchen in the company building needed to be functional, the design shouldn't be overlooked. Homogeneity and minimalism were the watchwords when designing the aesthetics of the kitchen.
The furniture workshop KLOCKE therefore worked together with the Boksteen Planungsatelier to create a stylish room where employees could eat together, chat and relax. The resulting kitchen forms the focal point of the premises despite being separated from the rest of the office area by filigree sliding glass doors with matt-black industrial-style carbon steel elements.
A creative room in an industrial style
The combination of elegant, matt-black HPL panels, light construction plywood and a minimalistic, white kitchen island creates a pleasant atmosphere. Touches of colour are added by the colourful chairs in the spacious sitting area, where employees can sit back and relax.
The space is used well, despite the large kitchen island in the middle. The tall units distributed throughout the room reach up to the ceiling, offering plenty of open and closed storage space for various utensils and decorative elements. There's even room for a huge espresso machine.
The large, white kitchen block made of Corian, a mineral-organic compound material, is highlighted from below by indirect lighting. The niches in the tall units on the rear kitchen walls are also lit up by indirect light sources, conjuring up an industrial look and a cosy feel.
Long history of working with BORA
Thanks to its long history of working with BORA, the client opted for a BORA Professional 2.0 in the "All Black" edition. "We have carried out a variety of projects with BORA for many years and we've only had good experiences with its appliances", explains an employee from the company.
The BORA Professional 2.0 with four large cooking zones blends in perfectly with the rest of the room thanks to its black elements (control knob and cooktop extractor). It was intentionally placed on the kitchen block, together with the sink, to ensure that employees always enjoy a moment of companionship when preparing their meals. The kitchen installation helped to create an extra-special working environment that is much appreciated by the employees.