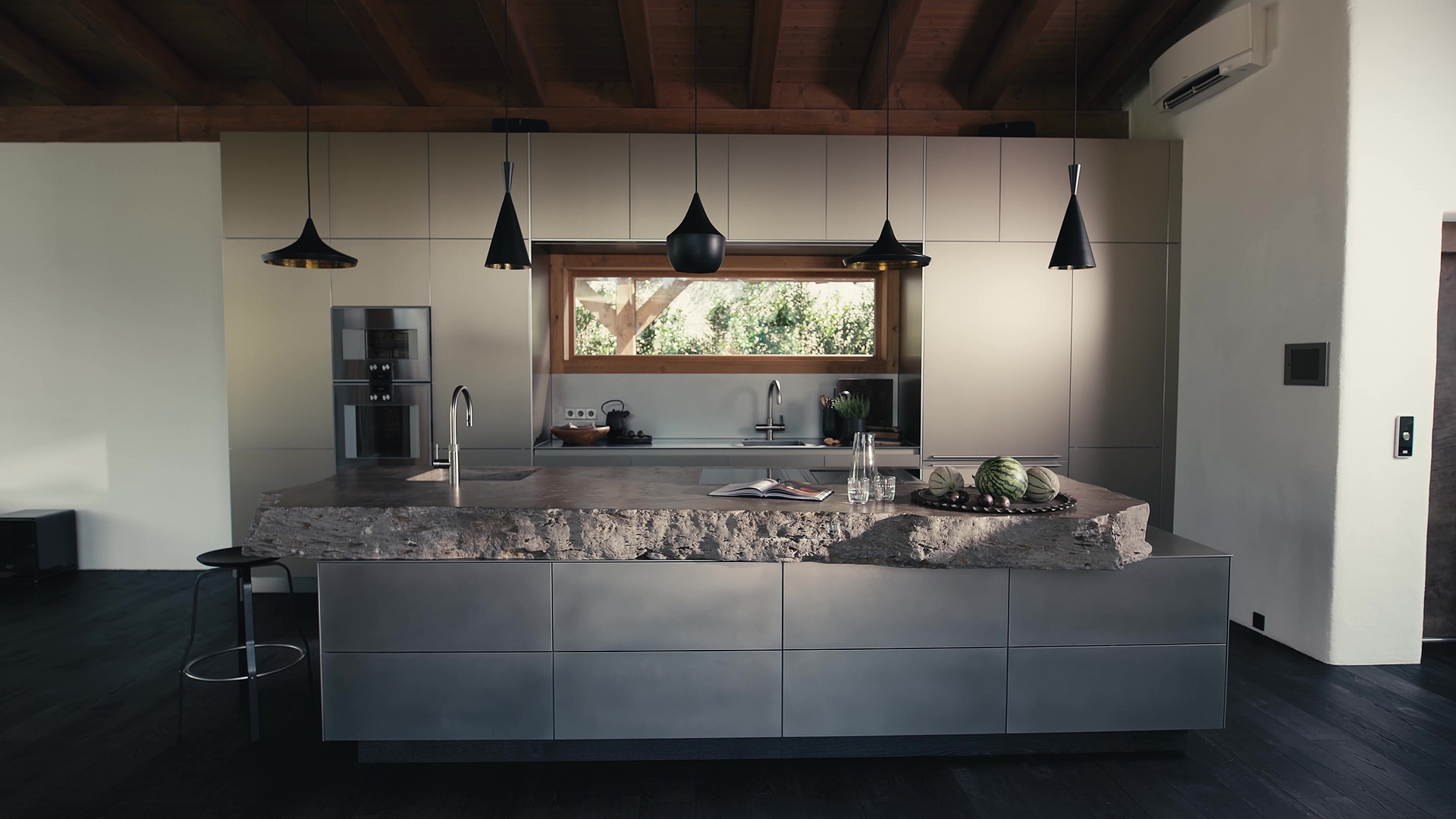 A natural stone monolith with an Alpine twist
In this kitchen in a secluded Tyrolean house, the extraordinary solid stone monument which sits enthroned upon the kitchen island as the worktop really stands out. Made of Bavarian shell lime, the natural stone edge contrasts with the sleek graphic front panels of the built-in units. A successful mix of shapes which pays tribute to the Tyrolean mountain landscape and makes a jaw-dropping impression on any visitors.
There's a clear leading actor in this kitchen and it can be found directly on the large kitchen island: the impressive 18-cm thick shell lime worktop is a monumental eye-catcher. On three sides, the natural-looking broken edge of the stone block is exposed. This aspect is visually highlighted once again by the worktop's asymmetric position, partly overhanging the island.
This mineral work of art is reminiscent of the impressive West Austrian mountain landscape surrounding the wooden/stone house in which this kitchen-cum-living room is situated. The property enjoys a spectacular hillside location with an unobstructed view of the Kitzbühel Horn and the Wilder Kaiser mountains.
CONTRASTS OF SHAPES AND MATERIALS
The colour of the grey-beige, stainless steel kitchen fronts matches that of the stone. However, their smooth, sleek surface with their swirl finish contrasts with the wild, irregular structure of the shell lime, which in turn clearly places the focus on the worktop. The different structures and top-quality materials are mirrored throughout the interior, always respecting a harmonious colour concept and a touch of understated elegance.
QUALITY ON ALL LEVELS
Quality was also the watchword when selecting the kitchen appliances. Fitted with a BORA Professional 2.0, there's nothing left to be desired in this kitchen. Two water sources – one on the kitchen island, the other with a view to the surrounding greenery – and an extra-large cooking area with four induction plates and a stainless steel Tepan grill make cooking together a unique experience. Thanks to the effective steam extraction of our BORA Professional cooktop, the home-owners not only have a clear view of the mountains, but they can also enjoy fresh air in their classy dream kitchen.