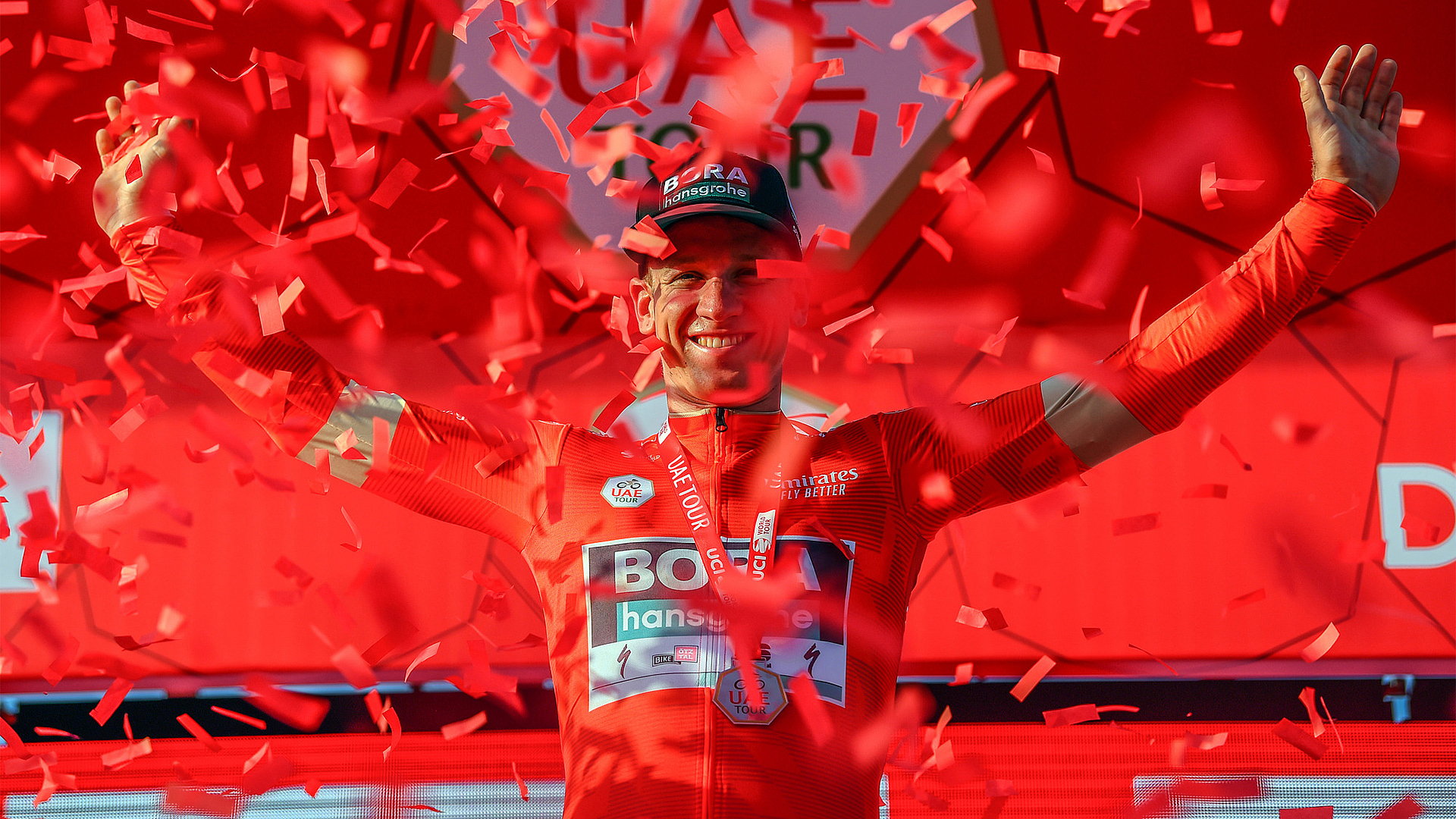 Pascal Ackermann – Mr Happy sprints to success
Learning to love the nerves
Whether he's at the classics, the grand tours or another stage race, Pascal Ackermann is always automatically one of the top favourites to win on the flats in international races. The 26-year-old, hailing from Rhineland-Palatinate, outshone his competitors at last year's Giro d'Italia, his first Grand Tour. In addition to two stage wins, he became the first German to be awarded the 'maglia ciclamino' jersey for best sprinter.
Pascal Ackermann has become one of the top sprinters in the premier elite cycling tour series, the UCI WorldTour. 'You do have to be a little crazy,' he admits, 'and you've really got to hold out until the end to win.' When you see the powerfully quick sprinters fly toward the finishing line at over 70 km/h on TV, it can look as though it's a matter of life and death. 'This is where you've got to go all out. If you're happy with a second place then maybe this isn't for you.' Pascal always aims to win and trains so that he can, both on his own and with his team.
Pascal is a guy who always seems to be smiling while still looking super focused. He sometimes used to get the jitters before and during a race. Now the German cyclist accepts that the nervous energy he feels when it comes to the final sprint of a flat stage is just part of it. It's what makes the difference. Sometimes the nervousness would stop him from sleeping properly for days before a race, but now a healthy dose of nerves ensures that he can give it his all right when he needs to. A shy and friendly cyclist, Pascal turns into a fierce sprinter in the final stretch, giving it all he's got to clinch the victory.
It runs in the family
Pascal grew up in Kandel and was introduced to cycling by his parents and siblings. The cycling-mad Ackermann family always preferred the two-wheeled sport to football. And since racing meant getting some extra pocket money from the cash prizes, Pascal's mind was made up pretty early on. As a kid he used to stand on the roadside at the Tour de France to cheer on famous cyclists of the time. The sport always had a special appeal to him and inspired his ambition to one day become a professional cyclist. However, becoming an elite sportsperson doesn't just require talent and hard work. Just like in the final sprint of a race, you also need a little bit of luck and good timing to join the pros. After 10th grade, Pascal transferred to a sports school to complete his leaving exams while training in the right conditions to become a better athlete. After winning titles in junior and U23 championships, Pascal enjoyed international success that ended up with him securing a professional contract with the BORA – hansgrohe team for 2017. Pascal gave himself until he turned 23 to sign a professional contract. Thankfully he managed to make it into the exciting world of professional cycling before then, otherwise we might never have gotten to see the blonde sprinting master with the pros.
Look for the bare necessities...
Ackes, as his teammates like to call him, never regrets turning professional, even if it does involve rigorous training regimes, a strict diet and keeping a simple lifestyle with the bare necessities. Whatever he's missing out on now while he's young, he'll just catch up on after he's finished his career, he jokes. It's not that bad, though. He is sometimes allowed an ice cream on a day out, for example. Weighing almost 80 kg and measuring 1.8 m makes Pascal one of the heavier pro cyclists in the peloton. He has, however, grown increasingly more athletic over the last few years, as his successes can attest to. You shouldn't compare a lightweight climber with a sprinter, though. Pascal may push himself to the limit during training, but there are times when he simply spends a day relaxing on the couch. You need to have a counter activity for balance, and Pascal knows just how he can stay well balanced.
He has another passion outside of cycling. Pascal has discovered a love of fine coffee during his many coffee stops while visiting the Mallorca training camp. Now he calls himself an amateur barista. When he's in Landau, he frequently visits his favourite café and sometimes likes to give the owner a hand with roasting. It's a job he could happily see himself doing after his cycling career. For now, though, it helps him to simply switch off and enjoy life.
Pressure isn't a problem with the right balance
After clinching almost 30 victories so far wearing the BORA – hansgrohe colours, there is now quite a lot of pressure to win. He trains with team coach Dan Lorang, constantly striving to improve more and more every time. Pascal also likes to watch his races on the TV, even those where he has made a mistake. This fills him with ambition, making him want to show that he can do it better next time. His win at the German classic Eschborn – Frankfurt race was undoubtedly a pivotal moment in his career. People kept telling him that he couldn't win, so he trained hard for the race to prove them all wrong. The 2019 victory helped him to make a clean break and had a massive impact on his next victory at the Giro d'Italia.
Pascal has his own unique way of dealing with external pressures: having fun. The way he handles fans and the media is disarming, sympathetic and sincere, and his big smile is simply infectious. Pascal is always up for having a laugh, and he's usually laid back before races. It normally gets serious enough during the race, he says. After the traditional Tirreno – Adriatico race, for example, he gave his teammate Matteo Fabbro a ride on his handlebars to take him between the team bus and the podium, delighting spectators, who captured it on their phones and shared the videos around social media.
Pascal moved to Austria, partly to get away from the increased media attention, but also to have the perfect training environment. Living near to Lake Constance, he can join his friends and teammates Rudi Selig and Michael Schwarzmann to train together, and Max Schachmann lives close by too. The area offers flat stages as well as hilly and mountainous terrain in close proximity. And if Pascal ever misses his family and friends back home, he can just pack his bike into his car and drive to Kandel.
Pascal's teammate Michael Schwarzmann is very important to him within the team. He was there right from Pascal's first day with the team and has seen first-hand how Pascal has developed. His first year in the WorldTour series was not easy. 'Acki still had a lot of "puppy fat" when he joined the pros,' as Schwarzi jokingly puts it. So he took Pascal straight off to Girona to train him properly during winter. Schwarzi has become like a brother to Pascal. Not only do they get along well when they're cycling, they also tend to spend their holidays together.
Even the best is only just about good enough for Pascal
It will be hard to beat such a successful year as 2019. It went incredibly well for Pascal, and he was the most successful cyclist in the team. But he's never short of motivation and a positive attitude. His plans for the season have had to change because of the coronavirus as all races were postponed, but Pascal takes every challenge as it comes and tries to make the best of it. And his best is, more often than not, very impressive.
Photo credit:
BORA – hansgrohe / Bettiniphoto
BORA – hansgrohe / veloimages.com