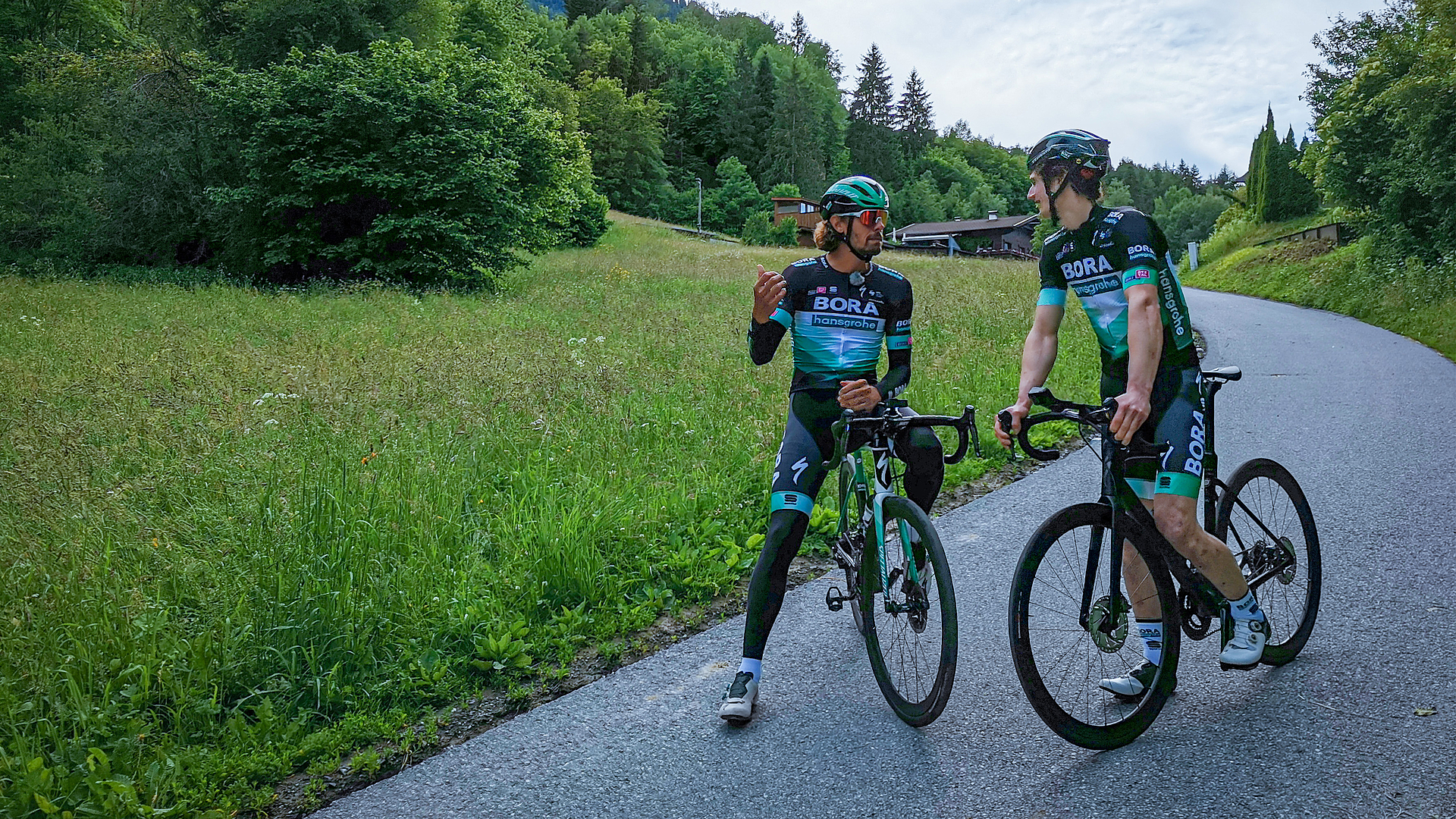 BORA – hansgrohe professional cyclist Daniel Oss meets climbing legend Adam Ondra
The best of both worlds comes together in cycling, climbing and cooking
At BORA, not only are we passionate about our products and cycling, but we also have an affinity for exceptional challenges. And when two sports personalities – the Italian Daniel Oss, a professional cyclist in our team BORA – hansgrohe, and top Czech climber Adam Ondra – switch sports, that's exactly what we've got: a very special challenge, on the bike and on the rock face, followed by plenty of inspiring dialogue in the kitchen.
Daniel Oss – a cycling professional who is open to new experiences
Daniel Oss joined the BORA – hansgrohe team in 2018 as a friend and former teammate of Peter Sagan. The 33-year-old, rangy Italian from Lake Garda is always up for a laugh, his good mood is contagious, and he is an excellent team player. Daniel loves cycling, and has done since he was a kid, although it's not a sport that his family was into. But Daniel knows his own mind and has always had plenty of different interests. He loves music, plays the bass, and is an insightful, creative person who looks beyond the everyday world of professional sport. In the cycling world, his funny, creative videos are extremely popular. During training too, Daniel likes to break new ground, entertaining with projects like "Just Ride", through which he aims to familiarise his fans with his love for cycling and Italian cycling culture.
In the team, Daniel Oss has the role of "lieutenant" for three-times world champion and cycling star Peter Sagan. He brings his experience and power to his captain's side in all the important races. His specialist area is the one-day classic races, like the "Monuments of Cycling" Milan-Sanremo, the Tour of Flanders and Paris-Roubaix.
Daniel's home region by Lake Garda is a very popular destination for climbers, but he's never had the chance to give the sport a go. As someone who is always open to new things, Daniel didn't take much persuading to meet climbing legend Adam Ondra to exchange their views on sport and life, as well as on food and enjoyment.
Adam Ondra – a totally normal climbing god
Adam Ondra is described as the leading climber of his generation. Nobody combines the different aspects of climbing as remarkably as he does. This makes him one of the favourites and the Czech Republic's biggest promise for the summer Olympic games in Tokyo 2021. Ondra already has a total of 4 World Championship titles, 19 World Cup wins and 4 Overall World Cup wins in the disciplines of lead climbing and bouldering. He is currently preparing meticulously to score a major coup in Tokyo; until now, Olympic climbing wasn't one of his disciplines. He has numerous first ascents and the most difficult routes in the world under his belt. What's more, Adam has a wide range of interests: he studied economics and is a polyglot who speaks 6 languages. As spectacular a climber as he may be, he is spectacularly "normal", friendly and humble in everyday life. It's no wonder that he's practically worshipped in the climbing community and has an enormous fan community flocking around him, which follows him online on his climbing adventures around the world. In weekly vlogs Adam Ondra entertains his followers with insights into his everyday training, travels and diet.
A person who inspires and who is continually seeking new inspiration, in short, the ideal partner to bring together with team rider Daniel Oss and into the world of cycling.
Self-driving high-tech machines or fitness instead of carbon?
Anyone can ride a bike they say, but the high-tech machines with clipless pedals are by no means simple bikes. Adam Ondra ventured on an extraordinary jaunt doing a totally new sport for him and gained his first experiences on a racing bike. For a climber who's used to constantly being faced with a challenge and letting his creativity flow into practically every move that he makes, it's a special challenge to "just" sit for several hours. A big difference between climbing competitions and cycle racing is that climbers don't know their route before the competition and so need to perfect their ability to improvise. Creativity in cycling is more in the teamwork and team tactics, which need to be adapted to the situation in the race at any given time to be able to ultimately take the lead. But first Adam was to become a racing bike rider, not a racing cyclist. A small but subtle difference. Adam bravely decided on clipless pedals, which enable the cyclist's foot to remain in contact with the pedal and so exert more power. He imagined (wishful thinking) that such a high-tech bike should pretty much go by itself. Almost. At least Daniel was able to give some good tips as to what gear to use and what cadence was best for the two of them to climb the winding roads up to Piburger See, where they were able to reward themselves with wonderful views of the Austrian lake.
What do athletes eat when they're competing?
Above all, during their ride the two of them wondered about the other's diet before and during a competition. It turned out that there are some big differences between the two sports in this case. Whereas climbers fill up their tanks long before the start and begin the competition with just enough food on board, cyclists eat throughout the race. Daniel explains to Adam how important variety is for cyclists and that a lot of sugary food is eaten during a race. A large proportion of this is drunk in the form of electrolyte supplements. The fact that tastes change during a 3-week nationwide race and the riders increasingly crave hearty meals, was an interesting anecdote from his everyday life as a cyclist.
The unusual movements were pretty tiring for Adam, but he did really well. However, top athletes wouldn't be top athletes if such an outing didn't end up in a sprint dual at the top, after all, ambition and fun competing is simply part of their DNA. In the end, Adam realised that his fantasy of a self-driving bike hadn't been fulfilled and so he had to admit defeat as Daniel pipped him to the post in their uphill sprint. This of course called for a rematch on the climbing wall.
A vertical climb rather than up a winding road.
Daniel Oss, a classic race specialist and not a high-mountain expert on the bike, had to change direction on the spectacular Engelswand in the Ötztal valley in Tyrol and take a deep breath; it was straight up from where he was standing. He was amazed at how easy Adam made it look as he climbed and secured the route. Here, the climber was in his element.
The first challenge for Daniel, however, was getting into the right climbing shoes. Professional climbers like Adam Ondra choose shoe sizes that are 3–4 sizes less than their normal shoe size. Daniel's shoes weren't quite that small, as the focus for beginner climbers isn't on small footsteps but on the right technique and choice of route on the wall. Right away in the first few metres it became clear that Daniel was heading up a different route from the one that Adam had set out for him. A few shouts and explanations were required from Adam to get him back on the right track. Several times Daniel was unable to stop a "mamma mia" from slipping out and he realised that leg stamina didn't automatically apply to the arms too. The route was pretty challenging for a novice climber but, with Adam's help, Daniel managed to get to the top of the route; something that Daniel was proud about and maybe just a bit relieved too.
Classic Italian and Czech tradition in the kitchen
Every good party ends in the kitchen, as did this crossover sports party. The new experiences certainly worked up an appetite and were the topic of discussion over a nice, quiet meal. And there was no shortage of regional stereotypes as the two athletes created a new recipe from classic Italian and traditional Czech cuisine by preparing trout fillets with mushrooms and an asparagus and dill sauce, as well as an original Italian asparagus risotto.
What Adam Ondra didn't know is that a true Italian master chef talks to his risotto while he lovingly prepares it. What do I say to the risotto? And does it even speak English, or just Italian? Like in sport, Adam and Daniel have a very different approach to their cooking. Adam explains that he likes to be creative and never follows a recipe, keeping it freestyle, whereas Daniel's risotto follows good old tradition. There are precise rules: it must be "fed" every now and again with stock – and sometimes even wine – to achieve the perfect result.
The outcome was plain to see; Adam acknowledged to Daniel that it was the best risotto he'd ever eaten. Both of them are sure to take the newly created recipe home with them and include it in their meal plans. And they're bound to keep in touch with each other after this exceptionally inspiring day. After all, sport and enjoyment bring people together.

Photo Credit:
1. Katerina Kuratkova
2. BORA - hansgrohe / Ralph Scherzer
3. Adam Ondra / Bernardo Gimenez
4. BORA
5. Adam Ondra / Bernardo Gimenez
6. BORA
7. Katerina Kuratkova