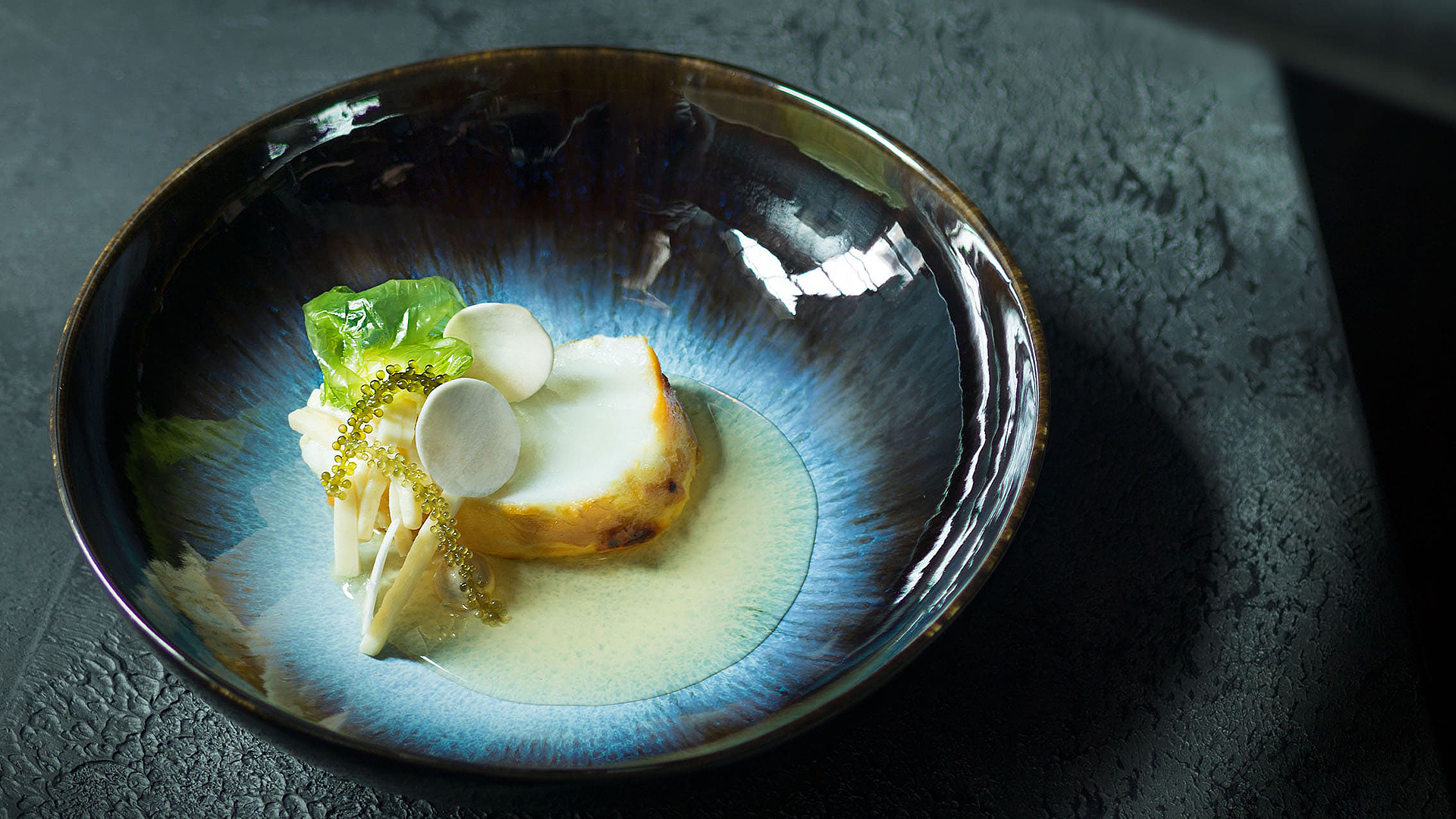 Miso cod with mushrooms, seaweed and dashi
Automatic programmes 'broccoli' (Step 1, slider set to 'soft') and 'glazed cod' (Step 4)
Preparation
BROCCOLI PURÉE
1. Trim and wash the broccoli then divide into florets. Peel and dice the stalk. Put everything on the perforated steamer tray and steam in the X BO (90°C/100% humid-ity) for about 25 minutes until soft. Melt the butter in a pan over a low heat.
2. Squeeze the lime. Put the steamed broccoli in a tall mixing jug with the cream, crème fraîche and melted butter and purée until smooth. Season with salt and a little lime juice and keep warm until you are ready to serve.
COD
3. Mix the sake and mirin with the sugar in a small pan and simmer until the sugar has completely dissolved. Stir in the miso paste.
4. Dab the fish fillets dry with kitchen roll, spread on the miso paste and place on the universal tray. Cook in the X BO (190°C/-100% humidity) for about 8 minutes.
DASHI SAUCE
5. Peel and coarsely chop the ginger. Wash the herbs and shake them dry then pluck the leaves. Bring the prepped ingredients to the boil in a pan with the shirodashi and 250 g water, then remove from the hob and leave to steep for about 5 minutes.
6. Strain the sauce into a pan through a sieve and bring to the boil again. Mix the starch with a little water and use it to bind the dashi sauce.
SEAWEED CREAM
7. Toast the pine nuts in a non-oiled frying pan. Put the egg whites in a tall mixing jug with the seaweed powder, vegetable stock, mustard and sushi vinegar and purée with a hand mixer until smooth and creamy. Gradually stir in the oils. Season with salt and pepper.
FINISHING TOUCHES
8. Trim the mushrooms, rub them with a cloth if necessary and slice them. Sauté the sliced mushrooms in a little hot oil until colourless.
9. Briefly wash the sea lettuce in cold water and strain.
10. Plate up the sea lettuce. Add the cod then scatter the fried mushrooms on the fish. Pipe dots of seaweed cream onto the plates and garnish everything with the raw button mushroom slices. Finally, serve the broccoli purée next to the fish and pour on the dashi sauce.
This and other inspiring recipes can be found in the cookbook for the BORA X BO.
Preparation time: 40 min.
Cooking time: 33 min.
Serves 4
For the broccoli purée
500 g broccoli
10 g butter
½ lime
75 g cream (or vegetable fat)
20 g crème fraîche
Natural or sea salt
For the cod
30 g sake
30 g mirin (Japanese rice wine)
10 g raw cane sugar
200 g light miso paste
4 cod fillets (100 g each)
For the dashi sauce
25 g ginger
1 small sprig of mint
1 sprig of coriander
40 g shirodashi (from an Asian supermarket) or chicken stock
½ tbsp starch
For the seaweed cream
25 g pine nuts
2 egg whites (size M)
1 tbsp seaweed powder
50 g vegetable stock
15 g Dijon mustard
35 g sushi vinegar
70 g hazelnut oil
100 g groundnut oil
Natural or sea salt
Ground pepper
To finish
2 king trumpet mushrooms
2 button mushrooms
1 tsp toasted sesame oil
50 g sea lettuce
Additional items
Piping bag with a round tip