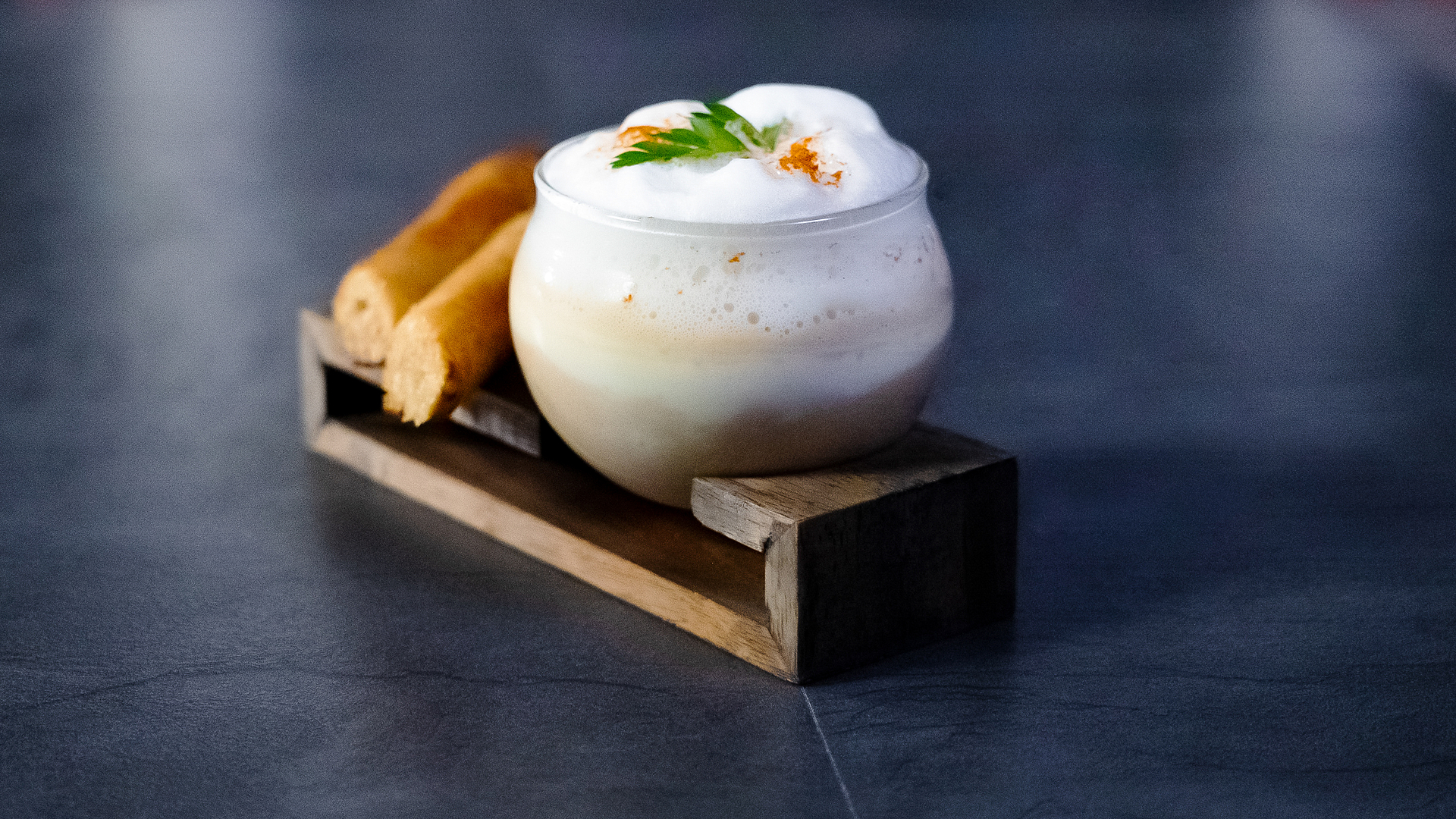 Chestnut soup with walnut sticks
Preparation
Prepare the soup
Peel and dice the onion. Wash and halve the chilli pepper, then remove the stalk base, white ribs and seeds. Cut the two halves into small rings. Melt half of the butter in a pan, then sauté the onions in the pan without browning them. Add the chestnuts and continue to fry for a short time.
Prepare the soup
Deglaze with the white port. Add the chopped chilli pepper, pour in the stock and leave to simmer. Pour in the vegetable fat then season the soup with salt and pepper. Add the remaining butter then blend into a fine purée using a hand blender. Strain the soup through a fine sieve, pushing it through with a ladle.
Prepare walnut sticks
Melt the butter in a small pan. Arrange the filo pastry sheets on your work surface and brush them with the melted butter. Finely chop the walnuts in a food chopper. Brush the pastry with some honey, sprinkle walnuts on two-thirds of each sheet and roll them up tightly. Brush each roll with some melted butter, put them on the universal tray and bake in the X BO (220°C/0% humidity) for 5 to 6 minutes until golden brown.
Finish the soup
Wash the parsley and shake it dry. Bring the soup to the boil again. In the meantime, heat up the milk then froth it. Pour the soup into bowls and garnish with the milk froth and one parsley leaf per bowl. Sprinkle with cayenne pepper if desired and serve with the halved walnut sticks.
Preparation: 40 min.
Baking/cooking time: 6 min.
Serves 4
For the chestnut soup
1 onion
1 small chilli pepper
50 g butter
150 g chestnuts (peeled and pre-cooked)
75 ml white port
400 ml vegetable stock
125 g vegetable fat
Salt
Ground pepper
2 sprigs of parsley
100 ml oat milk (barista-quality)
Cayenne pepper
For the walnut sticks
30 g butter
2 sheets of filo pastry (or strudel pastry)
20 g chopped walnuts
1 tbsp honey, e.g. chestnut honey
Possibly chilli pepper and/or
pepper