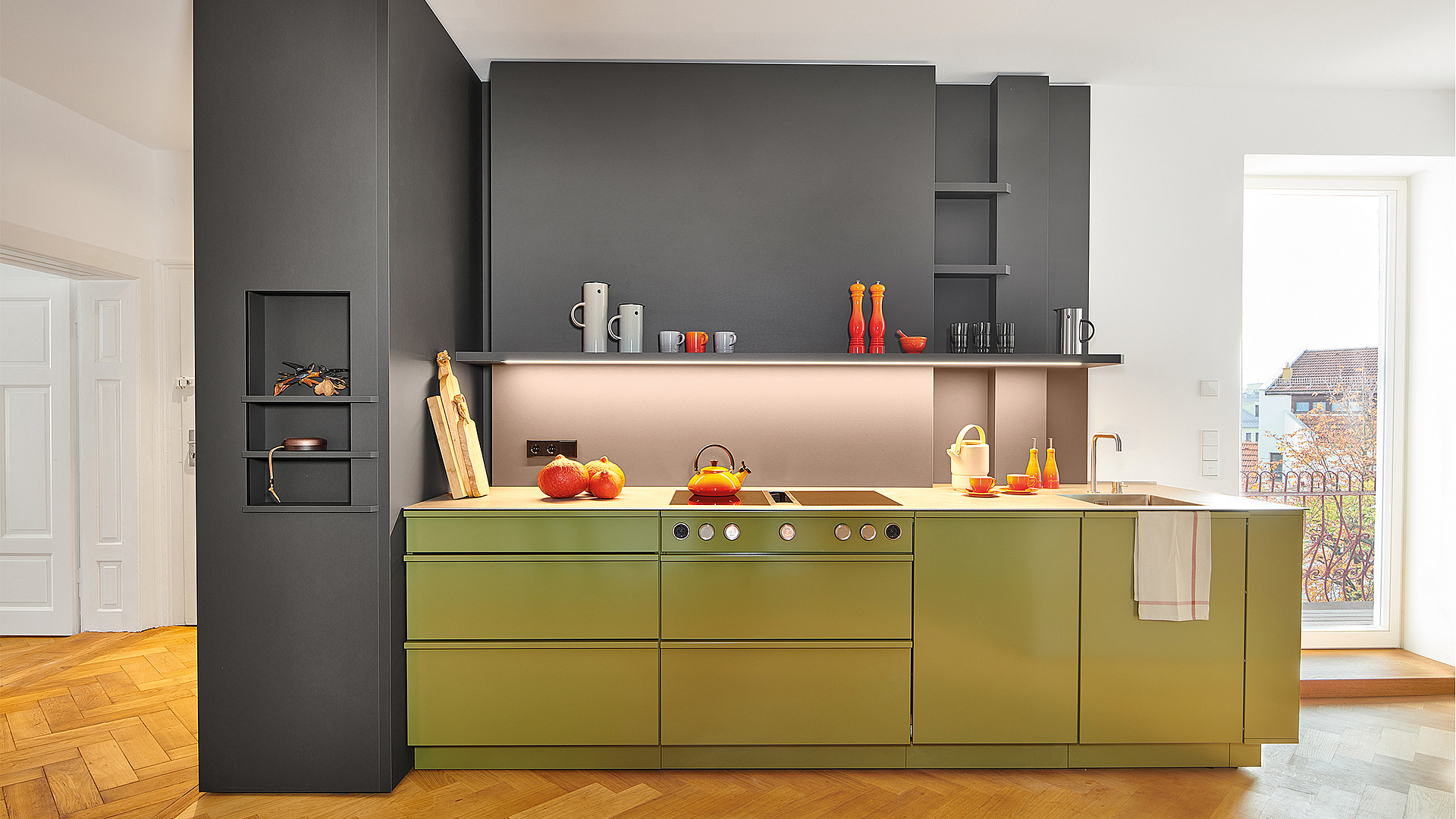 Steel kitchens as colourful as a vegetable garden
Steel – a kitchen material that epitomises industrial style like barely any other. Steel kitchens are always clean, smooth and purely functional. Wrong: with its bright and colourful unconventionality, Popstahl shatters this image and eliminates many prejudices against metal kitchens.
Steel is sturdy, robust and durable. Its smooth surface is easy to clean and food safe. This all makes it an ideal material for kitchens. After all, these are a place of work, a kind of culinary workshop, where functionality plays a major role. "When people really get into cooking, they are sure to touch things with sticky fingers. This means kitchens have to be easy to clean", says architect Ralf Weißheimer, who founded the kitchen brand Popstahl (literally: 'Pop Steel') in Berlin in 2009 in partnership with two others. Right from the outset, the colourful metal kitchens with the memorable name have combined fantastic ease of use, low-maintenance surfaces and outstanding durability with a clear and attractive design, "because a kitchen is not just a workshop; it's a feel-good place within the home", as Weißheimer emphasises.
Heavy metal in a blaze of colour
Even the brand name Popstahl, developed by the co-founder and owner of the advertising agency SMITH Christian Himmelspach, conveys what makes these steel kitchens special: their ability to be colourful. The kitchen units made from powder-coated sheet steel can be produced in virtually any colour – from kohlrabi green through raspberry red to quince yellow. Whether plain or multi-coloured, the broad colour palette reflects that of an entire herb and vegetable garden, enabling kitchens to be tailored to people's personal style preferences for their homes. "It's also possible to add colour more subtly, for example by having the outside of the fronts powder-coated in white yet bright orange drawer interiors. These kind of surprise effects have been particularly popular recently", states Ralf Weißheimer. This use of colour somehow goes perfectly with the understated feel of the Popstahl kitchens: on the one hand, the quality and superiority of a luxury kitchen; on the other hand, colourful joy that sets unconventional accents. This appeals to people who are looking for something special, explaining why the young company's clientele includes many artists, authors, architects and designers.
The birth of a new kind of kitchen
Like many architects, Ralf Weißheimer has a self-confessed "fetish for materials". He believes that it is important to use genuine materials. When he and his Berlin architectural practice were commissioned to design a kitchen some ten years ago, it was therefore only logical that he did so using genuine materials: primarily concrete and – thanks to the daring customers – metal. He and his business partners had first come across the Austrian steel furniture used to this day as the basis for manufacturing Popstahl kitchens within the scope of an earlier project, the renovation of a large dental practice. They refined the storage cabinets and surgical furniture originally from the medical sector with a newly designed handle strip in the same colour as the front. They then adapted the furniture to the standard kitchen formats. The first steel kitchen was born.
Sustainable from start to finish
Even today, Popstahl still manufactures its kitchens in Austria. Fully galvanised sheet steel is powder coated by melting the paint powder at 200°C and fusing it with the metal surface. The entire process occurs using hydroelectric power and does not involve the addition of solvents. "This is particularly appreciated by allergy sufferers", explains the company's managing director. A honeycomb-shaped cellulose core in the front and side panels prevents the kitchen from sounding metallic. Instead, it makes a rich sound if you knock on it. This also affects the kitchen's haptic properties: the steel surfaces feel warm and solid to the touch.
At the end of their lifetime, the steel modules can be 100 percent recycled. But it does not even have to come to that: anyone fed up with the colour of their kitchen can have the units sandblasted and recoated or can simply replace the fronts. Thanks to the highly robust material, the rest of the kitchen will continue to look great even many years down the road. This is particularly so because, unlike many wooden materials, it cannot be damaged by water. "People who live in flood areas also find this a great benefit", comments Weißheimer.
Popstahl and BORA – a perfect fit
BORA cooktops with downdraft extractors are found in Popstahl kitchens with striking frequency. Ralf Weißheimer explains why: "The BORA cooktop extractors give me the freedom to place whatever I want above them. That makes kitchens feel less like kitchens and plays into the hands of the architect in me." He also praises BORA for its design, ease of installation, great functionality and excellent service. His summary: "Popstahl and BORA are two young products that go together perfectly."