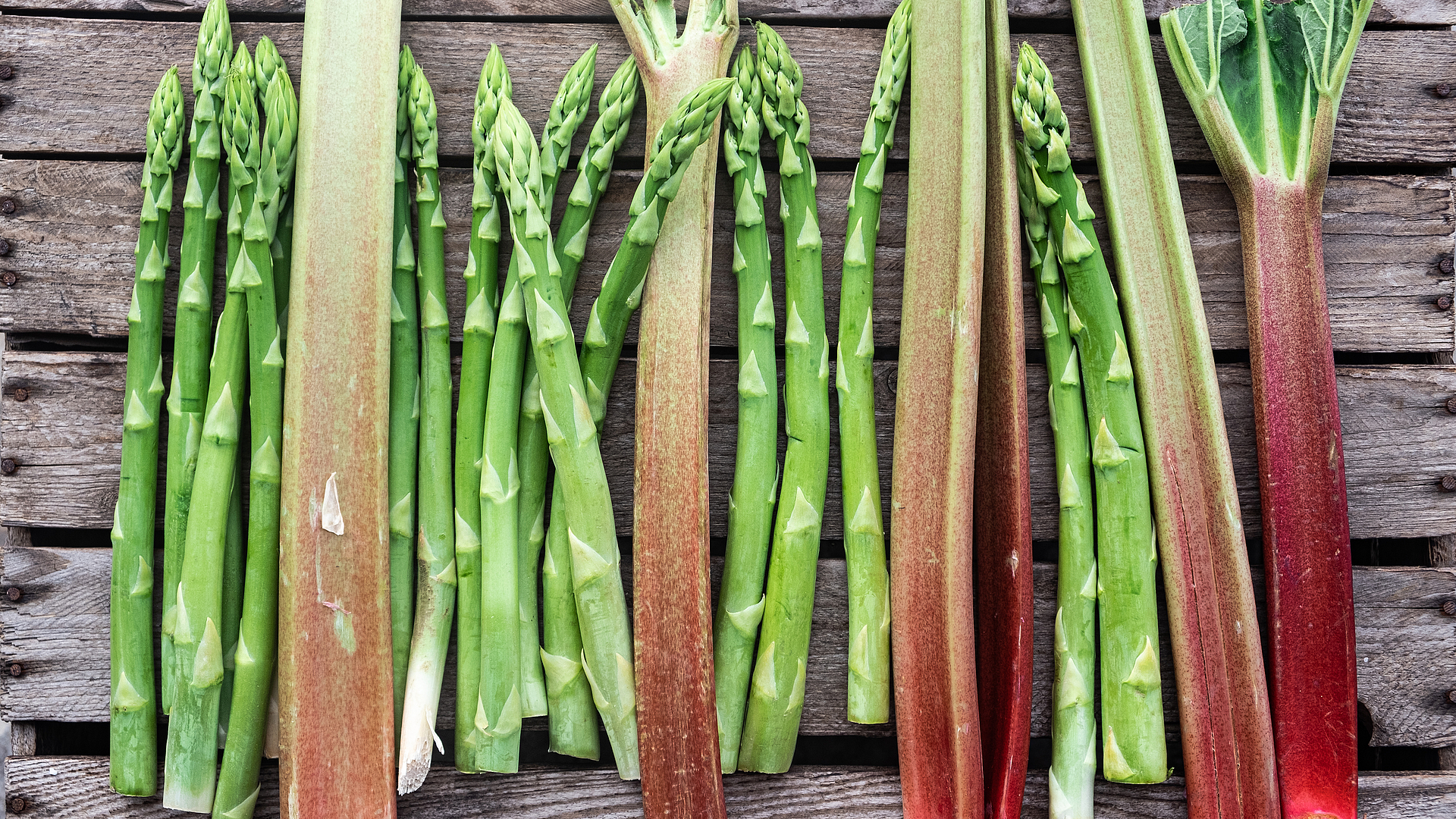 Asparagus and rhubarb – seasonal inspiration
You can usually tell when spring has arrived by the selection of fruit and vegetables at the supermarket, especially when the label shows that they're locally grown. That's certainly the case for rhubarb and green asparagus. They may seem a little exotic for many people, and not every household eats them. Nevertheless, asparagus and rhubarb are wonderfully versatile ingredients: easy to cook and go perfectly with special dishes.
White asparagus always comes out top in Germany, unlike elsewhere where green asparagus is the favourite. That said, green asparagus is becoming more and more popular in Germany, especially as it is usually cheaper than its white cousin because it is easier to grow. Less time and effort are needed to cultivate the green variety as they grow above ground, making them easier to plant and harvest.
Green asparagus is wonderfully simple to prepare, just cut off the woody ends, rinse the spears under water and they're ready to go. You can then choose to cook them either in the classic way: in salted (or even slightly sugary) water and enjoyed with salt and butter or olive oil. Or you could quickly sauté them with a good balsamic vinegar, for instance, which lends the asparagus some of its sweetness. If you're looking for another alternative, asparagus cooks really well in pasta water or in a risotto. Green asparagus is a great all-rounder. It's the perfect accompaniment to many dishes, whether it's a side to fish or meat, mixed in with a risotto or polenta dish, or simply fried and served as an hors d'oeuvre.
It's flavourful and high in fibre, making it a top food for healthy digestion, and it's rich in vitamins and minerals. Those with kidney problems should exercise caution, however. A number of foods, including asparagus, contain purines which the kidneys turn into urea. If kidney function is impaired, the purines may not be broken down properly.
Red rhubarb is a highly original pairing for green asparagus. Peak harvest season for the long stalky vegetable is in May, but you can usually still get it from April until the end of June. Rhubarb is normally eaten in sweet dishes so people class it as a fruit, but it is technically a vegetable since we eat the stalks and not the seed-producing part of the plant.
Similar to the asparagus, rhubarb is high in fibre and nutrient rich. It is also high in vitamin C and contains minerals such as potassium, iron and phosphorous. Rhubarb gets its sour, fruity taste from fruit acids such as malic, citric and oxalic acids. These are the flavours that are normally enhanced by adding sugar in cakes, compotes, crumbles and jams. It's rare to pair rhubarb with savoury foods,
but when you do, the flavours complement each other superbly: the asparagus's earthy, slightly tangy flavour is beautifully emphasised by the rhubarb's sweet and sour taste. They go perfectly with the light milkiness of a creamy white-wine sauce, creating a powerful symphony of flavours.
If you fancy trying something new and imaginative using these two fantastic varieties of spring vegetable, below you'll find a simple recipe that brings together the flavours described above. It's served with wholewheat pasta, and it's a celebration of green asparagus paired with rhubarb:
Lightly caramelise the rhubarb in oil with a pinch of salt and some maple syrup.
Cook the pasta in salted water and add in the asparagus to cook in the pasta water a few minutes before pasta is done.
While the asparagus cooks, fry onion and garlic until golden and deglaze the pan with white wine. Mix in some butter and cream and, if required, add some pasta water to make it thicker.
Combine all the ingredients and serve, adding a sprinkle of parmesan and good-quality pepper (red pepper always tastes great with it).
Enjoy!