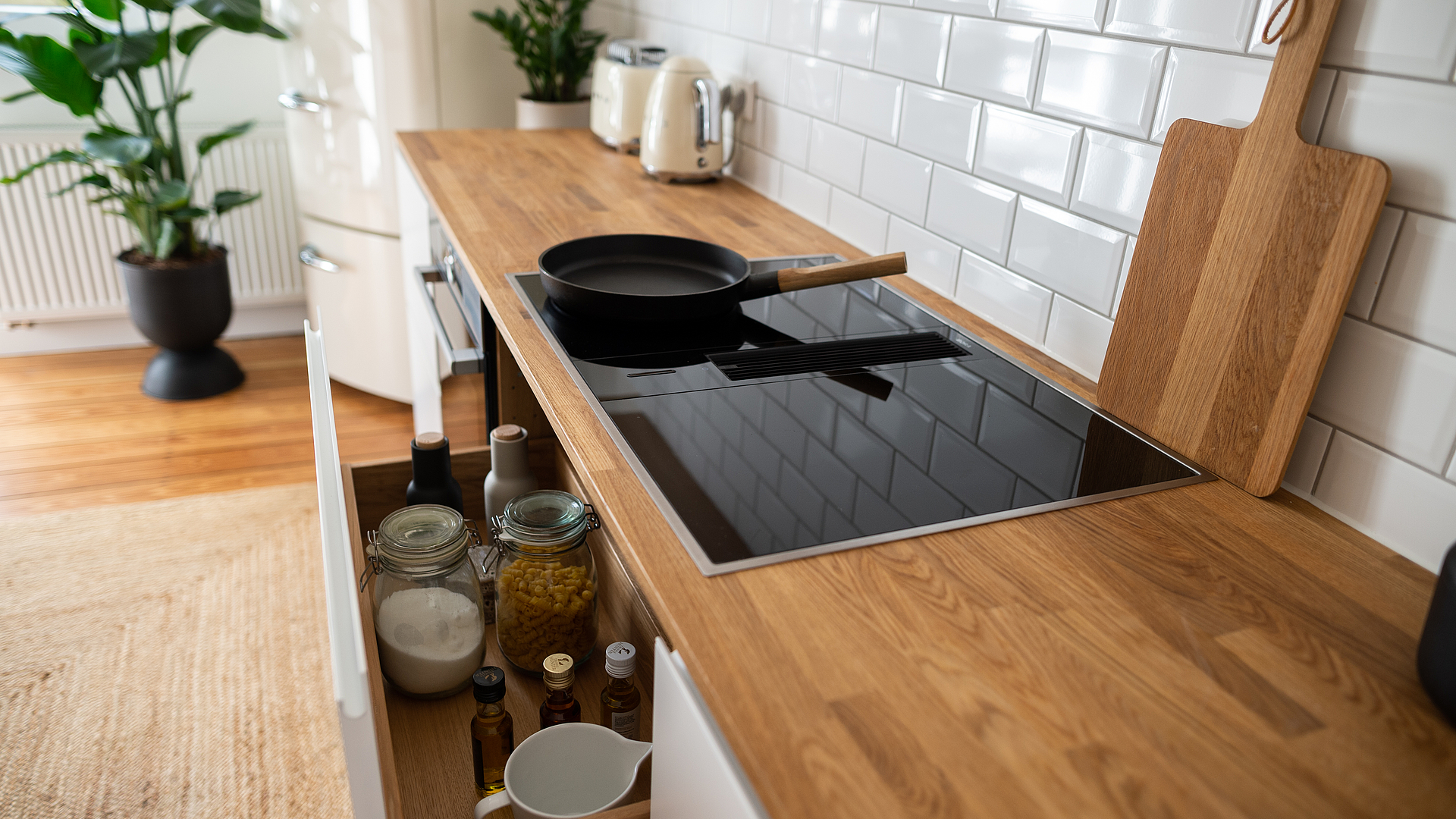 How to organise your kitchen
How can you create order in your kitchen so that you can enjoy it to the fullest? How can you avoid constantly rummaging through your kitchen drawers to find what you need? In this post you'll find some handy tips on how to organise your kitchen – just in time for some spring cleaning!
An organised kitchen is half the battle
For cooking and baking to be fun, you need to have the right utensils to hand at the right moment. Often, time is of the essence and you get annoyed when everything falls out your cupboards as soon as you open them or your kitchen drawers won't open properly because they're too full.
To prevent this from happening in the first place, you need everything to be in order. The size of your kitchen makes no difference. Regardless if you have a large, modern kitchen or you conjure up dishes on a small kitchen island, every utensil needs its own place. It's up to you where you put things, but everything needs to be understandable for you and intuitive to find.
Your fridge also needs to be neat and tidy. As a general rule, the bottom two drawers are intended for vegetables as they aren't as cold as the meat/fish compartment just above. Next come the dairy products and eggs, and any processed foods should be kept in the top compartment. Opened drinks belong in the compartment at the bottom of the fridge door.
Tidying your kitchen
To have a tidy kitchen, you first need an overview of what's inside your kitchen drawers. Think about the items that you use most often and keep them in the drawer just below/next to your cooktop. Drawer inserts help you to gain space and keep things tidy. We also recommend having regular clear-outs so that, if need be, you can buy and store new kitchen aids.
Once you've tidied up your drawers, you need to do the same in your kitchen cupboards. Once again, you should put the things that you use most often at the front so that you can access them easily. Everything else can be put at the back of the cupboards or in the harder to reach areas.
As well as being sustainable, refillable storage jars are also practical as you can easily see how much you have left in them. Instead of keeping your spices, rice, pasta, lentils, etc. in their original packaging, jars enable you to store food in a presentable way. Personalised labels also lend containers an individual touch.
Hacks on how to keep your kitchen tidy
Once your kitchen is well-organised you need to keep it that way in the long term. Here are some tips to help you:
Foods or kitchen utensils which belong together should be kept together (e.g. spices and oils near the cooker, washing up liquid and sponge near the sink, vegetables in the right fridge compartment).
You should keep any open packets of rice or pasta or any other items that are due to expire soon at the front of your shelves. Items that you have just bought or that can be kept for longer can be placed at the back.
The same rule applies when tidying your fridge. You should sort out its contents regularly, throw away any food that has gone past its use-by date and clean any clear spaces with a damp cloth before putting new items away.
You should tidy away any food, crockery or cooking utensils as soon as you've finished with them – including those on the draining board. That way, you systematically free up more workspace.
If you follow these tips, you'll easily be able to find your most important utensils in a flash. After all, cooking and baking is much more enjoyable in a neat and tidy kitchen, wouldn't you agree?